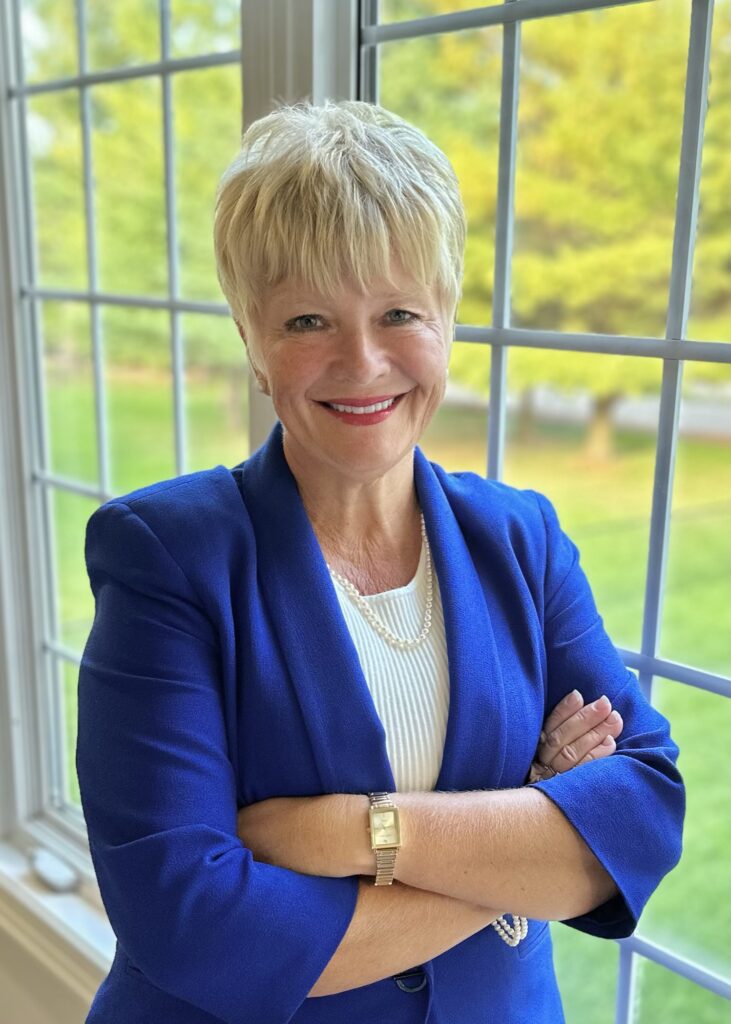 The Drake University College of Pharmacy and Health Sciences will award its highest honor, the Lawrence C. and Delores M. Weaver Medal of Honor to Drake pharmacy alumna, Patty Kumbera, PH'89. Kumbera will deliver the Weaver Medal Lecture on Friday, November 10, at 2:30 p.m. in Sheslow Auditorium. The lecture will also be livestreamed and recorded for later viewing.  
The Weaver Medal of Honor recognizes an individual's dedication to making a substantial impact on the profession of pharmacy and the advancement of human health. It is presented annually to a recipient who has fulfilled one of the following criteria: the individual's efforts have advanced the education, research, or outreach mission of the college for the benefit of human health; the individual has made a substantial impact on the profession of pharmacy; or the individual has provided to the college significant financial support that has funded strategic change and progress. The award is made possible by a generous gift from Lawrence Weaver, PH'49, and his wife, Delores.
"Patty Kumbera has had an impactful and successful career of innovation and leadership to expand pharmacist services and improve patient care across the country," said Renae Chesnut, dean of the College of Pharmacy and Health Sciences. "She has also had an impact on the University by serving on the CPHS National Advisory Council, the University Alumni Board, the DELTA Rx Institute Next Top Entrepreneur Competition judge panel, and as a frequent guest speaker in our courses, she shares her career insights with current student pharmacists."
Patty Kumbera earned her Bachelor of Science in Pharmacy from Drake in 1989. Throughout her career, she has been a strategic-focused healthcare business solutions professional who has dedicated her career to advocating the value and creating programs for pharmacist-delivered medication therapy management (MTM) services nationwide and consulting for various organizations to improve patient care. Kumbera co-founded and served as Chief Operating Officer of OutcomesMTM from 1999-2014 (acquired by Cardinal Healthcare in 2015), which was a market leader in the field of MTM services that expanded pharmacist services and delivered compensation for successful outcomes. She became active in the evolution of Medicare Part D MTM services since being introduced in 2006 and later proceeded to implement MTM services at the nation's largest patient-centered medical home (PCMH) in 2011. 
Kumbera took her enthusiasm for improving patient care to the next level as the Director of Clinical Quality Programs at Wellmark Blue Cross Blue Shield with a broadened focus on all providers in the health care system. She helped create the dialogue of measuring provider performance and reporting it in a way consumers can understand quality based on attributes of what is important to them. She influenced the cold chain market when serving as the Vice President of TempAlert, now SmartTemps, a Digi Company, which protected the safety and effectiveness of cold stored medications through digital solutions – leaving clipboards behind and leveraging automation. Kumbera also served as the Chief Operating Officer of PrescribeWellness – now part of Transaction Data Systems (TDS) – a technology company that helped pharmacies with efficiencies and effectiveness for improved work processes, profitability, and better patient outcomes.
Throughout her career, Kumbera has been a key member of instrumental healthcare leadership forums and committees. She worked with the Academy of Managed Care Pharmacy (AMCP) to facilitate a pharmacy profession-wide consensus of definitions related to MTM and Systemized Nomenclature of Medicine – Clinical Terms (SNOMED CT) codes used to create MTM Value Sets hosted by AMCP, the Pharmacy Quality Alliance (PQA), and the Pharmacy Health Information Technology Collaborative (PHIT). Kumbera was also called upon to facilitate the Iowa Pharmacy Association (IPA) Pharmacy Practice Act Task Force in 2020 to begin establishing a legislative framework that allows for changes in training, technology, and practice.
In recent years, Patty has assisted family and friends as a patient advocate, helping navigate a complex healthcare system to achieve positive health outcomes. With patients giving her access to dozens of electronic health records (EHRs), it not only helped provide a tool to communicate and understand expectations of the patient's diseases and responsibilities, but also shines a light on how important transparency is. Unfortunately, few patients have the navigators they need to understand their care. Pharmacists are ready to fill these gaps as key members of the community for healthcare access. Patty continues to help companies innovate to solve these problems.
Kumbera has received numerous accolades for her contributions to expanding pharmacist services and improving patient care including the Drake University College of Pharmacy and Health Sciences Alumni Achievement Award (2009) and the inaugural American Pharmacists Association Academy of Pharmacy Practice and Management (APhA-APPM) Distinguished Achievement Award in Pharmacy Management (2013).