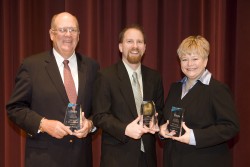 L to R: Larry Mayhew, Michael Case-Haub and Patty Kumbera celebrate their awards at today's ceremony.
MEDIA CONTACT: Tory Olson, 515-271-1834, tory.olson@drake.edu
Three outstanding pharmacy alumni were recognized at
Drake's College of Pharmacy and Health Sciences' 22nd student-organized Pharmacy
and Health Sciences Day today (Feb. 17).
The 2009 Alumni Achievement Awards will be presented to:
Patty
Kumbera, a 1988 pharmacy graduate,
Alumni Achievement Award

Larry
Mayhew, a 1967 pharmacy graduate,
Alumni Achievement Award

Michael
Case-Haub, a 2002 pharmacy graduate,
Young Alumni Achievement Award
The honorees were selected based on their service to the
college, distinction in their careers and civic and community contributions.
Kumbera of Johnston is co-founder and chief operating officer for Outcomes Pharmaceutical
Health Care in Des Moines. Outcomes has been a pioneer in using the Internet to
connect health plans with pharmacies to improve patient care. The company has
built a nationwide network of personal pharmacists that deliver medication
management services to covered members. Read more about Outcomes at http://www.getoutcomes.com.
She formerly was director of managed care services at the
Iowa Pharmacy Association, where she oversaw research projects studies of the
impact pharmacists could have on total health care costs.
Kumbera is a member of the Drake
College of Pharmacy's National Advisory Council.
She has been an active contributor to pharmacy on the local,
state and national level for many years and was named one of the American
Druggist's 50 Most Influential Pharmacists.
Kumbera is an externship preceptor and adjunct faculty
member at Drake, the University of Iowa, Creighton University and the
University of Missouri-Kansas City.
Mayhew of Fountain
Hills, Ariz., worked as a pharmacist in Chicago after graduating from Drake in
1967. He moved to Phoenix in 1970 and, by the '80s, owned six pharmacies in the
area.
Mayhew has contributed greatly to his profession, serving as
president of the Arizona Pharmacists Association and the American College of
Apothecaries. He also serves on the Board of Directors
for Pharmacists Mutual Insurance Co.
He also has been active in the National Community
Pharmacists Association and the Professional Compounding Centers of America,
which named him "Pharmacist of the Month."
Mayhew has been a loyal supporter of his alma mater. In
2006, he and his wife, Sandy, gave a major gift to build a state-of-the-art
compounding laboratory, the Mayhew Compounding Laboratory in Harvey Ingham
Hall. In the lab, students learn how to prepare medications that are not
commercially available.
He retired in 2005 after selling an extensive practice that
served hospice and long-term care patients in the metro Phoenix area.
Case-Haub of West
Des Moines is pharmacy manager at the Hy-Vee Pharmacy, 555 S. 51st St. in West
Des Moines.
He has served as a leader in implementing and receiving
reimbursement for clinical pharmacy services in the community pharmacy setting.
Case-Haub is a member of the Iowa Pharmacy Association,
Iowa's American Diabetes Association Leadership Council and The Science
Advisory Board.
He has served on the board of directors and as pharmacy
preceptor for Camp Hertko Hollow, a camp for children with diabetes in the Des Moines area.
Case-Haub has written articles for the Journal of the Iowa
Pharmacy Association and has made presentations around the Midwest at pharmacy
and diabetes expos.
He also served Drake University as an adjunct professor and
as a member of Drake's Accreditation Council for Pharmacy Education Self-Study
Committee.