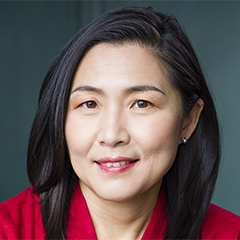 The Drake University Constitutional Law Center is pleased to announce Julie C. Suk as presenter of the spring 2023 Distinguished Lecture. Her lecture titled "Unamendable: Lessons from Failed Constitutional Amendments" will be delivered in-person and virtually on Thursday, March 9 at 3:30 p.m. at the Neal and Bea Smith Law Center, 2400 University Avenue, Des Moines. Registration is free and open to the public.
Julie Chi-hye Suk is an interdisciplinary and comparative legal scholar at Fordham University, researching equality at the intersection of law, history, sociology, and politics in the United States and globally. She has authored dozens of articles and book chapters about comparative constitutional law; the procedural implementation of equality norms in the United States and Europe; gender quotas; and women, work, and family.
"Professor of Law Julie Suk has written extensively on women's equality, misogyny, constitutional amendments, comparative equality and more. Her topic of constitutional amendments is very important as the U.S. Constitution has recently been subject to various criticisms," said Professor Mark Kende, Director of the Drake University Constitutional Law Center.
The Constitutional Law Center's Distinguished Lecture Series brings to campus the nation's leading constitutional scholars to engage students and faculty on the important issues of the day. Speakers deliver a formal lecture, give a presentation to faculty, and meet with students in informal settings.
Visit http://bit.ly/3xP9t3xfor registration information. CLE credit is applied for and pending. Space is limited for the in-person lecture, but guests can view a live stream in Cartwright Hall, 2621 Carpenter Avenue, Des Moines, room 213.