Plan to attend: SJMC Women in Leadership Conference
Mark your calendar for the Women in Leadership panel on Wednesday, March 1, 4-5:30pm, in Levitt Hall. We will have four female Drake alumni joining us from Bankers Trust. Emily Abbas will lead panelists through discussions about their experiences in leadership positions, advice, tips, and even make recommendations for some great books. You will meet with the panelists in a small group to ask questions or ask for additional advice.
There's no better opportunity to learn about the issues you may face as a leader than from fellow bulldogs who have been where you are sitting. Take this time to connect with others from across campus and help encourage each other to be the leaders you are meant to be.
Register to attend through Eventbrite here.
Registration open for SJMC's high school summer camp
It's time to get signed up for summer's favorite camp!
Registration for our Media Now high school camp is officially open. Join us July 10-13 on campus for the perfect amount of fun mixed in with upskilling your journalism experience.
We only have 100 seats available and there's a $100 discount on registration through April 1. Don't delay, sign up today!
SJMC Friendship Party on Feb. 14
Join us in Meredith East for an SJMC Friendship Party on Tuesday, February 14, from 11:30 a.m. to 12:30 p.m. We've planned a series of fun "Minute to Win It" games with conversation hearts and jelly heart candies. We'll also have pizza available on a first come, first served basis. Looking forward to celebrating the holiday with our SJMC Family!
Bring on the Bling 
Thanks to the Journalism Monday Memo for this awards update:
The Times-Delphic scored a bit more bling at the recent Iowa College Media Association awards dinner. Sarah Jamil took second place for Best Print/Online Investigative Reporting, as did the TD itself for Best Media Website. Honorable mentions were also handed out to Anna Amos for in the Best Opinion category, Rachel Jalloway for Best Print/Online Feature Photo, and Candace Carr for Best Review.
Drake Mag also scored a win, Sam Rothbardt taking third place for Best Print/Online Profile for his piece "The American Family Update." And Nate Eisenmann, based on the strength of his reporting for Drake Mag stories like "Beating the Heat" and "Ethics of Gene Editing," was one of three finalists for the Pat Pisarik Student Journalist of the Year award.
Finally, TD editor Grace Altenhofen was also recognized for her work in the Ames Tribune. She pulled in a second place nod in the Best Continuing Coverage category for a story she worked on with Ames Trib staffers Ronna Faaborg and Phillip Sitter, as well as fellow Des Moines Register intern Omar Waheed, about the June, 2022, church shootings in Ames.
BSC Town Hall today
BSC is seeking input from students who currently contribute to BSC organizations about pay. If you currently contribute to a BSC organization, please attend the BSC Town Hall today (Monday, Feb. 6) at 7:30 p.m. in the Harkin Institute auditorium.
BSC accepting applications for 2023-2024
The Board of Student Communications is now accepting applications. Students interested in being the leader of the Times-Delphic, Drake Mag, DUiN, Drake Broadcasting System, Periphery or Drake Political Review should submit a resumé and cover letter in PDF format to jeffrey.inman@drake.edu and gannon.henry@drake.edu. Contact jeffrey.inman@drake.edu with questions. The deadline to apply is March 10 at 4:59 p.m.
SJMC digital media workshops
Feb. 22 Des Moines Smartphone Video Workshop: Join Professor Snider in this one-day workshop to learn to shoot and edit video using your smartphone. Get more details and sign up here.
March 20 Personal Branding Workshop: Unleash the power of your personal brand to get a new job or to help grow your company. Attendees will explore who you are and what you stand for as a person and build a plan to showcase that personal brand to the world. More details.
April 12 Learn to Create TikToks and Reels for Business: Snider will teach this workshop with Des Moines creator Brad Podray. Podray has more than 7 million followers on social media, and he will show you how to think like a creator to create viral content on short-form-video networks. Get more details and sign up here.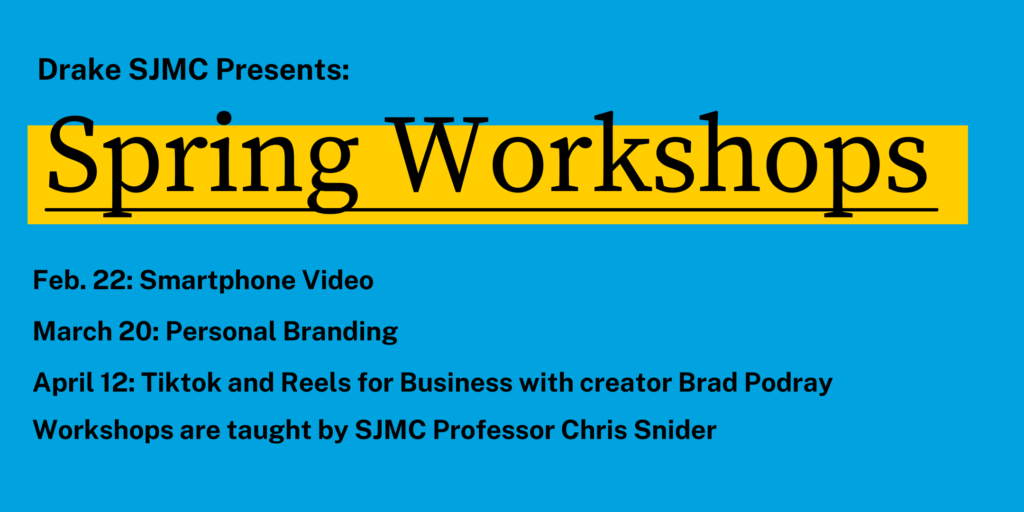 Join BEA for Free!
Drake SJMC is a member of BEA. That means students are eligible for a free membership. Membership benefits include the opportunity to enter competitions, apply for the BEA MMJ opportunity highlighted later in this SJMC Monday Memo, and more.
TO SIGN UP FOR FREE STUDENT MEMBERSHIP:
STEP 1: Scan the QR Code below
STEP 2: Either log in as an Existing User or create a New User Account
STEP 3: Enter your Personal Information
STEP 4: Enter "MUGS-6F34SM" Discount Code, to the right press Apply, then Submit to complete your registration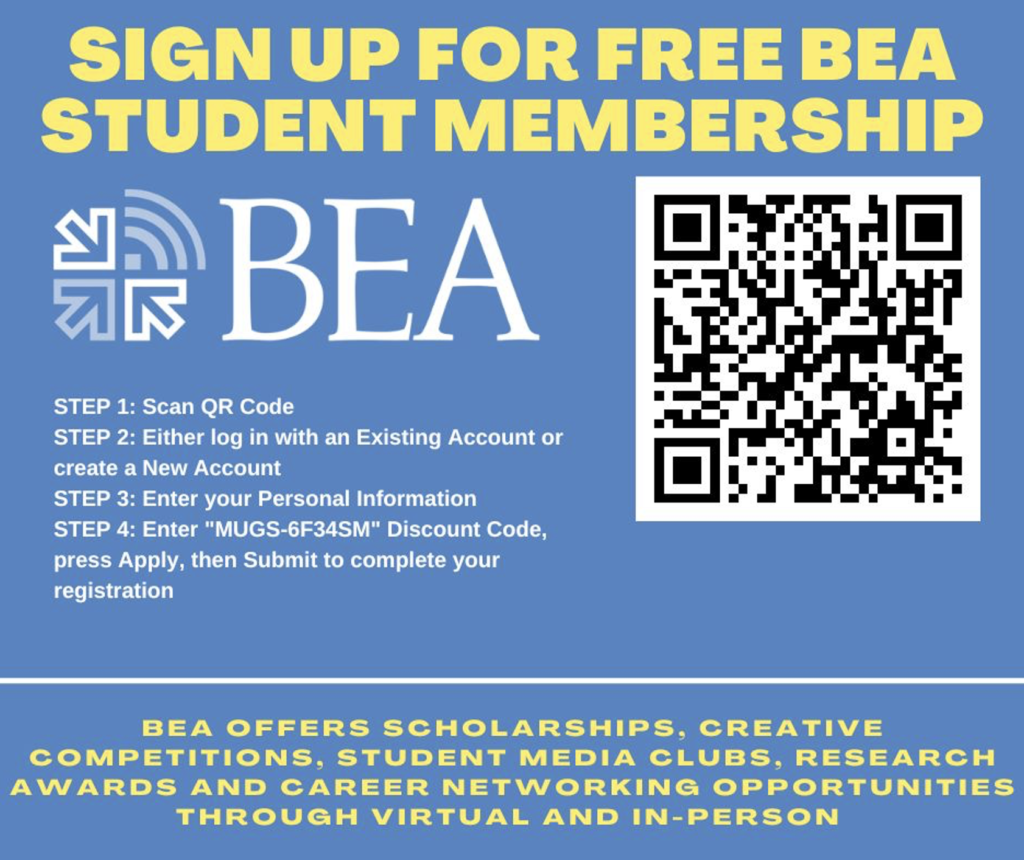 Opportunities to cover BEA and NAB Conferences in Las Vegas
The application for BEA2023 Student MMJ's is open. This is an amazing opportunity for you to work and network at BEA and NAB – and get some financial support for it. Students chosen to be part of the BEA2023 Student MMJ team receive press passes, have access to the NAB Show Newsroom, and receive convention registration, housing, round-trip airfare up to $500 to BEA2023, and a stipend for food and incidentals. Apply now. Application deadline 2/15/23
Register for PR North conference and career fair
Registration is open for PR North, an outstanding conference and career fair hosted by Minnesota PRSA. You'll enjoy panel presentations, resume reviews, mock interviews, networking and a mini career fair at the Padilla headquarters in Minneapolis from 9 a.m. to 1 p.m. on Saturday, February 11. Cost is $15 for PRSSA members and $20 for non-members. Registration deadline is Feb. 10. https://www.minnesotaprsa.org/prnorth2023
Apply for PRSA Iowa Scholarships
PRSA Iowa scholarship applications are now open through February 26.
Diversity, Equity and Inclusion Scholarship
$1,500 scholarship for a public relations or communications student that is part of an under-represented race, religion, sexual orientation, disability, culture, age, gender, gender identity in the public relations profession. PRSSA membership is not required.  Apply here.
Ferne Bonomi & Dr. Henry Milam Scholarship
$1,500 scholarship for a current PRSSA member for use toward an undergraduate degree in public relations or communications. Apply here.
Keep up with the news
Drake students can subscribe to the New York Times and Wall Street Journal for free through Cowles Library. Subscribe to the NYT here. Subscribe to the WSJ here. The Times normally costs $25/month, and the WSJ nearly $40/month, so, as always, thank a librarian!
SJMC Trivia
What SJMC faculty member is part of a Department of Defense grant to research the relationship between personalization algorithms and sociopolitical radicalization? Click here to respond and enter a drawing for an SJMC prize.
Have a news item for the Memo?
The SJMC Monday Memo (and other days of the week as needed) is a newsletter to keep members of the wider SJMC community updated on School news, achievements, events and opportunities. If you have an item for the Memo, please send it to SJMC webmaster and multimedia professor Chris Snider (christopher.snider@drake.edu). SJMC alums and other professionals can also subscribe to the Monday Memo via email here: http://eepurl.com/bPNbxn