The spring semester is in full swing this semester at Drake University. And the students aren't the only ones who get to head back to class. Professor Chris Snider will be offering three workshops this semester sponsored by the Drake School of Journalism and Mass Communication.
And new this year will be the SJMC Refresh – your chance to get back to campus and take classes from SJMC professors.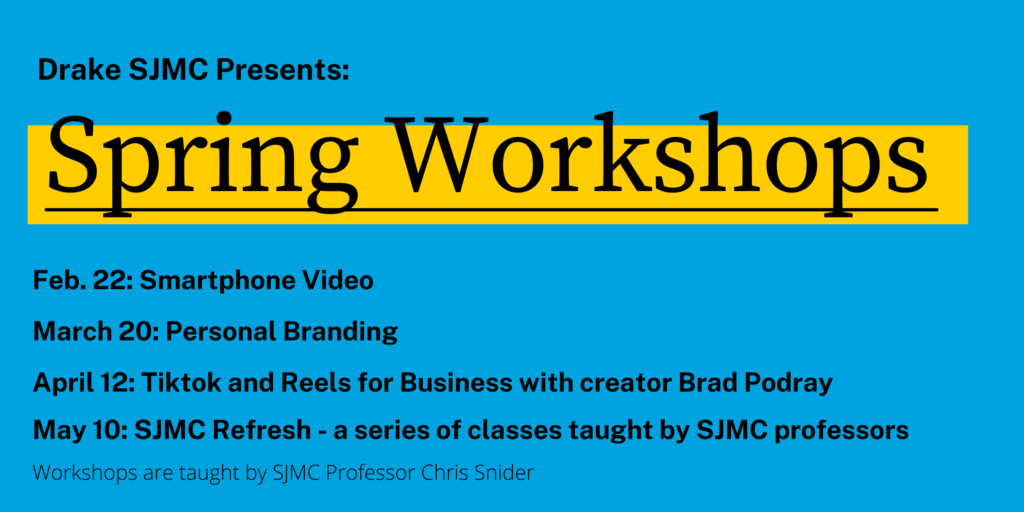 Feb. 22 Smartphone Video Workshop: Learn the basics of shooting and editing video on your smartphone, including apps and hardware to unleash the full power of your device. More details.
March 20 Personal Branding Workshop: People connect with people. Unleash the power of your personal brand to get a new job or to help grow your company. Attendees will explore who you are and what you stand for as a person and build a plan to showcase that personal brand to the world. More details.
April 12 TikTok and Reels for Business Workshop: Des Moines creator Brad Podray will join me again to teach this workshop on how to succeed as a business creating short-form video. Brad has millions of followers for his short-form video accounts and will teach you the secrets he has learned. More details.
May 10 SJMC Refresh: Here's your chance to get back on campus and learn from professors in the Drake School of Journalism and Mass Communication. This will be a day filled with classes taught by SJMC professors on what is new and noteworthy in their field of study. Sign-up and more details coming soon.