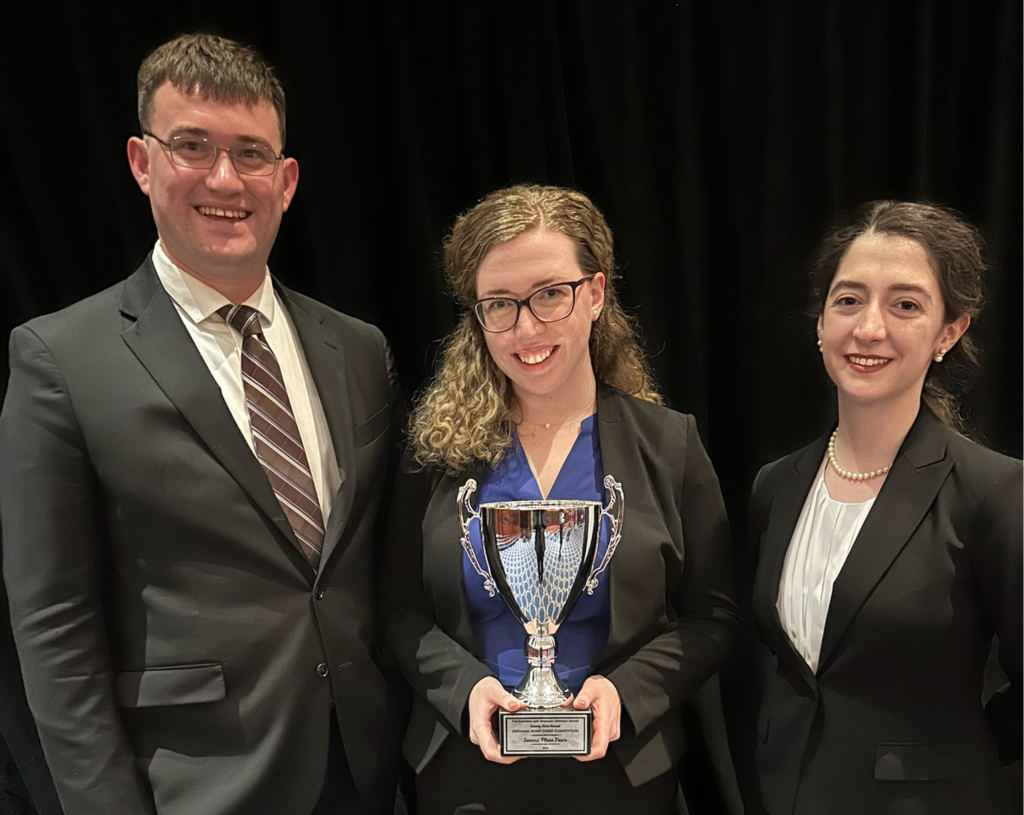 Drake University Law School's National Moot Court Team finished second in the 73rd Annual National Moot Court Competition held Feb. 2, 2023. The National Moot Court Competition, sponsored by the American College of Trial Lawyers and the New York City Bar Association, is the oldest and one of the most prestigious moot court competitions in the country.
Third-year students Elizabeth Boyer and Benjamin Wolf, and second-year student Catherine Dukelow were undefeated leading up to the final round. Boyer and Wolf delivered the oral argument as the petitioners. They faced off against a tough team from Mercer School of Law. The finalists earned high praise from the panel for their advocacy skills, ability to think on their feet, and thorough understanding of the issues and related laws.
Judge Dennis Jacobs of the U.S. Court of Appeals for the 2nd Circuit acted as chief justice for the panel. Before announcing the winner, Judge Jacobs addressed the teams, stating, "You are all splendidly professional, smooth, and masters of the podium. You have outlasted and bested the best oralists in law schools around the country. My warm congratulations to all of you."
The Drake Law team also won an award for submitting the second-best brief in the competition. Earlier this year, the team won the regional competition to qualify for nationals; Drake's other moot court team finished second in that regional competition. Drake Law has a long history of strength in advocacy, having qualified for nationals 23 out of the last 30 years.
"We are extremely proud of the National Team's accomplishments," said Drake Law Dean Jerry Anderson. "Elizabeth, Ben, and Catherine presented the perfect combination of hard work, outstanding skills, and extraordinary talent. Special thanks to Coach Louie Sloven (LW 2015), and the many volunteers who helped prepare the team for competition success. This is another reminder that Drake Law School produces some of the best advocates in the country."