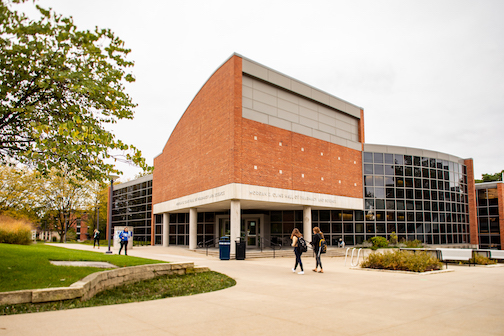 The Drake University College of Pharmacy and Health Sciences is pleased to announce that the Accreditation Council for Pharmacy Education (ACPE) has extended the accreditation of Drake's Doctor of Pharmacy (PharmD) program for eight years, the maximum time allowed for a continued accreditation cycle. The accreditation term granted for the Doctor of Pharmacy program extends until June 30, 2031.
The ACPE found the program to be fully compliant with all 25 of its standards. The decision by the ACPE, the national agency for the accreditation of Doctor of Pharmacy programs, to extend its accreditation for the maximum allowable time period reflects the high quality of Drake's PharmD program.   
In a written report, the ACPE's site visit evaluation team heaped praise on students, faculty, and administrators within the College, noting many strengths of the PharmD program.
The caliber of students is high, the team noted, adding that the program's advising communications were appreciated by students and beneficial to their success. The team also noted several other strengths of the program, including strong administrative leadership, a robust introductory and advanced experiential program, opportunities for students to pursue numerous career pathways through combined degree programs, and dedicated faculty and staff.
"It is with deep gratitude that we thank the students, faculty, staff, alumni, and preceptors who worked on our self-study for the past few years, as well as all of those who met with the site visit evaluation team," Chesnut said. "We are proud that the ACPE recognized that our efforts were worthy of a full 8-year term of accreditation."
Accreditation of professional pharmacy degree programs provides a national basis for quality assurance. The ACPE is recognized by the U.S. Department of Education as the national agency for the accreditation of professional degree programs in pharmacy.
Per ACPE policy, a required on-site verification visit takes place at a mutually agreed time between the ACPE and the PharmD program Dean. Evaluation for Drake's PharmD reaccreditation included a three-day visit by an ACPE-trained site team of five members in November of 2022.
Drake's pharmacy program has been accredited by the ACPE since 1938 and the renewal continues the program's accreditation through June 30, 2031.