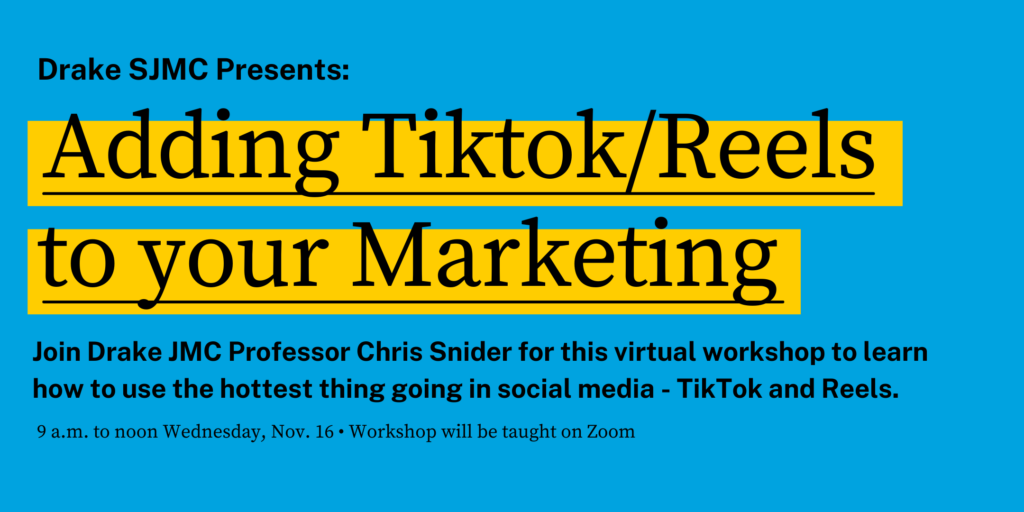 TikTok has changed social media. It's no longer about who can build the biggest following, but rather who can create the best content on a consistent basis.
Drake School of Journalism and Mass Communication associate professor Chris Snider will host a workshop on Nov. 16 called Adding TikTok and Reels to your Social Media Strategy.
This three-hour, hands-on virtual workshop will teach you how TikTok and Reels (available on Instagram and Facebook) work and share proven strategies to create great content (no dancing required). You'll plan out and create short-form videos during the event.
Whether you are hoping to create short-form video for your personal brand or your company's brand, this workshop will give you the knowledge you need to be successful on TikTok and Reels.
Cost for the workshop is $79. Sign up before 5 p.m. on Nov. 4 to save $30 off that price. Sign up three or more people, and tickets are just $39 each.
This workshop will be held on Zoom. Sign up for the workshop here.
About the instructor
Snider has been teaching at Drake full-time since 2010. He teaches classes on social media strategy, web design, video, audio and digital media strategy. His regularly teaches workshops on these subjects.