SJMC equipment checkout
Mon.-Thurs. 12-2 p.m. and 4-6 p.m.
Friday 2-4 p.m.
Saturday: 12-2 p.m.
Sunday: 12-2 p.m.
NO EQUIPMENT MAY BE CHECKED OUT OUTSIDE THESE HOURS.
NO EQUIPMENT USE FOR NON-JOURNALISM STUDENTS/PROJECTS.
Items may be checked out for up to 24 hours. Borrowers accept financial responsibility for items. Students will be charged for loss or damage. Students failing to return items on time will not be allowed to use this service for a minimum of two weeks. Please use the south door after 4:30 p.m. and on weekends.
Drake students invited to KCCI debate, October 6
KCCI will hold a live-broadcast debate in the 3rd District congressional race (Drake's district) between incumbent Cindy Axne (D) and Zach Nunn (R) on October 6 at the State Historical Society downtown. A block of tickets has been reserved for current Drake students.
Doors to the auditorium will open at 5:30 p.m. All audience members must be seated by 6:40 p.m.
Audience members will not be allowed to bring campaign signs, wear distracting clothing, or bring noise makers into the auditorium. Everyone is expected to maintain a measure of decorum. No one will be allowed to shout, cheer, or applaud during the debate.
If students would like to request a ticket, please email rachel.caufield@drake.edu. There is a limited number of tickets. If requests exceed available tickets, a random lottery will be used to distribute the tickets.
Debate watch party at "Meredith East" on October 6
SJMC students are invited to a debate watch party for the Axne/Nunn debate on Oct. 6 at 7 p.m. in the SJMC offices at 1213 25th Street.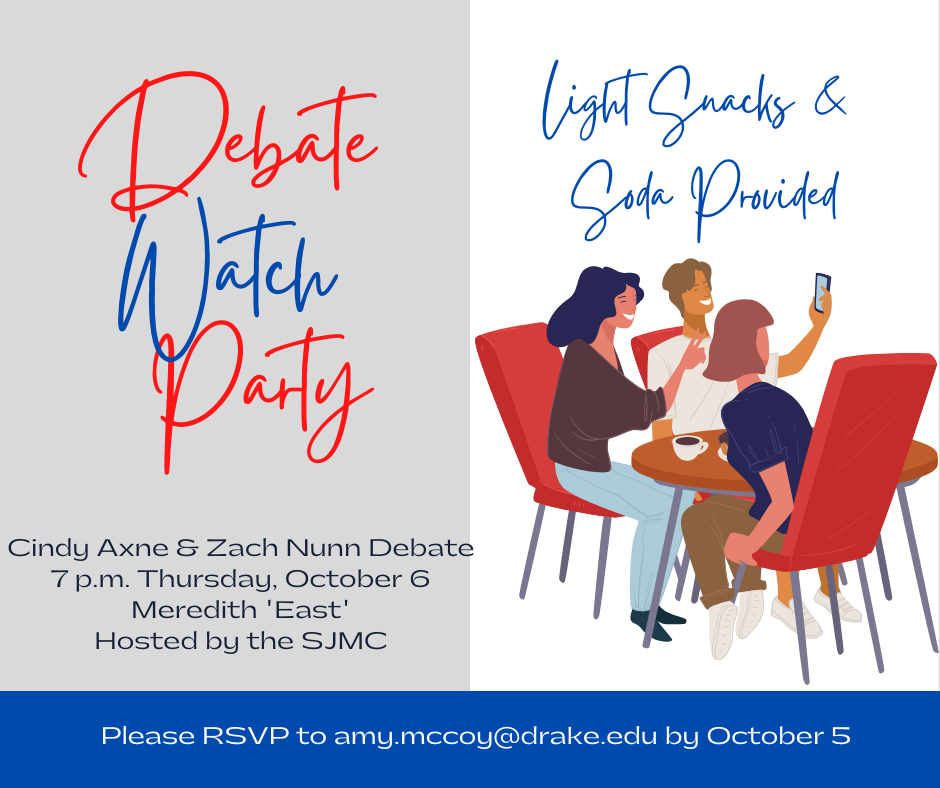 International Radio & Television Society (IRTS) Foundation workshop
IRTS is offering a FREE in-person Multicultural Career Workshop Nov. 17-18 in New York City to help students launch their media careers. The 2022 application LINK is live. For more information, please see www.irtsfoundation.org or contact Andrea MacRae, Academic Programs Consultant, at andrea.macrae@irts.org.
Paul Morrison Spruce Up Day
Paul Morrison Spruce Up Day is set to take place on October 1, 2022, from 10 a.m. to noon at the Harkin Institute.
The event is held in honor of Paul Morrison, a beloved member of the Drake family, who had a tradition of picking up trash in the Drake neighborhood. Every day, throughout his life, when Paul walked to and from campus and through his neighborhood, he would stop and pick up any piece of trash he saw. This was a part of his commitment to making Drake a better place for everyone. At this event, neighbors and students will remember Paul's Legacy while sprucing up our neighborhood. If you bring a plastic grocery bag you will be entered in a raffle to win a Drake blanket. A snack and all supplies will be provided. Griff II will also be there.
This year we are collaborating with yoga+co to offer a yoga class at 9 AM that will take place at Helmick Commons! Mats will be first come first serve. In addition, we will have a tabling event after the cleanup that will take place inside the Harkin Institute where students will be able to learn about different student organizations and organizations in the DSM area as well.
DUiN joins the College Satire Guild
Drake University Independent News (DUiN) is proud to announce its membership in the College Satire Guild. The Guild is a new national nonprofit dedicated to promoting and advancing the art of satire through college publications. DUiN will be a competitor in the Guild's satire awards for its member publications this winter and expects to do quite well at the awards. The Guild also plans to hold development events to increase publications' quality.
Drake's DUiN is a founding publication of the group, along with Boston College's New England Classic, Boston University's The Bunion, Dartmouth's Jack-O-Lantern, Ohio State's The Sundial, Stanford University's The Flipside, and the University of Washington's Off Leash News. The Guild's president for 2022-2023 is DUiN's Editor-in-Chief Carl Yaeger, and its other executives are leaders from satire publications across the U.S. Its website is collegesatireguild.com. The president can be contacted at president@collegesatireguild.com.
DUiN is the satire publication at Drake University. It publishes a print magazine twice a year, runs social media accounts poking fun at Drake, Des Moines, and current events, and engages in various forms of general tomfoolery across campus.
SJMC Alumnus Spotlight: Jorge Guzmán, JO'03:
James Beard finalist Chef Jorge Guzmán majored in advertising and played football in his time at Drake. Recently his restaurant Petite León was one of only 50 named to the prestigious New York Time's "Restaurant List." Guzmán opened the restaurant in October 2020 with more than 20 years of restaurant experience.
SJMC faculty research spotlight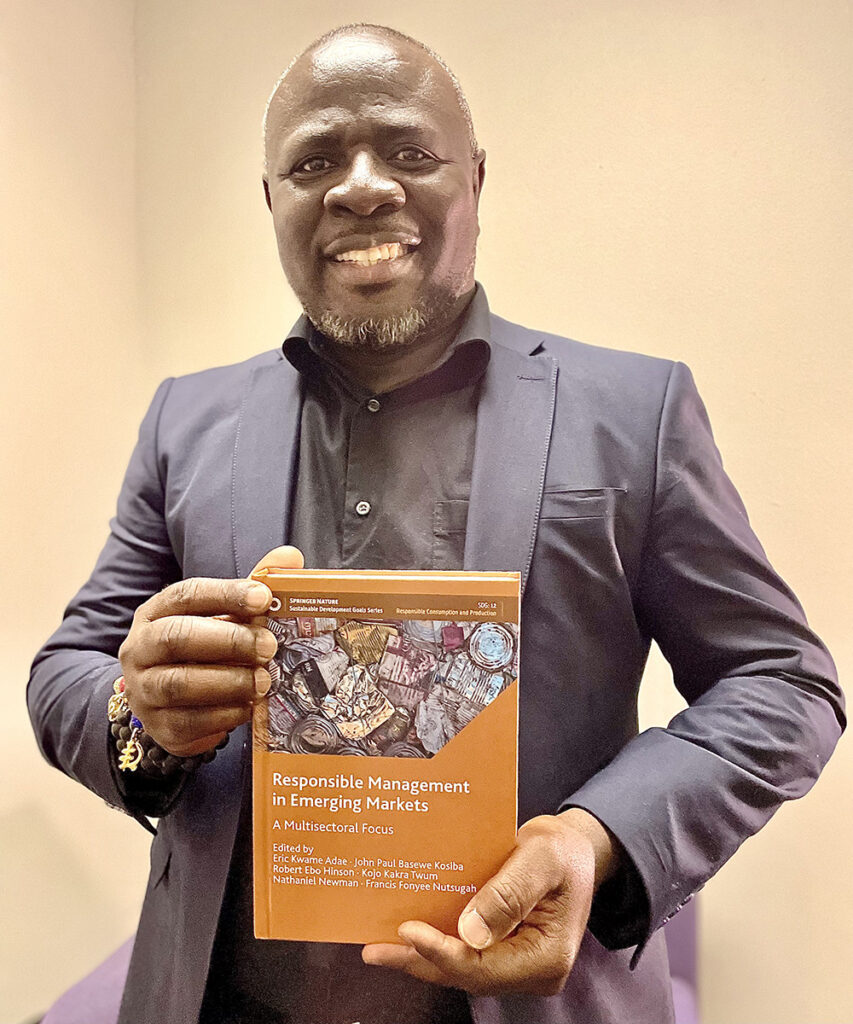 Dr. Eric Adae and his colleagues are co-editors of Responsible Management in Emerging Markets: A Multisectoral Focus, published by Palgrave-Macmillan / Springer. The book discusses diverse themes at the crossroad of corporate social responsibility (CSR), green business (marketing) and sustainability management.
This volume focuses on how businesses, nations, and continents across the globe can actualize a sustainable paradigm, now and in the future. It offers fresh theoretical, policy, and managerial insights into the complex processes and relationships that mediate businesses' ability to deliver on their social development promise, through sustainability and green initiatives.
Responsible Management in Emerging Markets: A Multisectoral Focus is available here.
SJMC faculty spotlight
Timm Pilcher is the SJMC's assistant director of professional & career development services and academic advising specialist. To learn more about Pilcher, see the profile in the September 7 issue of The Times-Delphic.
SJMC trivia
9/26/2022 Question: What is the number of current SJMC faculty and staff members (including those on sabbatical but not including adjuncts who are not teaching this semester) who are Drake University alumni? This question is a repeat from last week. Please submit an actual number, not an "at least, greater than, or less than" answer.
Click here to respond and enter a drawing for an SJMC prize.
Have a news item for the Memo?
The SJMC Monday Memo (and other days of the week as needed) is a newsletter to keep members of the wider SJMC community updated on School news, achievements, events and opportunities. If you have an item for the Memo, please send it to SJMC webmaster and multimedia professor Chris Snider (christopher.snider@drake.edu). SJMC alums and other professionals can also subscribe to the Monday Memo via email here: http://eepurl.com/bPNbxn