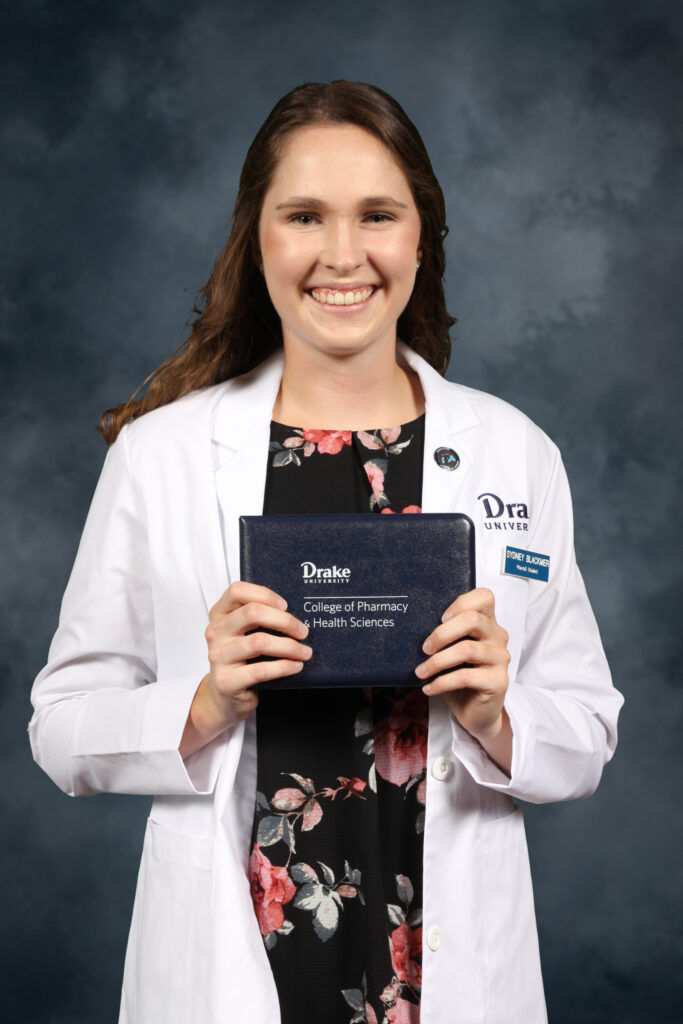 Sydney Blackmer, third-year student pharmacist, is a recipient of a Gateway to Research Award sponsored by the American Foundation for Pharmaceutical Education (AFPE). This award program seeks to provide student pharmacists with opportunities to participate in faculty-mentored research within the pharmaceutical sciences, leading to greater understanding of the importance of research and the implications of research for clinical practice.
The AFPE Gateway to Research Award includes a $5,000 stipend for recipients to use for research-related expenses in support of the research plan outlined in their application. The award is highly competitive, with less than 15 student pharmacists from across the United States receiving this award annually. Blackmer is the second student pharmacist in Drake University's College of Pharmacy and Health Sciences (CPHS) to receive this award. Katie Vollmer, PH'21, received the award in 2019.
"During my time at Drake, my course work in general and organic chemistry provided insight into the chemical and physical aspects of therapeutics that were highlighted during my course work in pharmacology and pharmaceutics. I particularly enjoyed these subjects as it increased my interest in the way drugs are developed and how the human body responds to them," said Blackmer. "I'm excited to receive the AFPE Gateway to Research Award because it allows me to continue to pursue my interest in pharmacology and help me create new opportunities for my career in the pharmaceutical industry."
The College of Pharmacy & Health Sciences focuses on student-centered education and offers many opportunities for students to work directly with faculty members on research projects. Blackmer is mentored by Brian Gentry, associate professor of pharmacology, to conduct research to determine the extent of activity and the exact molecular mechanism of action of filociclovir against human adenovirus.
"Sydney is an academically gifted student with a strong work ethic and a desire to conduct research," said Brian Gentry. "Over the course of the past year, she has made significant contributions to this project that will continue during the next academic year." 
The mission of the  AFPE is to advance and support pharmaceutical sciences education in U.S. pharmacy programs. To support this mission, the AFPE offers a variety of support to student pharmacists, students intending on pursuing a Ph.D. in pharmaceutical sciences, and faculty researchers.
"Congratulations to Sydney on receiving this national research award that allows her the ability to further explore a research career within the pharmaceutical sciences," said Renae Chesnut, dean of the Drake University College of Pharmacy and Health Sciences. "We are delighted that she received this honor as it demonstrates the unique opportunities afforded to Drake students to experience meaningful work in cutting-edge research projects."