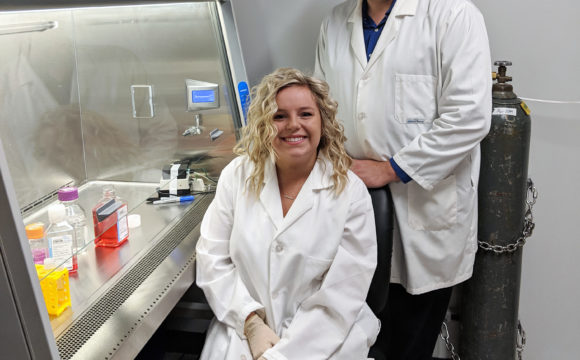 Katie Vollmer, second year pharmacy student, is a recipient of a Gateway to Research Award sponsored by the American Foundation for Pharmaceutical Education (AFPE). This award program seeks to provide student pharmacists with opportunities to participate in faculty-mentored research within the pharmaceutical sciences, leading to greater understanding of the importance of research and the implications of research for clinical practice. This award is highly competitive, with less than 15 student pharmacists from across the United States receiving this award annually.
"Groundbreaking research along with incredible mentors at Drake University has enabled me to grow as an individual and researcher," said Vollmer. "Their support has fueled my passion to help individuals on a larger scale and to discover things that no one could imagine."
The College of Pharmacy & Health Sciences focuses on student-centered education and offers many opportunities for students to work directly with faculty members on research projects. Katie is mentored by Brian Gentry, Associate Professor of Pharmacology, to conduct research to determine the mechanism of action of novel anti-viral compounds for the treatment of herpes virus infections.
"Not only is Katie Vollmer an academically gifted student who excels in her course work, but is an extraordinary researcher who has made significant advances with her project in a short amount of time," said Gentry. "This national AFPE Gateway to Research Award recognizes her achievements—both academic and research—and encourages/supports her continued efforts."
The mission of the AFPE is to advance and support pharmaceutical sciences education at U.S. pharmacy programs. To support this mission, the AFPE offers a variety of support to student pharmacists, students intending on pursuing a PhD in the pharmaceutical sciences, and faculty researchers.
"We appreciate AFPE's support of students and their mentors through the Gateway to Research award program," said Renae Chesnut, dean of the Drake University College of Pharmacy and Health Sciences. "This award showcases the unique opportunity that Drake students have to complete research projects with faculty who are conducting cutting edge research."