Announcement was made as organizations came together to celebrate National Small Business Week, Elevate Local Diverse Entrepreneurs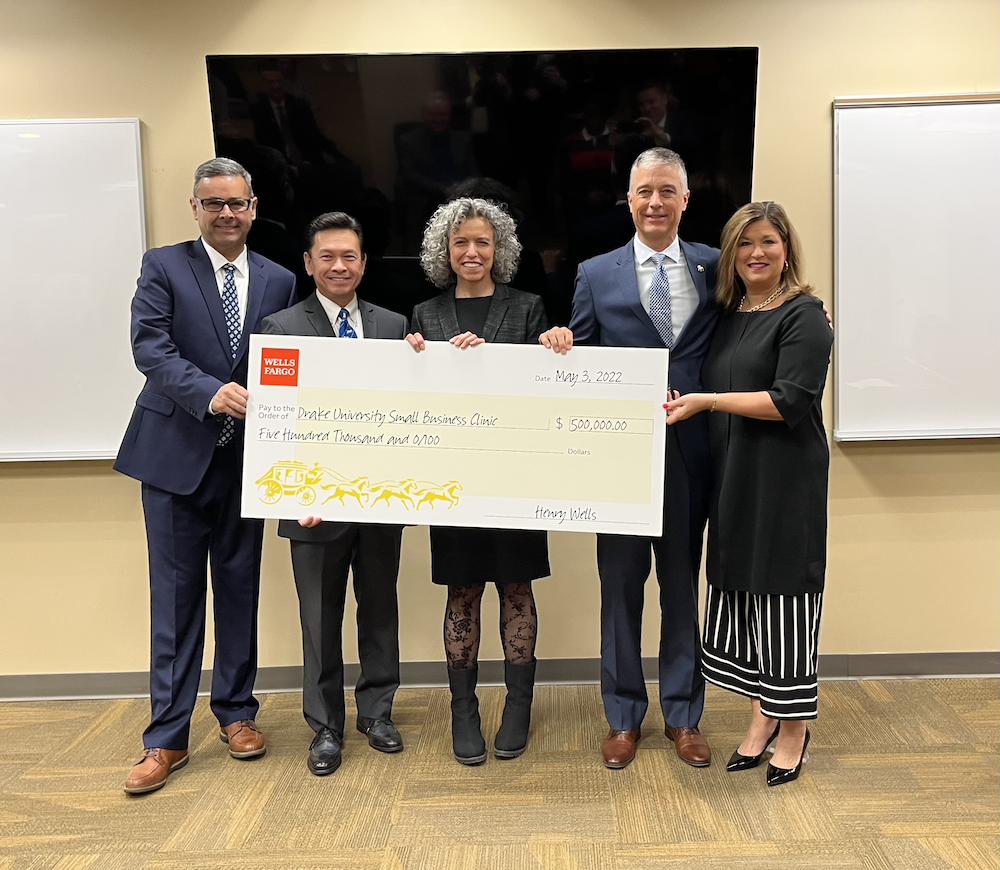 The Evelyn K. Davis Center for Working Families and Drake University's Small Business Clinic today received a total of $1 million in funding from Wells Fargo. The grants will be split among the two organizations, with each receiving $500,000, and support their small business development programs, which are helping fuel growth for diverse entrepreneurs throughout central Iowa.
"We appreciate the support that area businesses provide for those who call upon DMACC and the Evelyn K. Davis Center for support and education," said Robert Denson, Des Moines Area Community College President. "Wells Fargo has been a long-term partner and helps make Central Iowa the great place that it is."
"As an anchor institution in Des Moines, Drake University is committed to strengthening our community," said Drake University President Marty Martin. "One of the ways we are living this commitment is by advancing small business opportunities for underrepresented entrepreneurs, and we are grateful for the generous support of Wells Fargo and our partnership with the Evelyn K. Davis Center. Through this collaboration we will help build a more inclusive economy, providing assistance to help growth-minded small business owners unlock the potential of their enterprise."
Both the Evelyn K. Davis Center and Drake University Small Business Clinic provide assistance to business startups, entrepreneurs, and community nonprofit organizations to help them establish successful for profit and/or nonprofit enterprises, primarily targeting entrepreneurs and innovators located in underserved Des Moines neighborhoods who do not have access to capital and technical support. Recently, the two organizations have developed an informal complementary partnership, with entrepreneurs first completing the Evelyn K. Davis Center Business Boot Camp program then being referred to the Drake Business Accelerator.
This funding from Wells Fargo recognizes the success of this collaborative, cross-organizational programming and aims to strengthen and sustain the model.
"At Wells Fargo, we know that small businesses are the cornerstone of our local communities," said Phil Hall, Senior Vice President Human Resources, Wells Fargo."That's why I'm so thrilled to announce this funding to the Evelyn K. Davis Center and Drake University, because through their programming, they are helping local, diverse-owned small businesses scale their ideas, which will have a positive impact on the entire Des Moines community. This is an investment in the future of the city and Central Iowa."
In just five years, the Evelyn K. Davis Center has gone from aiding 50 small businesses to more than 1,000, with basic business planning and financial literacy education. Some notable alumni who have then gone on and completed the Drake Business Accelerator include Christine Johnson and her eatery the Joppa Experience, and Marc "Tony Mac" Nalls and his Clippernomics, the only barber school within 200 miles of Des Moines.
"My ultimate goal when I started in this industry 20+ years ago was to open my own barber school," said Marc "Tony Mac" Nalls. "Teaching the youth and showing them that throughout all the struggles they may endure, this industry is a way of legitimizing oneself and staying off the streets. And I'm so grateful for the teachers and coaches I met through the Evelyn K. Davis Center and Drake University to help me achieve my goal and be a positive influence in my community."
Leaders from the organizations gathered today in front of the Evelyn K. Davis Center Mural to share the announcement and celebrate local entrepreneurs during National Small Business Week. Food for the event was sourced from Nadia La Baker, a local business who participated in the Evelyn K. Davis Center Business Boot Camp.
This $1 million announcement is in addition to a $200,000 grant Wells Fargo made yesterday to 24/7 Black Leadership Advancement Consortium (24/7 BLAC) in Waterloo, Iowa, bringing total funding for minority-owned small business development programs throughout Iowa to $1.2 million – in just one week.
Entrepreneurs and small business owners can visit the Evelyn K. Davis Center and Drake University Small Business Clinic sites for more information.