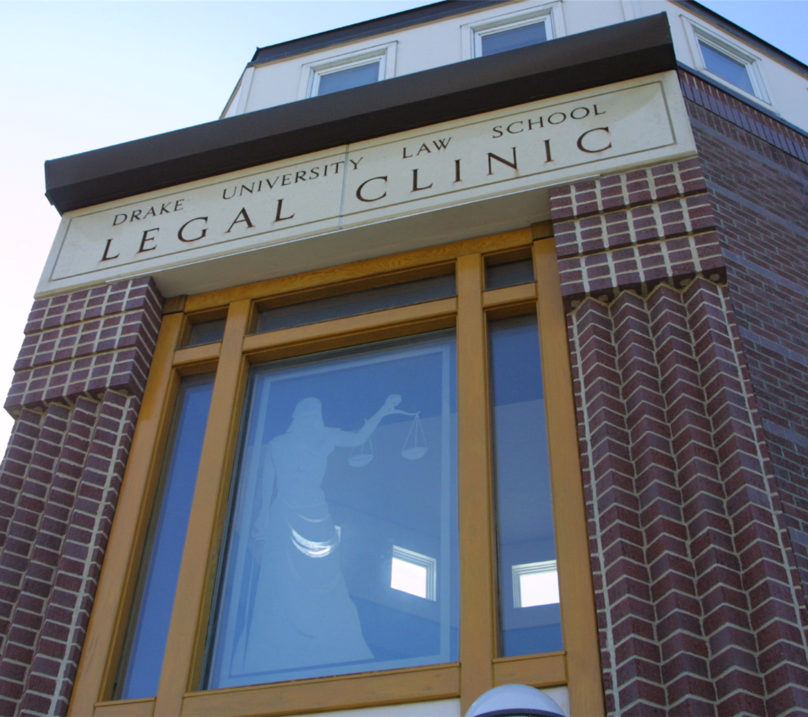 Drake University Law School is celebrating an anticipated $3.25 million gift to establish the J. Locke (LW'48) and Harriet S. Macomber Drake Law School Fund that will support the Drake Entrepreneurial and Transactional Clinic ("ETC"). The ETC provides legal assistance to business startups, entrepreneurs, and community nonprofit organizations to help them establish successful for profit and not-for-profit enterprises. The clinic represents entrepreneurs and innovators located in underserved Des Moines neighborhoods and rural communities who are not able to afford legal counsel.
"Locke and Harriet Macomber were loyal supporters of Drake Law School for decades," said Jerry Anderson, Dean of Drake Law School. "We are honored to be remembered in their trust. Their gift will enable the Law School to continue to provide exciting and innovative legal services through the Entrepreneurial and Transactional Clinic."
Recent projects with the ETC have supported rural community revitalization and ensured access to social services in urban neighborhoods. When the Heartland Market chain closed its locations in rural Calhoun County in late 2019, the people of Manson, Iowa, found themselves without a grocery store. Facing a "food desert," community members organized to find a solution to the problem. Student attorneys with the ETC helped them develop a creative strategy to bring a grocery store back to the community, paving the way for the grand opening of Manson Hometown Grocery in 2020.
In 2020, a Des Moines area social relief agency faced potential disruptions in their ability to provide services to some of the community's most vulnerable citizens due to the COVID-19 pandemic. Student attorneys provided legal support and advice which enabled the organizations to retain staff and remain open throughout the entire pandemic, a time during which the organization's free and reduced rent, supportive housing, food pantry and childcare services were needed more than ever.
"The work we do at the ETC benefits both the students and the community," said Nick Roby, director of the ETC. "The students who work on these projects gain valuable real-life experience while providing direct, significant benefit to our clients."
Drake is a pioneer in clinical legal education, in which students learn by representing real clients in real cases. Drake's Legal Clinic, which includes six separate subject-matter clinics ranging from criminal defense to children's rights, celebrated its 50th anniversary in 2021. Drake's innovative program requires significant resources to accomplish our goals. "The Macomber gift," said Professor Suzan Pritchett, Director of Clinical and Experiential Programs, "allows us to give the next generation of lawyers the unique opportunity to engage in meaningful, closely supervised practice as an integral part of their educational journey at Drake Law School."
With the Macomber gift, Drake Law School donations to The Ones: Drake's Campaign for the Brave & Bold have now exceeded $13 million, toward the Law School's goal of $20 million.