The College of Pharmacy and Health Sciences' annual Alumni Achievement Awards were presented at Health Professions Day (formerly Pharmacy and Health Sciences Day) on February 24, 2022. This year's outstanding alumni included Young Alumni Achievement Award Recipient Becca Mahnesmith and Alumni Achievement Award Recipients Angie Nelson and Jill Noehren.
"Our 2022 Alumni Achievement Awardees are a distinguished group of individuals with many achievements," said Renae Chesnut, dean of the college. "They serve as excellent role models with their dedication to their professions, communities, and the College."
Becca Mahnesmith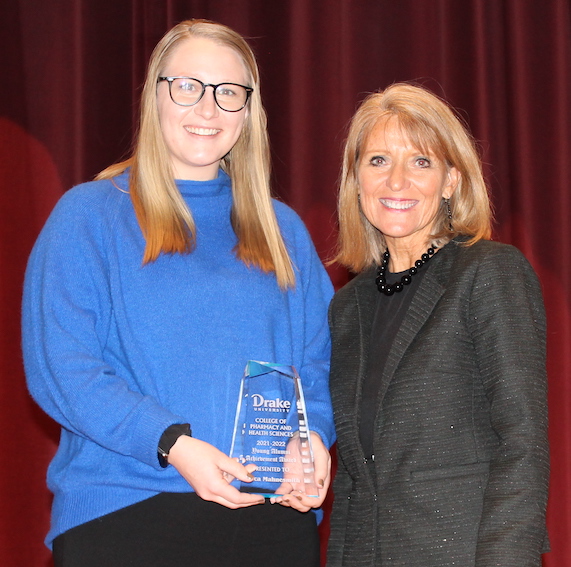 Becca Mahnesmith earned her Bachelor of Science in Health Sciences degree from Drake in 2016. She went on to complete a Bachelor of Science in Nursing from The George Washington University in Washington D.C. where she earned Summa Cum Laude honors and was inducted into the Sigma Theta Tau organization. She continued at George Washington, earning her MSN and a Family Nurse Practitioner in 2020. While completing her nursing education, Becca was selected as one of 33 students nationally as a Susan D. Flynn Fellow, completing a summer of experience in oncology nursing. Her specialty area is in Hematology – Oncology and now Palliative Care, holding positions with Mayo Clinic, University of Minnesota, Livio Health, and now Allina Health in the Minneapolis, St. Paul area.
Becca's leadership during her time at Drake continued during nursing school at George Washington University, where she worked with four other students to develop a mentoring program for first-year student nurses. She continues to give back to Drake and currently serves on the Health Sciences Advisory Board.
Angie Nelson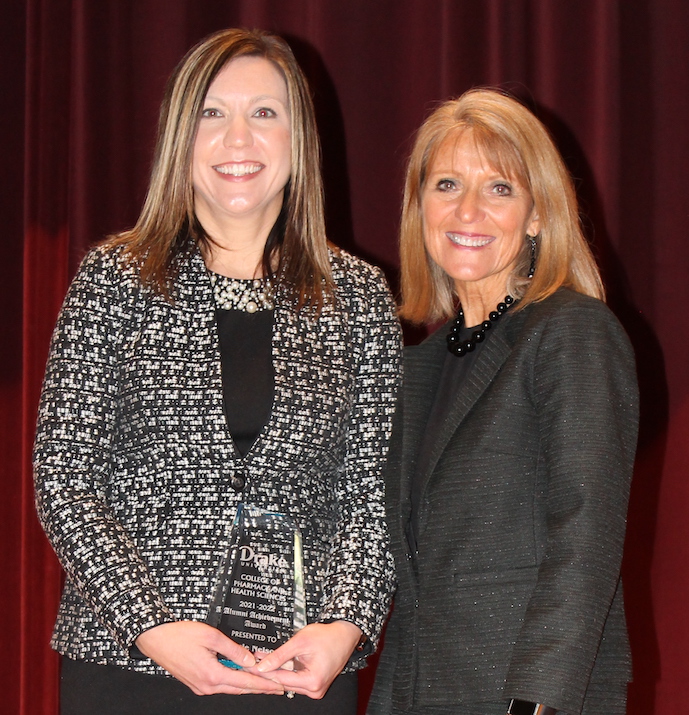 Angie Nelson earned her Doctor of Pharmacy from Drake in 2001 and is the current Senior Vice President of Pharmacy for Hy-Vee. As a 20-year veteran of Hy-Vee, Inc., Angie has worked as a pharmacist, pharmacy manager, store director, pharmacy supervisor, and vice president of pharmacy operations.
In recent years, Angie has helped implement artificial intelligence technology and machine learning models across Hy-Vee's pharmacy space to improve patient adherence. In 2019, she helped lead the effort to secure drug take-back receptacles at all Hy-Vee pharmacies. In 2020, Angie helped roll out new, contact-free health and wellness services amid COVID-19 to provide safer services for patients. In addition to the drive-thru flu shot clinics, Angie also led the implementation of prescription delivery, curbside prescription pickup and ship-to-home options. Working with Hy-Vee's digital team, she helped unveil digital vaccination consent forms as another contact-free option.
In early 2021, she ensured that Hy-Vee was named a CDC Federal Retail Pharmacy partner to provide millions of COVID-19 vaccines, and has worked tirelessly to increase vaccine access in underserved communities throughout the Midwest. She helped lead the incredibly valuable partnership between Hy-Vee and Drake University's College of Pharmacy and Health Sciences that enabled individuals to receive their COVID-19 vaccination on Drake's campus through weekly vaccination clinics, vaccination clinics for faculty/staff, and clinics for teachers/school staff considered front line workers at the very beginning of the vaccine rollout. Angie has been named one of Progressive Grocer's Top Women in Grocery twice, a Drug Store News Top Woman in Health, Wellness, and Beauty, one of Mass Market Retailers' Most Influential Women, and is a member of the Hy-Vee Hall of Fame.
Jill Noehren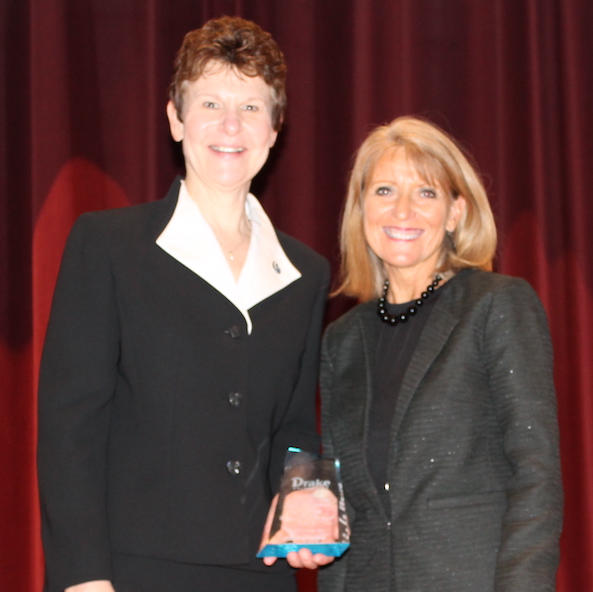 Jill Noehren is a graduate of the Drake pharmacy class of 1990 and is the current Senior Director, Physician Experience at Evernorth, a subsidiary of Express Scripts, where she has spent much of her 21-year career. After graduating from Drake, Jill spent her first few professional years in hospital pharmacy taking on a variety of responsibilities. After accepting a management position, she completed her MBA from Southwest Baptist University.
Jill entered managed care pharmacy with Express Scripts and worked in sales and account management positions for over ten years. She then transitioned into a new opportunity to better the provider experience. Jill initially focused on maximizing Electronic Health Record capabilities including electronic prescribing, electronic prior authorization, and the development of Real Time Prescription Benefit (RTPB). Over the past 4 years, she has built a team of 40 pharmacists around the country combining pharmacy and medical claims data along with predictive modeling to educate prescribers on the use of high-cost medications, quality measures, and sites of care.
In addition to her career success, Jill has also continued to be involved with the Drake College of Pharmacy and Health Sciences. She has previously served on the College's Pharmacy National Advisory Council, and the Pharmacy Admissions Committee, and continues to serve as a guest lecturer for CAPS class and a shadowing site for pre-pharmacy students.