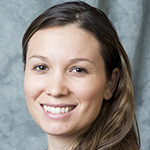 Richelle M. Williams, assistant professor of athletic training at Drake University's College of Pharmacy and Health Sciences, developed a toolkit for Iowa high school athletes, coaches, and parents about concussions and best practices for managing them. The development of the concussion education toolkit is a result of a 2021 research grant Williams received in collaboration with Maggie Ferguson (Iowa Department of Public Health) from the Mid-America Athletic Trainers' Association (MAATA) called Iowa interscholastic athletic coaches' perceptions of sport-related concussion and the impact on concussion culture, sports safety, and management. A publication from the grant's findings is also being prepared focused on coaches' perceptions of concussions.
Part I of the concussion education toolkit includes an infographic that features facts about concussions for youth and Part II includes an informational video that was created in collaboration with Drake University's School of Journalism and Mass Communication and produced by assistant professor, Lakshmi Tirumala. The concussion education toolkit will be distributed to Iowa athletic associations and coaches that Williams worked with throughout her research. She hopes to provide new material for youth athletes to educate them on sport-related concussions. 
Sport-related concussions and brain health are areas of expertise for Williams. She has previously published research related to concussions including "The Impact of Concussion on Health-Related Quality of Life as Measured by the Patient-Reported Outcome Measures Information Systems in Adolescent Athletes" in the Journal of Sports Rehabilitation.