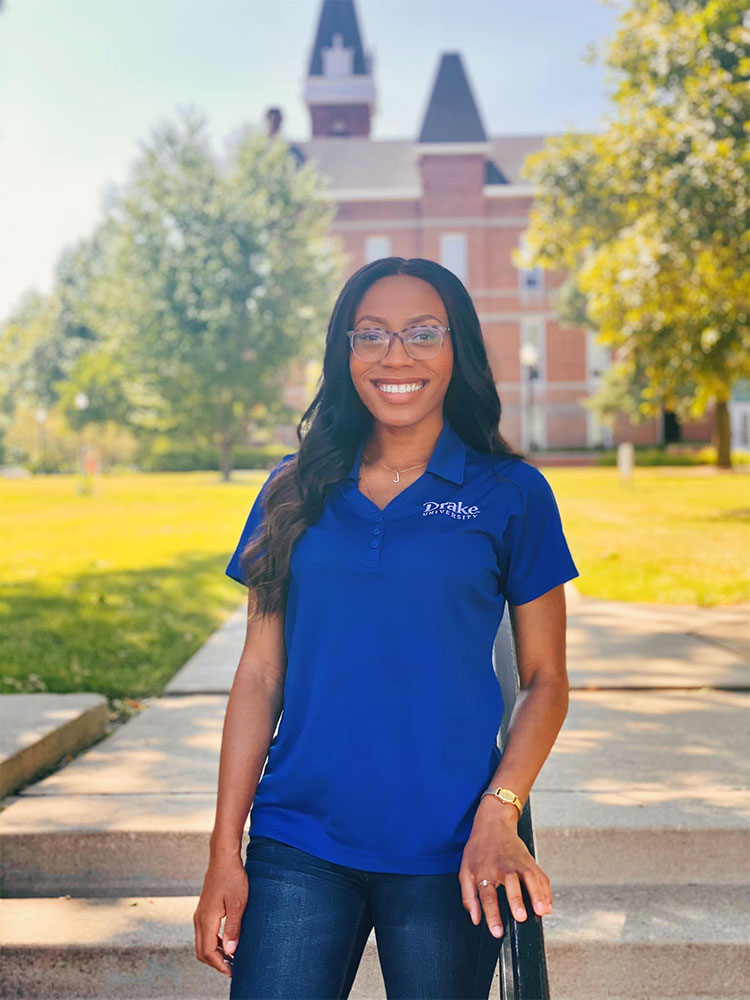 This Q&A is part of the story series Voices of Drake that highlights the diversity, ambition, and passion of the incredible people who make up our campus community. In honor of Black History Month, we will be sharing a collection of interviews to spotlight Black voices in our community. This week's story introduces Jazlin Coley–Smith, director for Equity and Inclusion at Drake University.
Tell us about yourself.
My name is Jazlin Coley–Smith. I am originally from the west side of Chicago "Chicago, Chicago." Although, I have moved around most of the Midwest as well. I am the oldest of 13 and was a first-generation student. I have two fur babies—Sonny and Midnight—and I am a small business owner for event planning.
What do you do at Drake? How long have you been at Drake?
I am the director for Equity and Inclusion at Drake University. I have been in this role for seven months.
Prior to this role, I attended Drake for my undergrad and served two AmeriCorps terms at Drake after graduating, so technically it has been a little over six years for me.
What is your favorite thing about working here?
My favorite thing about working at Drake is the students! I love being a part of someone's learning journey and seeing them find their place at Drake.
Tell us about your time as a student at Drake. What did you study and why did you choose to attend Drake?
I earned my bachelor's degree in mass communications with a minor in psychology and a concentration in leadership. I decided to study at Drake because of the Crew Scholars program, an academic excellence and leadership development program for students of color. I also chose Drake because of its proximity to my hometown in Illinois. It was not too far, but not too close.
How has your background/influences brought you to this position, and what made you want to pursue a career path in DEI?
Besides my experiences of being a Black woman in America, my background in mass communications and psychology sparked a theoretical interest in DEI for me. Like others who identify as a person of color in our society, I have had my shared experiences of injustices and experiencing societal ills. But, surrounding myself in academia focused on understanding how to communicate effectively with others through the communication lens, and the reason behind our methods of communication through a psychological lens was impactful. I started to realize that there was an entire movement behind DEI, and I knew I could take my background and everything I learned from my ability to interact effectively with others from very different backgrounds, and step into the field of DEI and make it easier for others that look like me.
What do you see as strengths within Drake related to DEI?
I see Drake as a place where we can start small and build momentum into something that could impact our campus structurally. There is so much power among our faculty, staff, and students, and over the years that power has grown collectively into something that impacts our culture, policies, campus body, and more. I have been here for only a few years, and I have seen the impact firsthand. I'm not sure if it is due to our campus size or the level of engagement within our campus body—but I believe the opportunity for impact on this campus is limitless.
In what areas would you like to see growth within Drake related to DEI?
I would love to see strengthened collaboration between our culturally based and/or identity-based organizations in our community. Yes, there are certain partnerships with local organizations and multicultural organizations or specific courses, but I would love to see more of that relationship ingrained into our culture and supported throughout our institution.
What does Black History Month mean to you?
Black History Month is the acknowledgment of the influence, leadership, and power of Blackness. It is a time for thanks and homage to Black people who have impacted this nation. It is also a reminder of balancing strength and rest as well.
What do you hope is accomplished during the month of celebration and recognition?
I hope the Black students, staff, and faculty at Drake feel acknowledged, supported, and empowered throughout this month of celebration.
You have done a lot of advocacy work throughout your career. Tell us about this work.
I am currently the staff person for the Crew Scholars program. I am an alum of that program, so Crew holds a special place in my heart. The Crew Scholars program, as mentioned, is an academic excellence and leadership development program for students of color. This group provides scholars with the tools to strengthen their skills to become leaders on campus and in the community. I am so proud to say that after eight years, we are expanding the program from one cohort to three. This expansion will allow for equitable access to resources, mentoring, and tools that will impact student experiences at Drake.
What advice do you have for other faculty, staff, or students who are interested in getting involved in service, volunteer, or DEI work?
Be humble and be honest. This work should be eye-opening and honestly a little alarming. To change injustices structurally, we have to identify where we, as individuals, contribute to the same societal ills we are fighting.
These past few years have been like no other. What advice would you like to give to a first-year student at Drake
Be wise with your time and where you spend your energy. Your time at Drake will go by fast and there is a lot to take in—if you are open and willing to hear and learn from those around you.