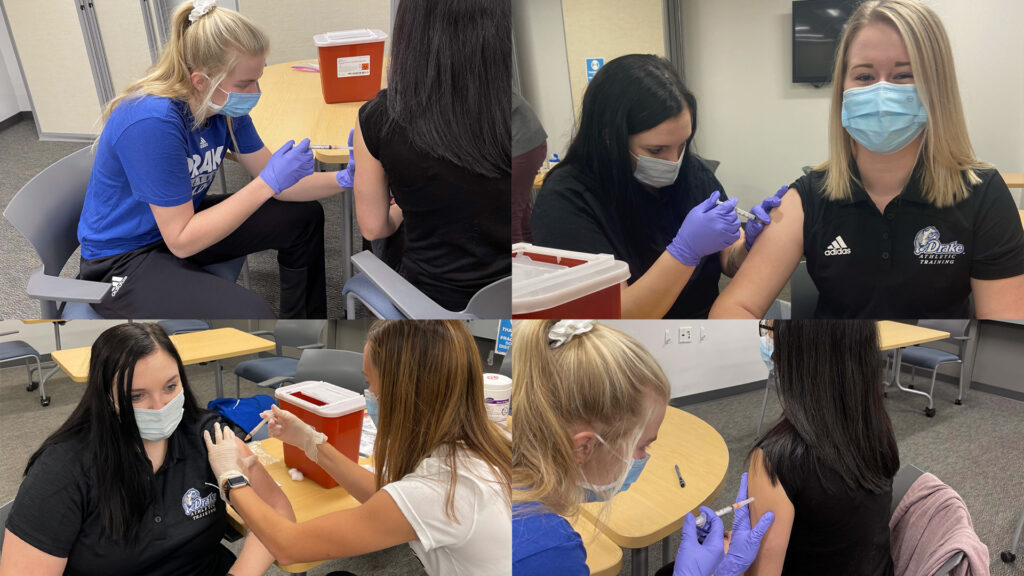 Students completing the Master of Athletic Training (MAT) degree at Drake University have several unique learning opportunities available to them as a program within a health professions college. One of those unique learning experiences was earning immunization certification at the start of the spring 2021 semester, a role that typically falls outside the realm of athletic trainers. The opportunity to complete this training gives students a competitive edge and the ability to assist with COVID-19 vaccination efforts. 
The CPHS has partnered with the Polk County Health Department and Hy-Vee to administer vaccines to eligible Polk County, Iowa residents. Hy-Vee is providing the supplies and administration support needed for the campus vaccination site, while certified CPHS students are administering the vaccine under the supervision of trained pharmacy faculty. The dissemination of the COVID-19 vaccine presented the need for hundreds of immunization-certified volunteers at the campus site, presenting the opportunity to MAT students.
"Since our AT program is housed in the College of Pharmacy and Health Sciences, we can offer our students unique learning opportunities," said MAT program director Nate Newman. "Learning to provide immunizations is another way in which students can expand their skill set at our program and be able to practice at the top of their license, really maximizing their skill development. 
The most current vaccine information is available at the Polk County Health Department website. Inquiries about appointments at Drake's vaccination site should be directed to (515) 474-4816.