2015 Drake alum covers attack on Congress
SJMC alum Meagan Flynn, JO'15, a staff writer at The Washington Post, had a history-making role last week: She shared a byline on the Post's front-page story about the mob takeover of the U.S. Capitol. Meagan has been at the Post since 2018. She previously worked for newspapers in Houston, Texas, where she covered criminal justice, poverty, civil rights and politics.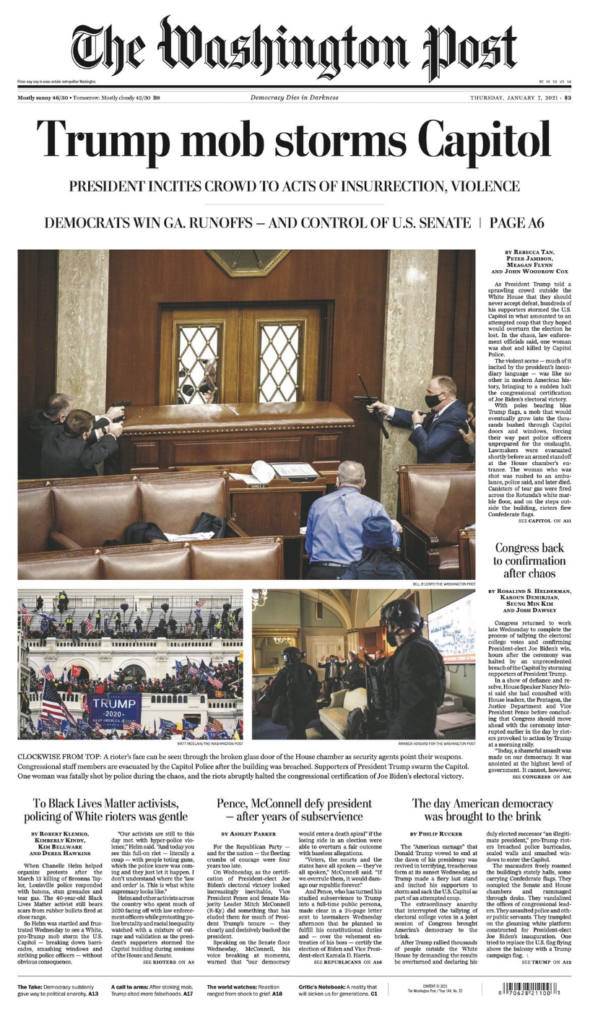 Putting the news in historical context: Public radio's "On the Media" put together, in just a few days, a fascinating examination of how the current insurrectionist movement can be traced back to the Civil War and Reconstruction.
Boldly go where no intern has gone before!
The Television Academy Foundation and CBS Studios are offering students internship experience. The Star Trek Command Training Program is accepting applications from both undergraduate and graduate students for remote spring and summer positions. The program offers a "360-degree immersive experience in the production of the Star Trek Universe, including writing, wardrobe design, on-set production, animation and post-production processes." For more information and to apply by Jan. 19, visit the Television Academy Foundation website: https://www.emmys.com/foundation/internships
Tips from the trade
The folks at the Morning Brew business e-newsletter shop offer "10 content proofreading tips" to help copy writers avoid embarrassing goofs.
Scholarships for entering first-year SJMC students
Any prospective students who are reading this week: The SJMC offers three scholarships for entering first-year students. These scholarships are renewable for four years, so long as the scholarship qualifications are met. Application deadline is Feb. 1. For more information and to apply see the Drake scholarship page.
And finally . . .
If spending too much time hunching over a computer screen is giving you a stiff neck or other body aches, start out your day with one of the free classes from Yoga With Adriene, who was featured recently in the New York Times as the most popular instructor on YouTube. Low-key, no-stress, hippie-chick vibe from Austin, Texas. Enjoy.
Have a news item for the Memo?
The SJMC Monday Memo (and other days of the week as needed) is a newsletter to keep members of the wider SJMC community updated on School news, achievements, events and opportunities. If you have an item for the Memo, please send it to Dean Kathleen Richardson (kathleen.richardson@drake.edu) or SJMC webmaster and multimedia professor Chris Snider (christopher.snider@drake.edu). SJMC alums and other professionals can also subscribe to the Monday Memo via email here: http://eepurl.com/bPNbxn