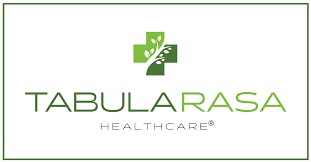 Drake University's College of Pharmacy and Health Sciences celebrated in November the first anniversary of its strategic partnership with Tabula Rasa HealthCare® (NASDAQ: TRHC), a healthcare company advancing the field of medication safety. The partnership included the implementation of TRHC's MedWise™ (formerly SinfoníaRx®) Medication Therapy Management (MTM) solution. As the partnership crosses the one-year mark, thousands of people throughout the country have received medication therapy management (MTM) services through the clinical call center located on Drake University's campus.
Through this partnership, 60 students have worked as interns for the call center. These interns have had a unique opportunity to put didactic and clinical knowledge to practice through medication management services and providing resources on COVID related information for patients.
"This partnership allows us to combine one of the leaders in telehealth services nationwide with one of the best universities in the country to form a team that results in a great experience for students," said Michael Schnackenberg, a MedWise pharmacist. "We have the incredible opportunity to learn and practice pharmacy while also making a difference in the lives of patients by hearing their stories, struggles, and other healthcare challenges. Patients have come to highly value the consultations we provide, discoverable cost savings, duplicate therapies, and dangerous drug interactions, ensuring they get the greatest benefit from their medications."
Many of the call center efforts have supported community pharmacies using technology solutions from TRHC's PrescribeWellness (PW)division. PW is a leading cloud-based patient relationship management solution that facilitates collaboration between more than 10,000 pharmacies, payers, providers, pharmaceutical companies, and their patients for better health.
With a flexible scheduling system, student interns can plan hours around their academic schedules. The student interns receive feedback on their cases every week from clinical pharmacists across the country and the campus team of pharmacists, students, and technicians meets weekly to discuss updates from the company, review clinical guidelines, and learn best practices.
As with the rest of the world, COVID-19 changed the MedWise clinical call center environment many times during the first year. Staff and interns have switched between remote and in-person work multiple times. The team has adapted frequently to ensure they are still reaching out to patients. Working remotely also affords student interns the option to work from almost anywhere in the country.
This enthusiasm for the partnership is mutual, as the partnership adds the opportunity for fourth-year students to complete advanced pharmacy practice experiences within the center.
"We feel fortunate to be one of the MedWise academic partners as we seek to expose our students to innovative internship experiences that improve patient care," said Renae Chesnut, Dean and Professor. "We look forward to future endeavors using telehealth solutions that prepare our students for their future careers."