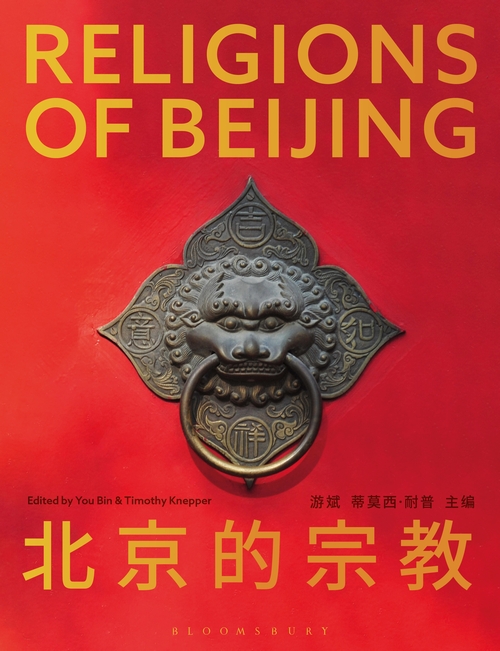 The Comparison Project at Drake University will launch its new photo-narrative book Religions of Beijing on Facebook Live Oct. 13 at 7 p.m. The event is free and open to the public. Participants are asked to register in advance at beijingbooklaunch.eventbrite.com.
Religions of Beijing visually chronicles living religion in Beijing. It is the result of a two-year collaborative project between faculty and staff at Drake University and institutional partner Minzu University of China. The book is the second in a series of photo-narratives published by The Comparison Project.
"The project offered an unparalleled intercultural opportunity for students and faculty from Drake and Minzu University of China to work and learn together," said Timothy Knepper, professor of philosophy at Drake and director of The Comparison Project. "In doing so, the book contextualizes the diverse religious communities of Beijing and the lives of their practitioners—and counters many common assumptions."
Published by Bloomsbury Press, the Religions of Beijing showcases 17 religious communities, collectively representing seven religious-philosophical traditions. The book is bilingual—written by Minzu students, translated to English by Phoebe Liang D'Alessandro, Drake University adjunct instructor of Mandarin, and edited by Drake students. It includes over 100 photographs by Bob Blanchard and Minzu photographer He Yinglong. The pages were designed by John Fender, Drake University associate professor of art and design.
Religions of Beijing was generously supported by Drake's Nelson Institute and Minzu University of China. Books may be purchased now and following the event at beijingbooklaunch.eventbrite.com. Proceeds support the development of The Comparison Project's next photo-narrative which will showcase religions of South Africa with the University of KwaZulu-Natal.
The Comparison Project features a series of lectures, panel discussions, and interfaith dialogues designed to spark religiously diverse conversations and promote religious and cultural understanding. The program is an illustration of Drake's commitment to the intellectual and moral development of its students and the emphasis on building a campus community where differences are embraced. Over the years, its programming has been supported by the Arthur Vining Davis Foundations, Humanities Iowa, Cultivating Compassion: The Dr. Richard Deming Foundation, the Drake University Center for the Humanities, the Des Moines Area Religious Council, the Drake University Principal Center for Global Citizenship, and the Medbury Fund.
In addition to the book launch, The Comparison Project will host the following lectures this semester on Facebook Live:
Thursday, Nov. 5, at 6 p.m. – "Religious beliefs and practices of Nguni people of South Africa" by Professor Herbert Moyo of University of KwaZulu-Natal
Thursday, Dec. 3, at 6 p.m. – "African Independent Christianity in South Africa" by Professor Lilian Siwila of University of KwaZulu-Natal
For more information, please visit comparisonproject.wp.drake.edu, or facebook.com/drakecomparison.