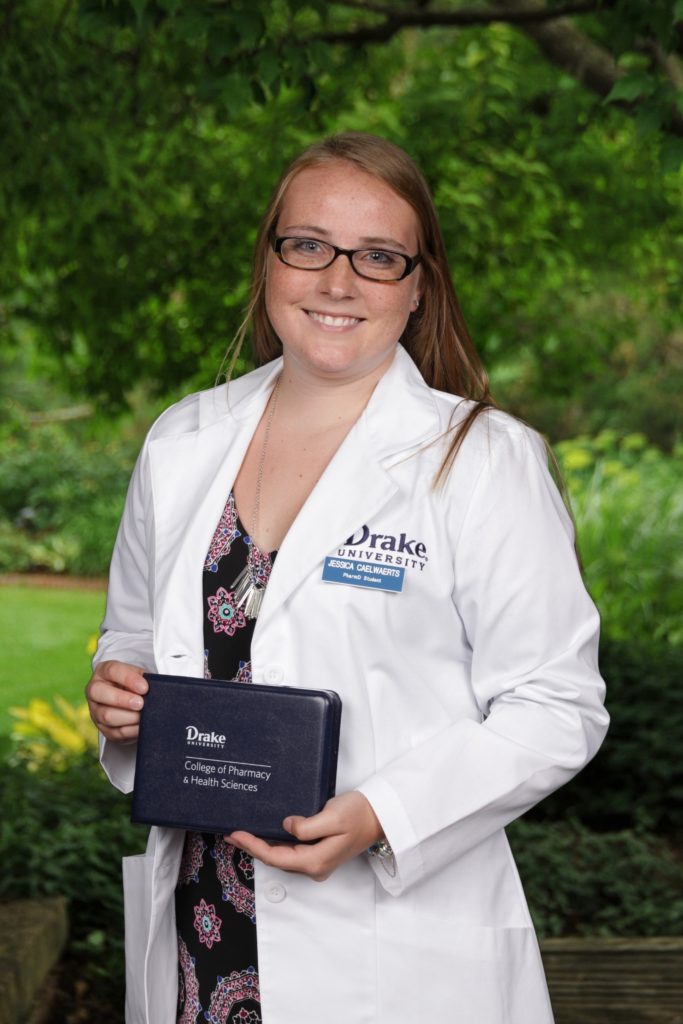 While the COVID-19 pandemic has changed the world as we know it, what has not changed is the commitment of Drake University's College of Pharmacy and Health Sciences (CPHS) students to provide services to patients in various practice settings. They are on the frontlines of health care, continuing to be committed to patient care while serving in their practice, doctoral, and capstone experiences.
Jessica Caelwaerts, fourth-year doctor of pharmacy student, recently completed a final year experience at Blackfeet Community Hospital Pharmacy in Browning, Mont. Amidst robust changes and increased concern, Caelwarts stepped up to assist the pharmacy in answering patient questions about COVID-19.
"My experience amidst this climate has reinforced the need for versatility among pharmacists and the impact that we have on our patients by putting their safety at the forefront of our minds," said Caelwaerts.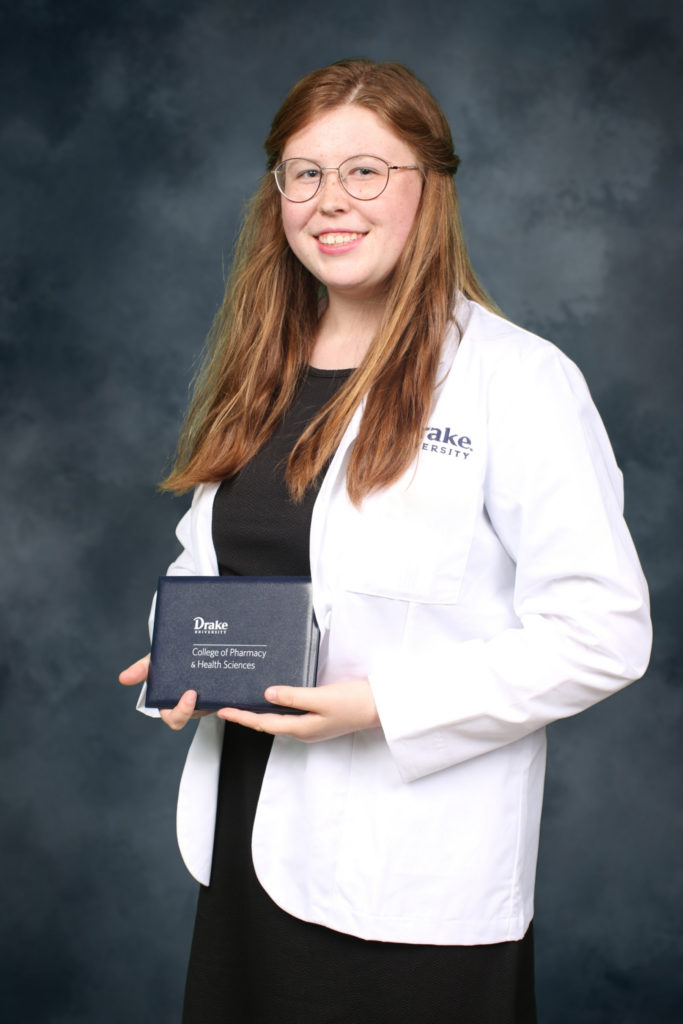 Annika, first-year doctor of pharmacy student, is fulfilling an introductory pharmacy practice experience (IPPE) at Walgreens Pharmacy and has an internship at HyVee Pharmacy in Des Moines. At both locations, precautionary measures were implemented to protect employees and customers.
"I feel like pharmacies are the most accessible place to the general public right now to get reliable COVID or health information," said Annika. "We've received a lot of questions from patients about COVID, such as how they can prevent getting sick, what they should stock up on, and how to get their medication if there is a shutdown. "Pharmacies and pharmacists are being given a spotlight as to how we are really important healthcare providers and resources, and I hope that people will remember that when the pandemic is over."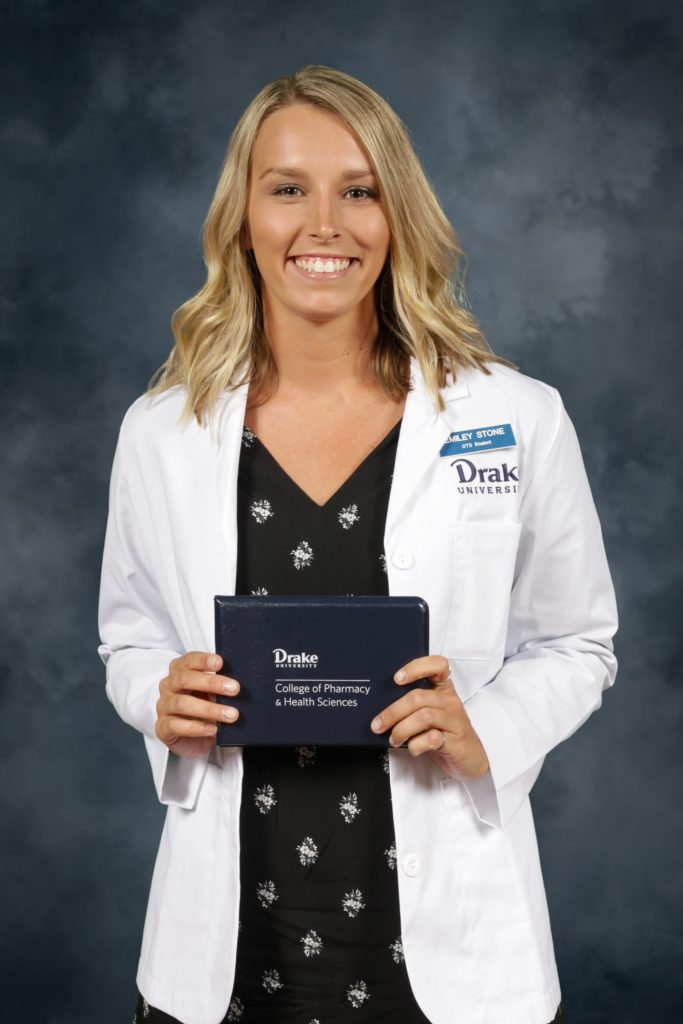 Emiley Stone, third-year occupational therapy student, is fulfilling her final semester experience at SwedishAmerican Hospital in Rockford, Ill. In the physical medicine department, Stone and employees discuss training with family members of patients over the phone since visitors are not currently allowed in the health system. In order to assist the physical medicine department in preparation for possible "what ifs," she is cross-training the outpatient therapy staff to be able to work as inpatient therapists. She trains them to use the electronic medical record system and hospital equipment including beds, lifts, and transfers. Stone was also recruited to join staff leadership meetings to brainstorm ways the physical medicine team can continue providing care in direct and indirect ways during the progression of COVID-19.
"Occupational therapists have so many useful tools to use amid a global pandemic and I feel lucky to use some of those tools to help others around me since everyone is affected in some way by the current situation," said Stone. "Entering the industry during a global pandemic is not something I expected but I feel like it's preparing me for the future and to handle different situations."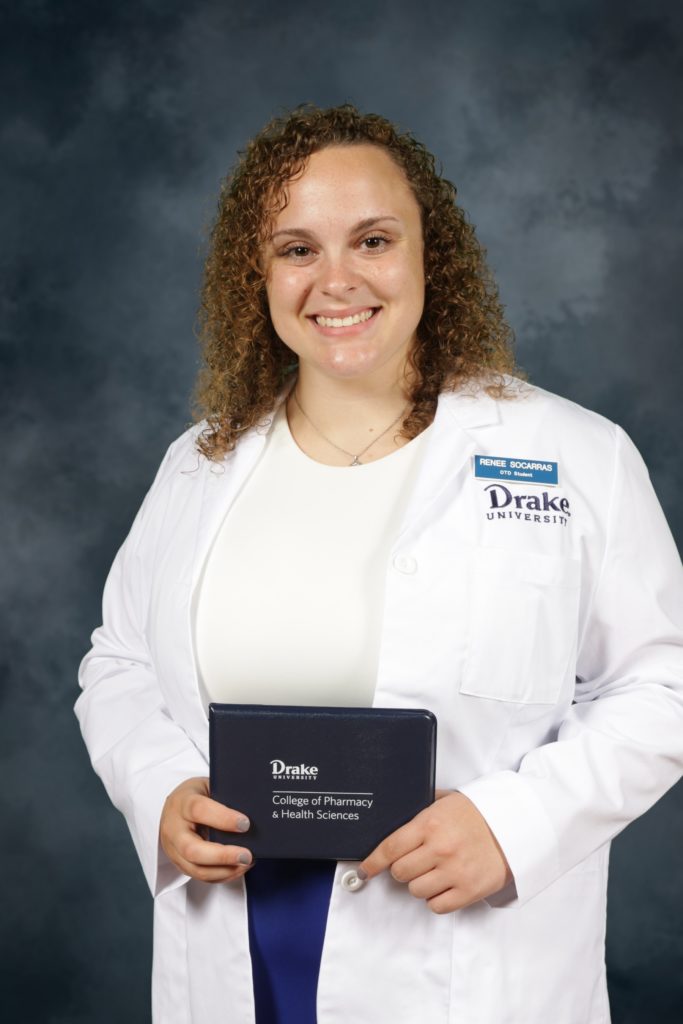 Renee Socarras, also a third-year doctoral student, is currently fulfilling her doctoral experience in the rehabilitation department of Optimae LifeServices in Des Moines. The group homes are currently restricted to Optimae staff only who follow strict precautionary measures. She stresses the importance of washing hands correctly and utilizing hand sanitizer, and she has the clients demonstrate those techniques. In her free time, Socarras made masks for home health nurses and occupational therapists. The therapy department also has the opportunity to treat through telehealth services when applicable.
"The state of COVID-19 does not change the needs of clients for therapy, home health aides, and nurses to maintain or improve independence in their daily lives," said Socarras. "My project has evolved through this experience and so have I. I've become a more flexible and resilient practitioner which benefits current and future clients by providing quality and individualized care no matter the circumstances."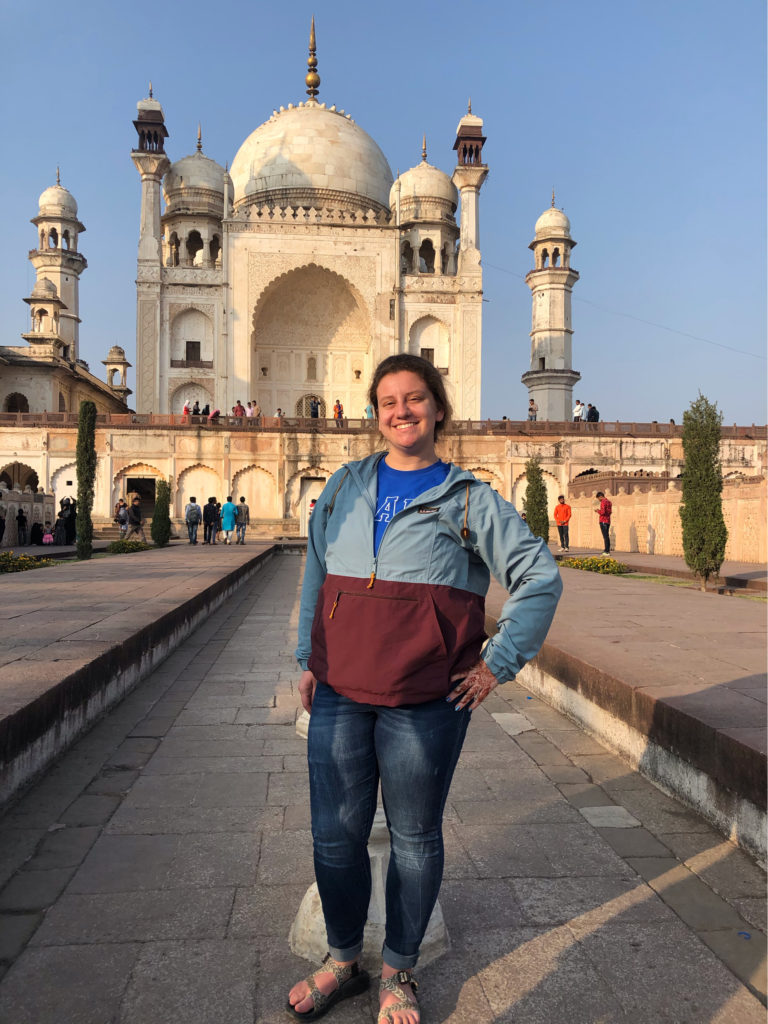 Maddie Shipley, a senior health sciences major, is completing her capstone project as the Healthy Women Program Intern at the Polk County Health Department (PCHD) in Des Moines. The program helps underinsured and uninsured women receive essential services related to breast, cervical, and cardiovascular health. With clinics and hospitals currently limiting services, scheduling women for their services is more difficult. Shipley is assisting the Communicable Disease Team of the PCHD by taking inventory of personal protection equipment, and updating case management spreadsheets and patient tracking data. She also answers the main phone line and takes messages for nurses.
"As a student pursuing a future in public health, this pandemic has provided me an up-close and personal view of public health in action in a way that will make me a stronger professional in the field," said Shipley. "Being able to help out, even in a seemingly small way puts me in the middle of it and I am able to see all the roles being played out as we all work towards a common goal."
These are just a few examples of the many ways that Drake University CPHS students are on the frontlines of healthcare during the pandemic. Students continue to practice civility, caring, respect, and collaboration at their practice sites to provide the best patient care and support. They are learning to practice humility and emotional intelligence during an unprecedented, stressful time, which will further shape them into adaptable healthcare professionals. Finally, they're handling the public health crisis with optimism and confidence, recognizing the oath they have given to their professions. Through it all, they continue to live Drake's University's values of 'generosity of spirit' and 'all in this together' during the crisis.