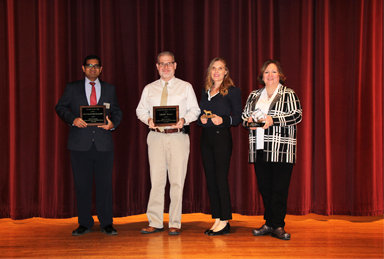 During the annual Health Professions Day (formerly Pharmacy and Health Sciences Day), held on February 27, 2020, the College of Pharmacy and Health Science presented various awards to faculty members who demonstrate outstanding teaching, mentorship, scholarship, and professional involvement within their fields. Nominations for the awards are sought from students and colleagues alike from within the college.
Brian Gentry, Associate Professor of Pharmacology, was named the Hartig Distinguished Professor. This award recognizes a faculty member who has distinguished him or herself in teaching, scholarship, service, or practice.
Kristin Meyer, Associate Professor of Pharmacy Practice, was honored with the C. Boyd Granberg Professional Leadership Award. This award is given to a faculty member who is committed to professional organizational leadership – both for themselves and among students.
Cassity Gutierrez, Associate Professor and Department Chair of Health Sciences, was honored with the Richard Morrow Transformational Leadership Award. This award recognizes a faculty member whose transformational work has gone above and beyond. Transformational leaders focus on team-building, motivation and collaboration with colleagues to accomplish change for the better. They identify a needed change, create a vision to guide the change through inspiration, and execute the change through collaboration.
The College's Student Governance Association's Awards included:
Shankar Munusamy, Associate Professor of Pharmacology, CPHS Teacher of the Year
Geoff Wall, Professor of Pharmacy Practice, Preceptor of the Year
Kim Huey, Professor of Health Sciences, Mentor of the Year
Mark Vitha, Professor of Chemistry, Non-CPHS Teacher of the Year