Eric Kwame Adae, a doctoral candidate at the University of Oregon, will join the Drake School of Journalism and Mass Communication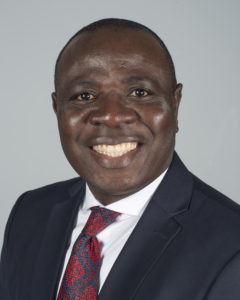 faculty in the fall.
Adae hails from Ghana in West Africa, where he earned both undergraduate and master's degrees from the University of Ghana. He was a media and communications consultant for 10 years in Ghana, with expertise in public relations, advertising, brand development and management, event management and strategic change communication. He is a member of the Institute of Public Relations and the Chartered Institute of Marketing in his home country.
Adae aims to be recognized as a leading media/communication scholar and consultant of African origin, with specializations in corporate sociopolitical involvement, critical public relations, strategy-as-practice, Africapitalism and Africonsciousness, feminism and masculinity, and development communication. He seeks to help unlock the challenges to global development by undertaking relevant research and publication, teaching, community service, consulting, and active scholarship that speaks to the deepest-cutting present-day social developmental issues.
Adae will teach in both the SJMC undergraduate and graduate programs. We look forward to welcoming Professor Adae to the SJMC "family"!