Eric Kwame Adae to join SJMC faculty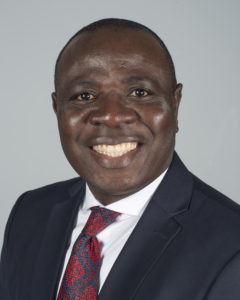 Eric Kwame Adae, a doctoral candidate at the University of Oregon, will join the SJMC faculty in the fall.
Adae hails from Ghana in West Africa, where he earned both undergraduate and master's degrees from the University of Ghana. He was a media and communications consultant for 10 years in Ghana, with expertise in public relations, advertising, brand development and management, event management and strategic change communication. He is a member of the Institute of Public Relations and the Chartered Institute of Marketing in his home country.
Adae aims to be recognized as a leading media/communication scholar and consultant of African origin, with specializations in corporate sociopolitical involvement, critical public relations, strategy-as-practice, Africapitalism and Africonsciousness, feminism and masculinity, and development communication. He seeks to help unlock the challenges to global development by undertaking relevant research and publication, teaching, community service, consulting, and active scholarship that speaks to the deepest-cutting present-day social developmental issues.
Adae will teach in both the SJMC undergraduate and graduate programs. We look forward to welcoming Professor Adae to the SJMC "family"!
TV news execs to visit SJMC this week

What's new in the news industry? Learn about the broadcast news business and opportunities in digital media production from two TV news executives on Wednesday, Feb. 19. Drop in to Mer. 111 anytime from 2-3:30 p.m. to meet Alan Baker, VP of news at WQAD in the Quad Cities, and Carrie Hofmann, news director at WOI-TV in Des Moines. Expand your network and get your questions answered!
Meredith Hall to add gender-neutral restrooms
Starting next week, the men's and women's restrooms on the main floor of Meredith Hall will become gender-neutral restrooms. Drake facilities staff will add appropriate signage outside each restroom. The restrooms on the top floor and in the basement of the building will remain as-is.
Workshop applies design thinking to communication
Come to Meredith Hall on Saturday, Feb. 22 to eat some free pizza, collect a Starbucks gift card and help imagine what the future of local news will look like.
Drake SJMC is hosting an immersive, hands-on workshop where students will be sharing their opinions and making things. The event will expose you to cutting-edge innovation methods, including tools from Stanford University's design thinking and Google's Sprint process. The workshop will be run by local startup Bonfire Strategy.
You don't need to be a specific major to attend, so invite your friends as well.
This workshop is part of a series of events at the SJMC in celebration of its centennial anniversary — a perfect time to not only celebrate our legacy but to look toward the future.
Join us from 10 a.m. to 1 p.m. on Feb. 22 in Meredith 104. Email kathleen.richardson@drake.edu with any questions. RSVP at https://www.eventbrite.com/e/newscraft-reimagining-the-future-of-local-news-tickets-93309082979
Did we mention there will be FREE PIZZA? Sponsored by the E.T. Meredith Center for Magazine Studies.
Learn about teaching English overseas
Drake International offers opportunities for new graduates to obtain jobs teaching English overseas. To learn more about Working Worldwide attend an information session:
Thursday, Feb. 20, 7:30 p.m., Pomerantz Conference Room
Tuesday, Feb. 25, 4 p.m., Mer. 103
Register for April 25 alumni gathering
Alums, join us during Drake Relays 2020 to celebrate two momentous occasions: 100 years of journalism and mass communication education at Drake AND 36 years of Professor Todd Evans at Drake! The party will be on Saturday, April 25, 5-8 p.m. in Meredith Hall. Tickets cost $25 and include food and drink stations, T-shirt screening and more. We'll raise a toast to our great legacy, and current and departed friends. Register here: https://alumni.drake.edu/sjmc-relays-reunion. Plus Evans is getting off the full-time-job hamster wheel to spend more well-deserved time with his wife and daughter. Send your thoughts, tears, memories and best wishes for Todd to Dean Kathleen Richardson (kathleen.richardson@drake.edu) for compilation.
Meredith Hall building hours
Meredith Hall is unlocked during the following hours when classes are in session:
Sunday-Sunday: 7:30 a.m.-9 p.m.
Monday-Friday: 7 a.m.-9:30 p.m.
Students with SJMC majors can swipe into the building with a Drake ID even when the building is locked from 7 a.m.-2 a.m., Sunday-Thursday. Students who are already in the building when it is automatically locked are allowed to stay in the building. Students who need 24/7 access to swipe into the building should talk to their faculty member or adviser about how to obtain all-hours access.
Have a news item for the Memo?
The SJMC Monday Memo is a weekly newsletter to keep members of the wider SJMC community updated on School news, achievements, events and opportunities. If you have an item for the Memo, please send it to Dean Kathleen Richardson (kathleen.richardson@drake.edu) or SJMC webmaster and multimedia professor Chris Snider (christopher.snider@drake.edu). SJMC alums and other professionals can also contact Chris to have the Memo delivered via weekly email.
The School of Journalism and Mass Communication strives to create a community of scholars that represents the complexity of the human experience in regards to race, ethnicity, gender, sexual orientation, economic status, political views, gender identification, religion, age and physical abilities. We are committed to creating a welcoming and supportive environment for all our faculty, staff, students and visitors, and celebrating our differences through the lens of the First Amendment value of freedom of expression.