Major SJMC announcement on Thursday
Please join the Drake University School of Journalism and Mass Communication on Thursday, Nov. 7, at 2:30 p.m. for a major gift announcement for the renovation of Meredith Hall. The event will be held in Meredith Room 104. Following the announcement, there will be refreshments, networking and tours of Meredith Hall, a unique mid-century modern building designed by famed architect Ludwig Mies van der Rohe. Drake is celebrating 100 years of journalism and mass communication education in 2019-2020.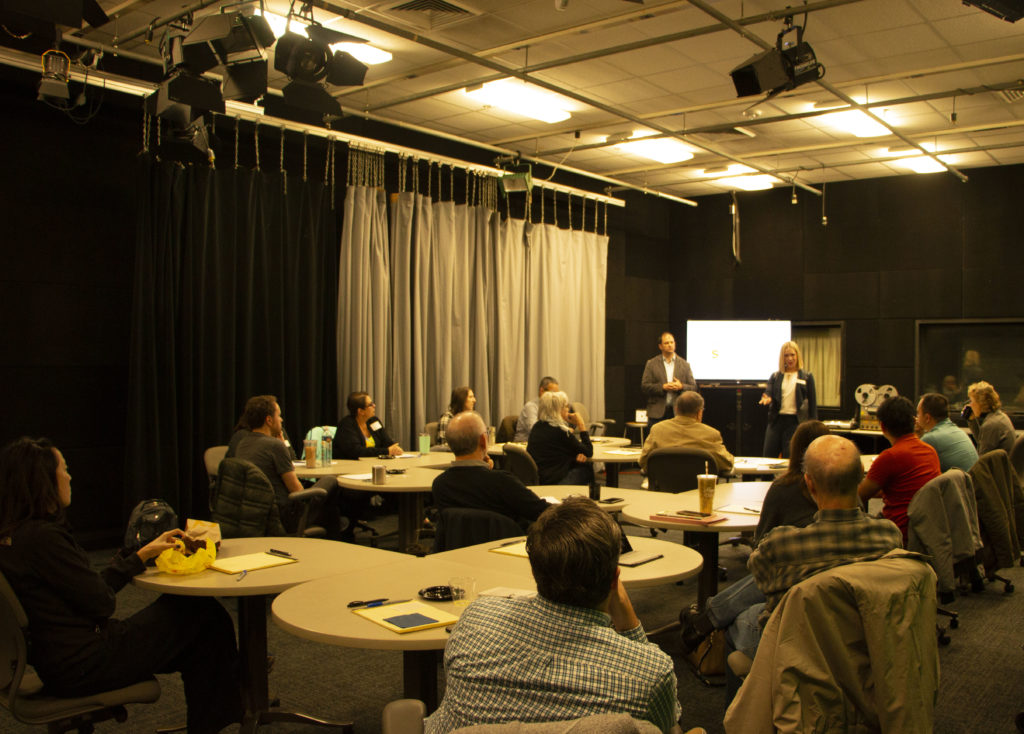 Design thinking workshop tackles journalism
The first in a series of workshops tackling the issue of vanishing local news was held Saturday in the Meredith Hall TV studio. The project, sponsored by the E.T. Meredith Center for Magazine Studies in honor of the SJMC centennial, applies the methodology of design thinking to reimagining how local news and information could be shared. A group of 16 invited community members discussed values, behaviors, needs and problems involving consumption of local information. They then workshopped solutions that would tackle the problems, build community and improve lives, using the process used by Silicon Valley tech companies to design new products.
The next workshop will be held with students in February, with a final workshop involving journalists, librarians, members of the tech community and others in March. The goal is to have a project or projects that could be prototyped and tested.
Magazine pin-ups on Thursday
Drake Mag, Drake Political Review and DUIN will host the pin-ups of their fall issues on Thursday, Nov. 7, 6-8 p.m. in Mer. 124B, Mer. 104 and Mer. 125. Show up to find out what the staffs have been up to all fall.
Cool job winners
Congrats to KCCI-TV and the Greater Des Moines Partnership, who received the most votes for "Coolest Job" at the Cool Jobs Expo on Oct. 21.  Representing KCCI-TV were SJMC alums Allison Smith, JO'00, news director, and Amy Schmelzer, JO'96, GR'10, operations manager, and representing the GDMP was Derek Lippincott, digital media specialist.  More than 100 students voted out of the 148 attendees at the Expo.
Twelve cool job employers participated in the Expo. Providing pet and equine therapy were Griff, who joined SJMC alum Niki Smith, JO'08, GR'15, from University Communications and Marketing, as well as Yeller and Dale, two horses who support SJMC alum Kim Waltman Gratny, JO'93,  in her business, fullCircle creative + coaching.
AND the winner of the door prize is Emma Brustkern, a news and politics major, whose name was drawn from students who completed an evaluation and voted for coolest job!
The Cool Jobs Expo is in its third year as a featured event for JMC Days.  Thanks to all who attended.
Mock interviews offered
Mock interviews will be held in Meredith Hall on Monday Nov. 4 and Monday, Nov 11 from 4-7 p.m.  There are still a few slots left on both days. If you would like to practice your interviewing skills with a communications/media professional in a 30 minute mock interview, contact SJMC Internship Coordinator Carlyn Crowe at carlyn.crowe@drake.edu.
SJMC podcast features screenwriter alum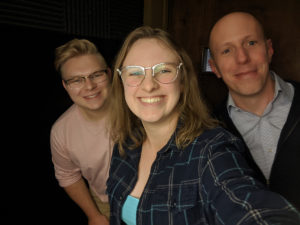 SJMC grad and screenwriter John August, JO'92,  was on campus recently and joined current students Taylor Vos and Adam Heater on the latest episode of the Drake SJMC podcast: https://news.drake.edu/2019/10/30/drake-sjmc-podcast-episode-6-john-august/
August wrote the movies "Go," "Big Fish" (and the Broadway show), "Charlie's Angels," "Titan A.E.," "Charlie and the Chocolate Factory," "Corpse Bride," "Frankenweenie" and the live version of "Aladdin." He is also writing the book series "Arlo Finch," and he is co-host of the Scriptnotes podcast.
J Term class explores the music industry
Get a behind-the-scenes look at the music business with Tobi Parks and Thomas Kutz of Station 1 Records and co-owners of xBk, the newly opened arts venue in the Drake neighborhood. JMC 99 The Music Business is offered during January Term 2020. Parks has spent her career working in music entertainment for Sony Music Entertainment for over a decade and currently with Warner Music Group.  Kutz is an entertainment attorney and has been working in live music production since 2004 with large productions like Summerfest in Milwaukee and SXSW in Austin, TX.  They will lead students through an interdisciplinary study of the music business covering music publishing, music promotions, emerging technologies, copyright law and other subjects pertinent to today's music business.  Students will talk with executives working at major industry companies either in person or via video conference and apply what they learn through work at Station 1 Records.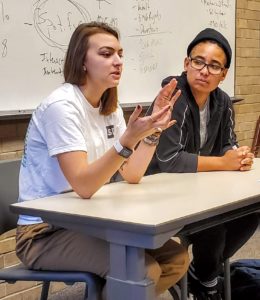 Parks, at right in the photo, visited JMC 139 Ad Account Planning, last week with Lily Detaeye, whose EP was recently released. The advertising class will be creating and executing primary research to learn more about listeners of music.  You can read about Detaeye and hear her music at http://www.station1records.com/bands/lilydetaeye/
Take the campus climate survey
The campus climate surveys opens Tuesday, Nov. 5, through Tuesday, Nov. 26. All faculty, staff and students have the opportunity to participate in this year's campus climate assessment by taking a survey that asks you to anonymously share your experiences surrounding inclusion at Drake. Your participation is vital to help us continue to improve our equity and inclusion work. Learn more by visiting the DU What Matters website.
First-gen students honored on Friday
First-generation students are an important part of the Drake community. Throughout the week, the University will be celebrating what it means to be first-gen at Drake and beyond. A breakfast will recognize first-generation students, faculty and staff on Friday, Nov. 8, at 9 a.m. in Levitt Hall. Click here to RSVP.
SAB hosts Relays 2020 logo contest
The Student Activities Board is sponsoring a contest for students to design the 2020 Drake Relays logo. The application recently opened and will close
Nov. 15 at 11:59 p.m
.: 
https://forms.gle/vZKjL4Ak3oqp9pfD6
Celebrate innovation Nov. 9-15
Celebrate Innovation Week, a collaboration among SJMC, the entrepreneurship program, graphic design and others. The week will kick off with the Bark Tank, a pitch competition where Drake Students receive cash for their businesses, and then celebrate the entire week with fun activities to stimulate the innovator and creator in you!
Scheduled events include:
The annual Delta RX Next Top Entrepreneur Competition. Get details here: ftp://www.drake.edu/deltarx/studentprograming/nexttopentrepreneurialcompetition/
Saturday, Nov. 9, 9 a.m., Mer. 106: The Bark Tank Competition — pitch your Drake-related business idea. Sign up here: https://forms.gle/2tpB5koFweV7a7eF6
Monday, Nov. 11, 2 p.m.: Letterpress printing with graphic design professor Sarah McCoy, top floor of Carnegie Hall on a drop-in basis. https://www.facebook.com/events/371418753811520/
Tuesday, Nov. 12, 2 p.m.: Exhibit reception for "Visual Disobedience" in the Anderson Gallery of the Fine Arts Center
Wednesday, Nov. 13, 1 p.m.: Carvey Tile creation, Pappajohn Innovation Studio, Meredith 124C
Friday, Nov. 15, 9 a.m.-noon: 2019 Lorentzen Hatchery presentations every half hour, Reading Room, Cowles Library
SJMC alum hosting music and journalism podcast in TV studio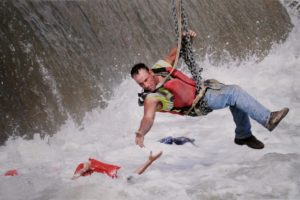 An evening of music and journalism will be shared Thursday, Nov. 14, 7-8 p.m. in the TV studio in the basement of Meredith Hall.  George A. Clark, JO '77,  a retired broadcast and marketing professional, will bring "Podcast, By George!" to the studio for a performance by Iowa Blues and Rock 'n' Roll inductee Bob Pace. Bob will be joined by violinist Kathryn Severing Fox for a musical performance, including the song, "What Makes a Hero?" The song is based on a real-life rescue on the Des Moines River, captured by Des Moines Register photojournalist Mary Chind, who won a Pulitzer Prize for her photo. The song was inspired by a column by Kyle Munson  in the Register after hero Jason Oglesbee's death. Munson will be interviewed about his work. The podcast will include Q&A from the audience. Students are encouraged to attend and participate.
Have a news item for the Memo?
The SJMC Monday Memo is a weekly newsletter to keep members of the wider SJMC community updated on School news, achievements, events and opportunities. If you have an item for the Memo, please send it to Dean Kathleen Richardson (kathleen.richardson@drake.edu) or SJMC webmaster and multimedia professor Chris Snider (christopher.snider@drake.edu). SJMC alums and other professionals can also contact Chris to have the Memo delivered via weekly email.
The School of Journalism and Mass Communication strives to create a community of scholars that represents the complexity of the human experience in regards to race, ethnicity, sex, sexual orientation, economic status, political views, gender identification, religion, age and physical abilities. We are committed to creating a welcoming and supportive environment for all our faculty, staff, students and visitors, and celebrating our differences through the lens of the First Amendment value of freedom of expression.