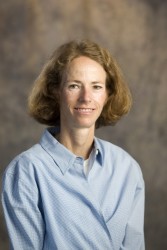 Kim Huey, professor of health sciences and a fellow in both the American College of Sports Medicine and the American Physiological Society, received a NASA grant to enhance the learning of human physiology. The grant funded the purchase of three cloud-based human physiology learning systems called Lt Labstations. These new devices allow students to learn techniques for recording, analyzing, and presenting physiological data during rest, exercise, and other environmental stressors.
Previously, students were primarily limited to physiology labs with artificially-generated data and predictable outcomes which provided no opportunity to explore the depths of human physiology. With the development of systems to record student data in real time, students can now record and analyze their own data which extends their understanding of human physiology in real time. The new cloud-based Lt Labstation allows students the opportunity to learn on almost any internet-connected device including tablets, mobile phones, or laptop computers, both in and out of the formal classroom. These systems can also be used for hypothesis-driven student-led research projects investigating human physiology.
This platform provides the ability to easily build media-rich lessons that maximize engagement and address diverse learning styles. Some of the physiological signals that the LT Labstation can monitor in real time include heart rate, blood pressure, electrocardiogram (EKG), breathing rate, electroencephalography (EEG), electromyographic activity (EMG), and temperature. These physiological signals are collected in real time during the lab activities and then students can access the data individually or as a team through the cloud for data analysis.
"The incorporation of the LT Labstation into our undergraduate student courses and research projects will provide a unique opportunity to have students learn state of the art physiological data acquisition techniques, improve critical thinking, enhance their ability to analyze data trends, and deepen their appreciation for the complexity and system integration in the human body," said Huey. "It will provide a student experience that will strengthen their knowledge/training and will better prepare them for future careers in STEM fields."