Denice Frohman, a poet, performer, and educator from New York, will speak at Drake on Tuesday, Oct. 22, at 5:30 p.m. in Cowles Library Reading Room. The event will kick off the Drake English department's annual Susan Glaspell Writers & Critics Series. All events in the series are free and open to the public.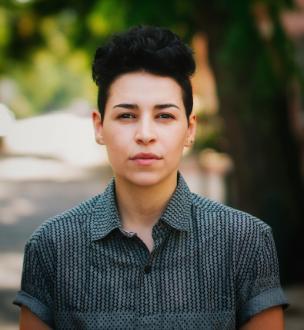 Frohman was the 2013 Women of the World Poetry Slam Champion. She is also a National Association of Latino Arts & Cultures grant recipient and 2019 Leeway Foundation's Window of Opportunity grant recipient, given to women and trans artists advocating for social change through their arts. Her works have been featured in The Adroit Journal; Nepantla: An Anthology for Queer Poets of Color; Women of Resistance: Poems for a New Feminism; What Saves Us: Poems of Empathy and Outrage in the Age of Trump; Reading, Writing, and Rising Up: Teaching About Social Justice and the Power of the Written Word.
She has performed on many national and international stages for over 15 years, including the Brooklyn Museum, The Apollo, The White House, PEN World Voices Festival, Cannes Lions International Festival of Creativity (France), and The Brooklyn Book Festival.
Yasmina Madden, assistant professor of English, hopes that students, faculty, and community members will be able to see their stories and identities represented in Frohman's work.
"Frohman's poetry surrounds social justice, queer identity, and racial identity, which are all topics that I know are important to students, faculty, and community members," Madden said. "I hope they find inspiration in the way her art speaks to these issues."
Frohman's work also challenges traditional beliefs, perceptions of power, and celebrates diversity. She hopes to inspire people, particularly young generation queer people of color, to know that their stories are worth telling.
Coming up in the series, Drake's English department will be hosting Writers Night on Nov. 6. In the spring, they will host playwright Kirsten Greenidge, assistant professor of theatre at Boston University on Feb. 10 and filmmaker Christopher Harris on March 19.