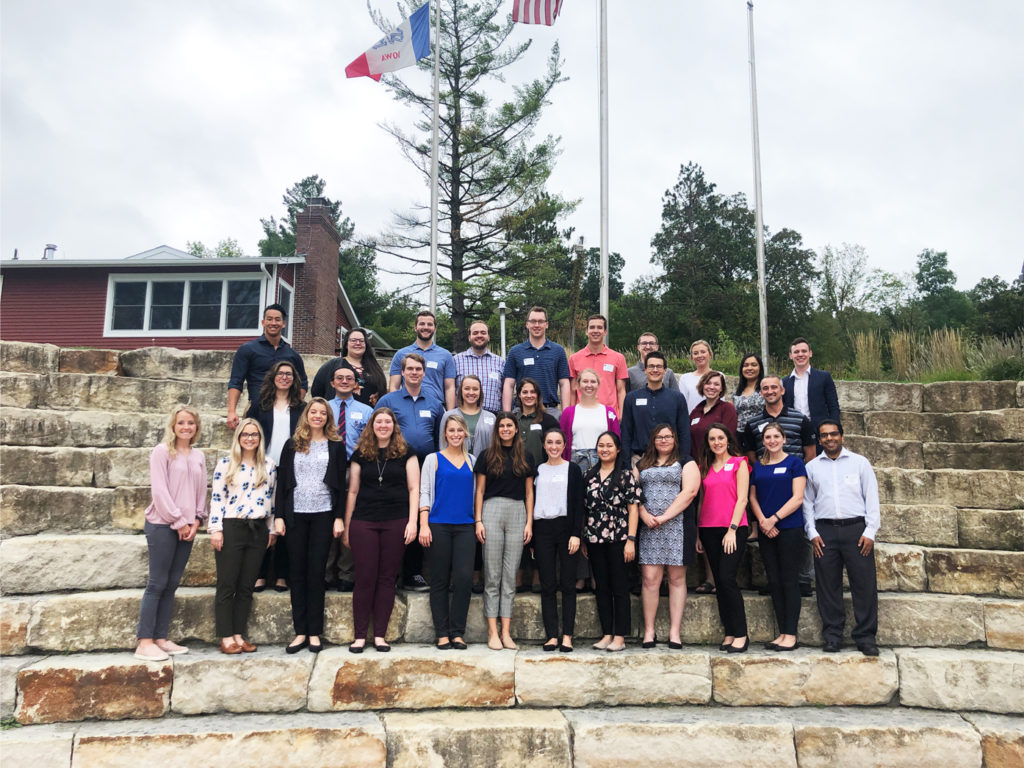 Students from Drake's College of Pharmacy and Health Sciences (CPHS) attended the annual Bill Burke Student Pharmacists Leadership Conference at Wildwood Hills Ranch in St. Charles, Iowa September 20 – 22, 2019. The annual conference is coordinated by the Iowa Pharmacy Association and involves up to 30 P1 – P3 students from Drake's CPHS and the University of Iowa College of Pharmacy.
Renae Chesnut, dean of the college and one of the founders of the conference, provided opening remarks to the participants, who also heard from Michael Pursel, PH'79. The students also participated in a variety of activities and presentations throughout the weekend designed to:
instill quality organizational leadership skills
to increase awareness of issues impacting the profession of pharmacy
to encourage development of leadership skills and involvement in professional and community activities
to recognize pharmacy students who have displayed leadership potential to improve communication and teamwork skills
Students selected to participate in this year's conference included second professional year students Beau Blake, Christopher Karch, Brittani Weichman, Lauren Zimmerman, along with third professional year students Andrew Bjorlin, Layne Davis, Riley Karpen, Dinka Miljkovic, Areeb Nagamiyan, Phuong Ngo, Andrew Olson, Robert Schroeder, Rachel Wedemeyer, Olivia Welter, and Verent Yee.
"The Bill Burke Student Pharmacist Leadership Conference gave me not only the opportunity to participate in hands-on activities that strengthened my leadership style but also allowed me to network and form professional relationships with student pharmacists from the University of Iowa," said P3 Olivia Welter.
Through collaborative efforts between the Iowa Pharmacy Association and the two colleges of pharmacy in Iowa, the conference began in 1995 to develop pharmacy student leaders through discussion and activities on leadership skills, professional values, and pharmacy practice issues.
In 2008 the conference was named in honor of Bill Burke to recognize the generous support of the conference provided by his daughters Lisa Ploehn and Ann Burke, co-owners of the pharmacy he founded, Main at Locust Pharmacy Clinic and Medical Supplies, based in Davenport, Iowa. Over 600 students have participated in the program.
"The Bill Burke Leadership Conference forced me out of my comfort zone and opened my mind to new possibilities in the pharmacy profession," said P3 Andrew Olson. "Exploring innovative ideas with other student leaders helped us to come up with ways that the pharmacy profession can continue to be successful in the future."