The unique and generous gift will benefit rural communities and Drake athletics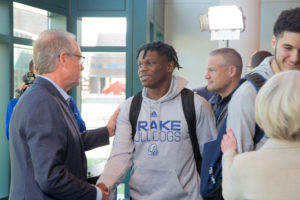 October 22, 2019 – DES MOINES, Iowa – Former DuPont Pioneer president and Drake University trustee and alumnus Paul Schickler and his wife, Claudia Schickler, are investing $5 million in two communities close to the couple's hearts: rural America and Drake University athletics. The $5 million gift will jump-start funding for two Drake initiatives, the university announced Tuesday.
Supporting rural communities
The Schicklers have designated $2 million of the $5 million donation to address social, economic, development, and conservation challenges facing rural America. Drake is well positioned to carry out this charge through its work at the Drake Law School's Agricultural Law Center and related academic programs across campus. The Schicklers made their gift with an explicit request that Drake use a portion of the funds to improve the lives of rural Americans.
"Rural Americans were our customers for the more than four decades I worked for Pioneer," Paul Schickler said. "Claudia and I are driven to give back to the hardworking people in rural America. We are working with Drake faculty to shape a program which makes concrete, positive change in the lives of rural residents."
Additional details on this initiative will be announced at a later date.
Enhancing Des Moines' hometown team
The Schicklers, avid supporters of the Drake Bulldogs, are committing the remaining $3 million of their $5 million gift to Drake University athletics.
"Drake athletics are a unifying force," Paul Schickler said. "Cheering on Des Moines' hometown team builds deeper bonds between Drake students, alumni, and all residents of greater
Des Moines. Claudia and I are happy to give back to teams and facilities that have brought us years of excitement."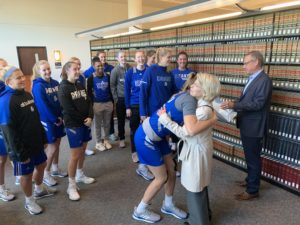 The Schicklers are directing $1 million of the $3 million to the Drake University men's basketball program and $2 million to elevate the fan experience at the Knapp Center.
"We are so grateful to Paul and Claudia for their generosity to Drake University," Director of Athletics Brian Hardin said. "The impact their investment will make for our student athletes that compete in the Knapp Center will be felt for many years to come. Paul and Claudia share my belief that their gift will inspire others to invest in our vision for Drake Athletics and the Knapp Center."
Plans for facility enhancements to the Knapp Center are being developed and will be released at a later date.
Strengthening the community
Paul Schickler holds both a Bachelor of Science in management and an MBA from Drake. Drake University President Marty Martin said there is a clear and direct line from the Schicklers' gift to the University's inspiration statement: "Together we transform lives and strengthen communities."
"We are grateful to Paul and Claudia for helping us strengthen two communities dear to both them and to Drake," Martin said. "Drake alumni have embraced our community-driven mission. They see its importance. They are finding where their personal passions overlap with our university goals, and they are taking action. Today is a proud day for Bulldogs everywhere."