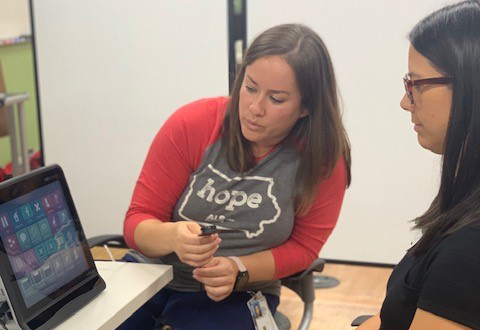 Drake University's Occupational Therapy Doctorate (OTD) program received an Assistive Technology Kit from the Amyotrophic Lateral Sclerosis (ALS) Association Iowa Chapter's Reeves Foundation Grant.
Since 2017, Drake's Occupational Therapy department has partnered with the ALS Association Iowa Chapter to initiate biannual Caregiver Learning Labs. The three-hour labs, hosted at Drake's OTD facility, pairs ALS caregivers and patients with an OTD student to move through a variety of education stations. The goals of the labs are to:
decrease caregiver anxiety about their new role and increase their confidence in their ability to utilize the available equipment resources,
increase utilization of adaptive equipment,
improve safety measures and quality of life for both patients and caregivers, and
improve student knowledge of serving the ALS community.
The Caregiver Learning Labs received overwhelmingly positive feedback. However, participants often requested more time with augmentative/alternative communication (AAC) interventions. In response to this feedback, the ALS Association Iowa Chapter wanted to enhance the learning experiences and opportunities for the students and clients they serve and to fulfill patients' requests for borrowing specific equipment from the Iowa Chapter that they would otherwise struggle to afford.
The Reeves Foundation Grant purchased an Assistive Technology Kit for Drake's OTD program to improve educational opportunities on multiple fronts. "The readily available equipment within the department will improve classroom education, ensure students receive adequate training and time with the tools before working with clients in the Caregiver Learning Labs, support one-on-one student/clinical professor supervised interaction with ALS patients, and increase student and professor comfort with using these tools and interventions," said Yolanda Griffiths, department chair and director of the occupational therapy program.
"Iowa has a statewide need for professionals who are comfortable using and implementing AAC and Assistive Technology interventions," said Krista Strait-Higgins, Director of Care Services for the ALS Association Iowa Chapter. "The ALS Association Iowa Chapter wants to foster and encourage upcoming occupational therapy professionals to embrace the available technology and hopefully pursue careers specializing in this field."