Drake University and Des Moines Area Community College (DMACC) have signed a 2+1+2 agreement, allowing DMACC students the opportunity to earn an Associate in Science in Fitness and Sports Management, a Bachelor of Science in Health Sciences, and a Master in Athletic Training (MAT). This agreement allows students to earn these three degrees in a shorter amount of time (5 years) than obtaining each degree individually.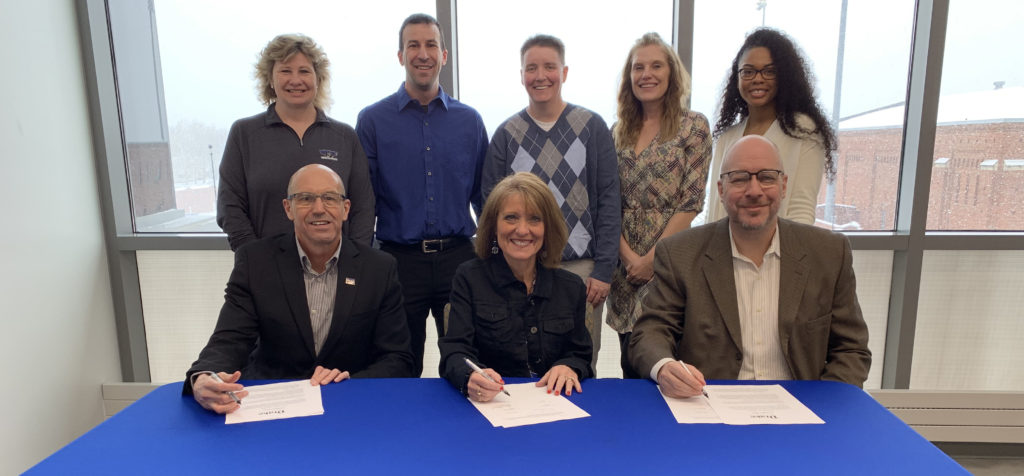 "Two of the hallmarks of the MAT degree program at Drake are exceptional value and forward thinking, both of which are reflected in this unique partnership," said Nate Newman, director of the MAT program. "We are excited to already have DMACC students interested in the program with the first one enrolling as a Health Sciences major this fall."
Projected by the U.S. Bureau of Labor Statistics to have a 23% growth rate over the next 10 years, athletic training offers a number of career pathways to students. The opportunity for DMACC students to seamlessly transition into Drake's Bachelor of Health Sciences and then Master of Athletic Training programs is especially attractive.
"We are pleased to enter into this partnership and provide an opportunity for DMACC students to complete their BS and MAT degrees at Drake in less time than it would take to complete each degree on its own," said Renae Chesnut, dean of Drake's College of Pharmacy and Health Sciences. "We are proud to prepare future MAT professionals who will enjoy limitless career opportunities and the ability to make a difference for others."
The Drake MAT will provide students the opportunity to be educated at a Division I institution in the capital city with many options for unique clinical experiences. Students will also be able to complete a number of concentrations along with their MAT degree, preparing them for a variety of career pathways.
To apply to the MAT program, students take the Graduate Record Exam (GRE) and apply for admission to the Drake MAT program in the fall of their second year at DMACC. The MAT can be completed with three additional years of study at Drake. The inaugural cohort is currently being recruited and admitted into the program. Applications are still being accepted and can be found at drake.edu/at/masterofathletictraining/matadmission.
To learn more about the MAT program, click here (drake.edu/at). Questions about admission into the Health Sciences or Athletic Training programs can be directed to drakeAT@drake.edu or 515-271-3018.