Drake to mark 50th anniversary of Tinker v. D.M. free speech case
Drake University will mark the 50th anniversary of Tinker v. Des Moines, the landmark U.S. Supreme Court case that established the free speech rights of students in public schools. "Stand Up, Speak Up! Tinker v. Des Moines Turns 50" will be held on Wednesday, Feb. 27 at 7 p.m. in the Cowles Library Reading Room. Mary Beth and John Tinker, plaintiffs in the case, along with Drake students, will lead a conversation on the values and challenges of freedom of expression. The event is co-sponsored by the Drake School of Journalism and Mass Communication, the Drake Law School, Cowles Library, the Drake School of Education and the Drake Department of Political Science. Contact SJMC Dean Kathleen Richardson (kathleen.richardson@drake.edu) for more information.
Former T-D sports editor celebrates Final Four anniversary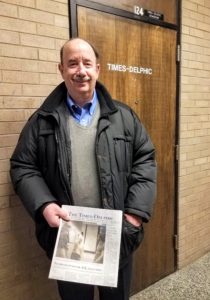 Randy Minkoff, JO'71, was on campus this weekend to celebrate the 50th anniversary of the men's basketball team's Final Four appearance. Randy was Times-Delphic sports editor during the year of the Final Four run.  The following year he was editor-in-chief. Randy and his wife, Sue Castorino, own a business called The Speaking Specialists in the Chicago area. He also teaches at Loyola Chicago and Sue  teaches at Northwestern.
College Magazine names Drake a Top 10 ad program
College Magazine has listed Drake's advertising major as one of its top choices for programs with "quality faculty, structured programs and awards that reflect the department's success." The magazine said: "Want to intern for companies like The Integer Group, Strategic America, The Meyocks Group, Olson and the American Advertising Federation (AAF)? If you answer yes (and you should), head to Drake University."
Drake students win Iowa media awards
Drake students took home 21 awards in the Iowa College Media Association contest last week. Congratulations to all the winners!
Honorable Mention | Best Online Edition | Times-Delphic Staff
Third Place | Best Use of Social Media | TD Staff
Honorable Mention | Best Magazine Special Section | TD Staff
Third Place | Best Page 1 | Jessie Spangler and Katherine Bauer
First Place | Best Review | Parker Kyln
Third Place | Best Review | Hallie O'Neill
First Place | Best Opinions Writing | Jessie Spangler
First Place | Best Headline Writing | Maddie Topliff
Third Place | Best Profile Story | Katherine Bauer
Third Place | Best Sports Feature | Hannah Cohen
First Place | Best Feature Photo | Phong Ly
Second Place | Best Sports Photo | JD Pelegrino
Third Place | Best News Story | Lórien MacEnulty
Second Place | Best Graphic Design | Ivy Beckenholdt
Honorable Mention| Short Film | Luc Pham
Honorable Mention |Entertainment Storytelling Package | Luc Pham
3rd place|News Programming | Drake Broadcasting System Relays Producers
Third Place | Best :30-:60 Video Promo | Adam Heater and Adam Koch
Honorable Mentionn|Experimental Video | Adam Heater and Josh Randolph
First Place | Radio Commercial | Noah Manderfeld
Third Place |Long-Form Radio Package | Noah Manderfeld
Apply for Meredith apprenticeship, scholarships
Applications are being accepted for the 2019-20 Meredith Apprenticeship Program. An information meeting will be held Wednesday, Feb. 13 at 7 p.m. in Mer. 104.
Meredith Corp. offers six editorial positions for journalism majors, two design positions for graphic designers, and slots for a web developer and a data analyst. Apprentices commit to working 15-20 hours a week for the academic year. The jobs earn $10/hour and receive academic credit.
Eligible students are juniors or seniors at the time of the apprenticeship. Magazine students must have completed or be enrolled in JMC 91 and/or JMC 70. Design students must have completed or be enrolled in Art 51 and 52.
Send application materials by pdfs to Jeff.Inman@drake.edu by 5 p.m. on Friday, Feb. 22. Include a cover letter addressed to "Meredith Supervisors," a resume, and five relevant work samples.
In addition, applications for next year's Meredith scholarships for magazine majors are available outside Mer. 119.
Apply for 2019-20 scholarships, awards
Application forms for SJMC awards and scholarships are available outside Mer. 119. There are scholarships available for all majors. In addition, the Richard Tapscott reporting award is a cash award that recognizes excellence in student journalism in all media. The deadline for applications is Feb. 20.
SJMC alums honored during Black History Month
A Drake news release honoring the accomplishments of six black alumni featured two SJMC alums. Crystal (Nance) Everett, JO'10, credits her experiences at Drake with leading her to a career in student services and higher education. Johnny Taylor, JO'91, received graduate degrees in communications and law from Drake and has gone on to a distinguished career in human resources management.
Work worldwide
Drake International offers opportunities for Drake graduates to work in China and Kosovo post-graduation. See www.drake.edu/workingworldwide for more information or connect at workingworldwide@drake.edu.
Meredith Hall hosts World Information Architecture Day
Drake Design and Drake SJMC will host World Information Architecture Day on Saturday, Feb. 23, in rooms throughout Meredith Hall. It's a free event that brings together a community of like-minded professionals and enthusiasts who share the common goal of practicing, learning, teaching and shaping the future of information architecture and user experience. We share our thoughts, ideas and work within an open and welcoming environment. Everyone is welcome and our celebrations are always accessible to all. Sessions and panels run from 9 a.m.- 3 p.m. A free lunch is included with registration. To register, click here: https://www.worldiaday.org/events/des-moines/2019
Speaking Center opens today
Drake's Speaking Center in Cowles Library opens today. Students can book appointments online to see a tutor for help in preparing, composing, and delivering speeches and presentations. Students, faculty, and staff members can also reserve the Speaking Studio to practice and record presentations alone or in small groups.
Location and Hours: The Speaking Center is located in Room 18 of Cowles Library on the lower floor. A Appointments are available 10 a.m.-10 p.m., Monday-Friday. Drop in sessions are offered when tutors are available.
To make an appointment Visit http://library.drake.edu/speaking to schedule a personal meeting with a tutor.
Drake Career Fair set for Thursday
The Drake University Career Fair will be held on Thursday, Feb. 14, 3-6 p.m. in Parents Hall, Olmsted Center.  Graduating seniors only are scheduled from 3-3:30 p.m.; all students are welcome from 3:30-6 p.m.  All majors are welcome to attend.  Bring your resume, business cards and network with companies seeking interns and/or full-time candidates.  Professional attire is required.  To research the companies attending the fair, log into Handshake (my.drake.edu, click on Handshake icon under Campus Resources, use single sign-on feature to log in).  Select Events, then click on Drake University Spring 2019 Career Fair.  Click on View all Employers.  You do not need to RSVP to attend.
Celebrate entrepreneurship
The Innovation Studio (124C Meredith) will be hosting several events during National Entrepreneurship Week, Feb. 18–21. Learn about large scale 3D printing and prototyping with Brandon Hart of HartSmart products. Create something on one of the vinyl cutters with Professor Chris Snider. You can learn about how you can create and make stuff at Drake during open maker days. For more information, email innovation@drake.edu.
Register for free leadership conference
Spring 2019 Sussman Leadership Conference
Nationally renowned author and speaker Zachary Wood is known for his dynamic perspective on free speech, race, and dissenting opinions. His TED talk, "Why It's Worth Listening to People You Disagree With," drew 1.6 million views in 2018. All Drake students are invited to attend this conference brunch as we learn alongside Zach how to successfully engage with and practice civil debate as a leadership skill. Registration is free for all students, and includes brunch, Zach's keynote address, and a roundtable discussion to apply this content to your leadership journey at Drake. Registration required. Details listed below:
Saturday, Feb. 23
11 a.m.-1 p.m.
Parents Hall, Olmsted Center
Register at bit.ly/sussman19 by Feb. 20
Questions? Contact Kristin Economos, director of student leadership programs, at kristin.economos@drake.edu.
Sign up for Iowa Caucus opportunities
If you are interested in working with  political and media events during the spring semester, please visit https://tinyurl.com/DUpoliticalevents2019 to submit relevant information about yourself and your availability during the spring 2019 semester.  Your information will be maintained and provided to organizations seeking interns.  There is no requirement that you work on any event – Drake will provide visiting organizations information about potential student interns, but the organization will make a final determination about who they wish to hire and any student is free to accept or decline an offer.
SJMC also receives many requests for Iowa Caucus-related interns directly. If you are interested in getting involved throughout the next year, please contact SJMC internship coordinator Carlyn Crowe (carlyn.crowe@drake.edu) and indicate your year, major, contact information and interests (media, campaign, political organization or anything).
Meredith Hall building hours
Meredith Hall is unlocked during the following hours when classes are in session:
Sunday: 7:30 a.m.-9 p.m.
Monday-Friday: 7 a.m.-9:30 p.m.
Saturday: 7:30 a.m.-5:30 p.m.
Students with SJMC majors can swipe into the building with a Drake ID even when the building is locked from 7 a.m.-2 a.m., Sunday-Thursday. Students who are already in the building when it is automatically locked are allowed to stay in the building. Students who need 24/7 access to swipe into the building should talk to their faculty member or adviser about how to obtain all-hours access.
Have a news item for the Memo?
The SJMC Monday Memo is a weekly newsletter to keep members of the wider SJMC community updated on School news, achievements, events and opportunities. If you have an item for the Memo, please send it to Dean Kathleen Richardson (kathleen.richardson@drake.edu) or SJMC webmaster and multimedia professor Chris Snider (christopher.snider@drake.edu). SJMC alums and other professionals can also contact Chris to have the Memo delivered via weekly email.
The School of Journalism and Mass Communication strives to create a community of scholars that represents the complexity of the human experience in regards to race, ethnicity, sex, sexual orientation, economic status, political views, gender identification, religion, age and physical abilities. We are committed to creating a welcoming and supportive environment for all our faculty, staff, students and visitors, and celebrating our differences through the lens of the First Amendment value of freedom of expression.