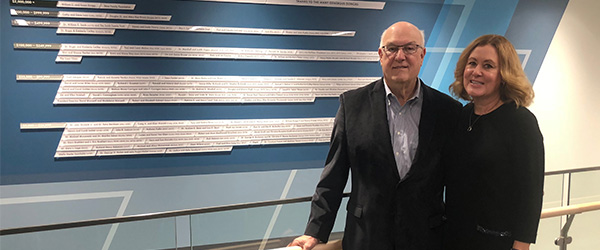 Within the Science Connector Building, kinesiology students are abuzz about the latest piece of technology at their fingertips to help them understand human movement. In addition to the other pieces of teaching and research equipment already in place, Drake's new Human Performance Lab has recently obtained a motion capture system called the XSens.
The XSens uses seventeen wireless motion trackers to capture human movement. The system then generates real-time motion data such as joint angles, velocities and accelerations changes during movement. Students use this data to answer questions about human movements ranging from athletic performance to injury recovery.
The Human Performance Lab is a gift from Roger and Kim (BN'84) Ceilley. The $100,000 lab is only the most recent of their many gifts to Drake. The Ceilleys have supported The Drake Fund, the Bulldog Club, Friends of Drake Arts, the Donald V. Adams Leadership Institute, and the Ray Center. They have previously donated $169,000 to fund the Biochemistry, Cell and Molecular Biology (BCMB) Resource Center. It is through loyal Bulldogs like the Ceilleys that Drake is able to continue to grow its opportunities for current and future students.