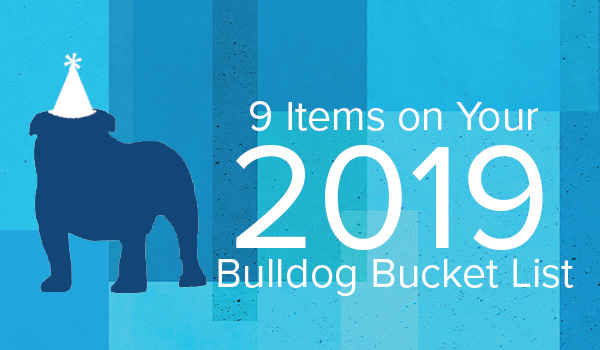 How will Bulldogs spend 2019? See if you can't complete every item on the list to connect with other alumni and the University.
1— Show off your Drake pride
We know you're a proud Bulldog, and now is the time to flaunt it! Display that Drake flag in the office. Sport that Drake travel mug when you're out and about. Deck out your car with a Drake license plate (if you're in Iowa) or a license plate frame.
Don't have any Drake gear? Check out the largest online selection!
Connect with Bulldogs no matter where you've landed. Head to a local basketball game with your fellow alumni or hit up the closest reunion. Don't forget to join your local alumni chapter while you're at it!
3— Come back for Relays
Mark your calendars! This year, the best and brightest track and field stars will compete at Drake Stadium from April 24 to 27 for the 110th Drake Relays. To learn more, head to the official website or keep an eye out for the spring issue of Blue, which will contain an alumni's guide to the Relays.
4— Welcome a new Bulldog to the pack
Write a personalized letter to a prospective Drake student about your exceptional Drake experiences. Or, if you know a brilliant high school student, let them know why your alma mater is well worth applying to. Email Keesha Ward, assistant director of Alumni Relations, at keesha.ward@drake.edu">keesha.ward@drake.edu to find out more.
Donate to Drake to support next year's scholarships to give Drake students the resources they need to excel. You can also donate your time at this year's DU Good Day in September.
Tell us about your new job, marriage, or adoption. Your fellow Bulldogs want to hear about it in the next edition of Blue. While you're at it, double check that your address is correct so you get Blue delivered straight to you.
7— Follow Drake on social
Click "follow" on Facebook, Twitter, and Instagram to keep up with specialized news just for Bulldogs.
8— Keep your wardrobe up-to-Drake
Browse and buy at shop.drake.edu for the largest online selection of Drake gear. If you're local you can always swing by the bookstore, located in Olmsted.
9— Travel with Drake
We've always said a Drake degree will take you places. How does Rome and Barcelona sound?