Lauren Blum, a fourth-year student at the Drake University College of Pharmacy & Health Sciences (CPHS), was selected by a panel of Drake pharmacy alumni as the inaugural recipient of the C. Boyd Granberg Student Excellence Scholarship Award. In honor of the award's namesake, this honor recognizes a P4 student who has demonstrated leadership in advancing the pharmacy profession and has had significant involvement in professional pharmacy organizations.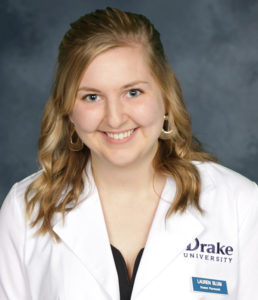 Blum, originally from Groveland, Illinois, has held leadership positions as the college's Pharmacy & Health Sciences Day Co-Chair for two years and the International Vice-President for Drake's American Pharmacists Association, Academy of Student Pharmacists (APhA-ASP) chapter. She was selected to be an attendee of the International Pharmaceutical Students' Federation (IPSF) Committee to United Nations, and was the pharmacy representative on the national CLARION Competition winning team. She was also involved in APhA, IPA, and Kappa Psi as well as selected to participate in the college's Student Leadership Development Series program. She was selected to complete an internship with the World Food Prize organization. Blum's hard work in the field of pharmacy studies has been recognized by the college, as she has been inducted into Rho Chi and Phi Lambda Sigma, pharmacy honorary societies.
"Drake provides their students with many different ways they can get involved and develop leadership skills," stated Lauren. "I was able to take advantage of this by getting involved with, and seeking out leadership roles, in organizations that aligned with my career goals. I am so thankful for all of the opportunities I was provided at Drake that allowed me to challenge myself and grow both personally and professionally."
This recognition of Lauren's involvement and leadership is well-deserved," said Renae Chesnut, dean of the college. "Like C. Boyd Granberg, Lauren is an extraordinary person who has a caring spirit and has acted on that spirit to improve the lives of others. She will be an exceptional pharmacist because of her passion for improving the lives of others."
The Granberg Student Excellence Scholarship Award, established in 2017 through generous gifts from several Drake pharmacy alumni, recognizes and celebrates the contributions of C. Boyd Granberg, former CPHS dean and faculty member. To read more about C. Boyd Granberg and the endowment that created this award, please click here.
If interested in contributing to the C. Boyd Granberg Student Excellence Fund, please follow one of these options:
1) Donate online with a one-time gift or an installment pledge by visiting https://alumni.drake.edu/giveonline. Complete the form, selecting 'Other' as the Designation and C. Boyd Granberg Student Excellence Fund in the 'Other' box. Select 'Add to Cart' and complete the payment information.
2) Mail your donation to the Drake College of Pharmacy & Health Sciences, 2507 University Ave., Des Moines, Iowa 50311. Include a note indicating that your gift is for the C. Boyd Granberg Student Excellence Fund.