Go, Bulldogs!
Faculty members Dorothy Pisarski, Kelly Bruhn and Jennifer Glover Konfrst joined a hardy band from SJMC who braved sweaty weather to cheer the Drake football team to victory Saturday over the Missouri S&T team, 52-12. Stay tuned for further opportunities for the SJMC family to show up to support our student athletes, musicians and more!
Learn about international opportunities
Learn about what employers in international fields are looking for, and how you can use your four years at Drake to prepare for such opportunities, including study abroad, simulation club, internationally relevant internships, and much more. All are welcome!
Wednesday, Sept. 19, 11:30 a.m.-1 p.m. in the Medbury Honors Lounge
Lunch provided by Drake International
Co-sponsored by Political Science, World Languages and Cultures, International Business, and Global and Comparative Public Health.
Homecoming activities start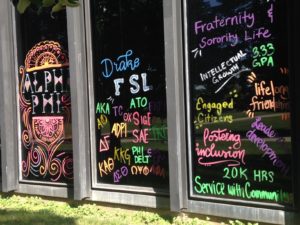 Student groups have painted the windows of Meredith Hall as the first activities of Homecoming and family weekend, scheduled for Oct. 6.
Meredith Hall building hours
Meredith Hall is unlocked during the following hours when classes are in session:
Sunday: 7:30 a.m.-9 p.m.
Monday-Friday: 7 a.m.-9:30 p.m.
Saturday: 7:30 a.m.-5:30 p.m.
Students with SJMC majors can swipe into the building with a Drake ID even when the building is locked from 7 a.m.-2 a.m., Sunday-Thursday. Students who are already in the building when it is automatically locked are allowed to stay in the building. Students who need 24/7 access to swipe into the building should talk to their faculty member or adviser about how to obtain all-hours access.
Have a news item for the Memo?
The SJMC Monday Memo is a weekly newsletter to keep members of the wider SJMC community updated on School news, achievements, events and opportunities. If you have an item for the Memo, please send it to Dean Kathleen Richardson (kathleen.richardson@drake.edu) or SJMC webmaster and multimedia professor Chris Snider (christopher.snider@drake.edu). SJMC alums and other professionals can also contact Chris to have the Memo delivered via weekly email.
The School of Journalism and Mass Communication strives to create a community of scholars that represents the complexity of the human experience in regards to race, ethnicity, sex, sexual orientation, economic status, political views, gender identification, religion, age and physical abilities. We are committed to creating a welcoming and supportive environment for all our faculty, staff, students and visitors, and celebrating our differences through the lens of the First Amendment value of freedom of expression.