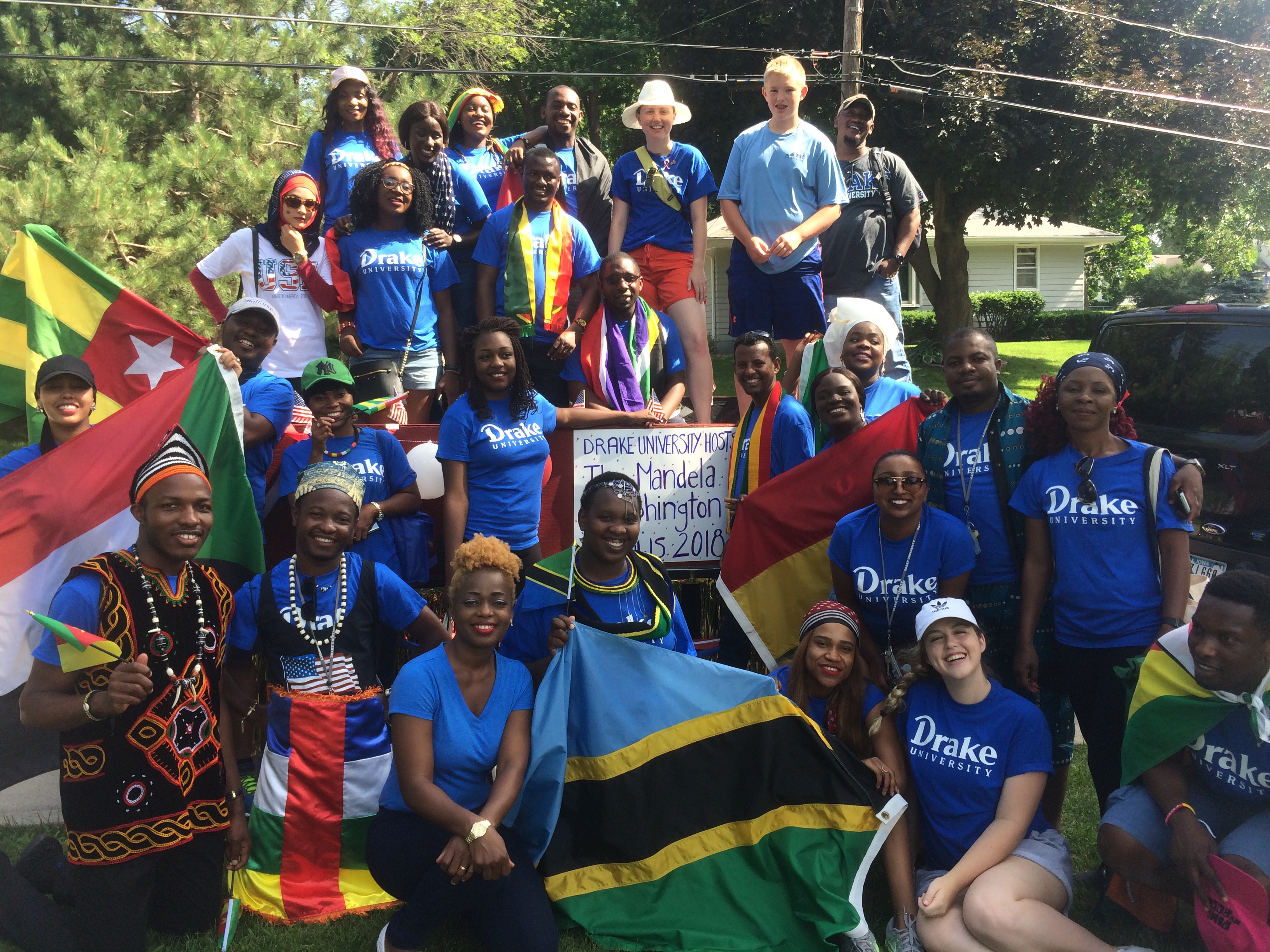 Bringing the World to Drake
When time came to draft her personal mission statement, Anike Lawal's brown eyes brimmed with tears. Lawal, a young entrepreneur from Nigeria, was one of 25 rising stars from 18 countries in Africa who were placed with Drake as part of the prestigious Mandela Washington Program, part of the U.S. State Department's Young African Leaders Initiative (YALI).
The intensive six-week experience, which included classroom learning, site visits, and meetings with top leaders in the state and nation, moved her to chart a detour on her already impressive path. Lawal is the celebrated founder of Mamalette, an online social platform that focuses on improving health outcomes for pregnant women, infants, and young mothers in Nigeria. But after her time in Iowa, she set her sights not only on growing her enterprise, but also creating a sustainable, socially responsible insurance company.
"I almost feel like this is my calling: I'm so drawn to it," says Lawal, who visited with the global leader of Principal International, Inc. as part of her Drake experience. "Through these programs, I feel like I'm equipping people for the problems they will face in life."
Lawal's story is just one of many to come from the third year of Drake hosting the Mandela fellows at its Pathways to Partnerships Institute. It's a program that's not only changing the lives of its extraordinary young participants, but is opening new facets of the world to Drake faculty and staff, community partners, and Greater Des Moines as a whole.
"Their stories are so rich," says Annique Kiel, executive director of global engagement and international programs at Drake, and the one who first launched the program in 2016. "The fellows came from a variety of economic backgrounds, each with a unique story of how they have already achieved success at such a young age. These are not just future leaders, but future leaders of states—the cream of the crop of sub-Saharan Africa. And all of their stories are mind-blowing."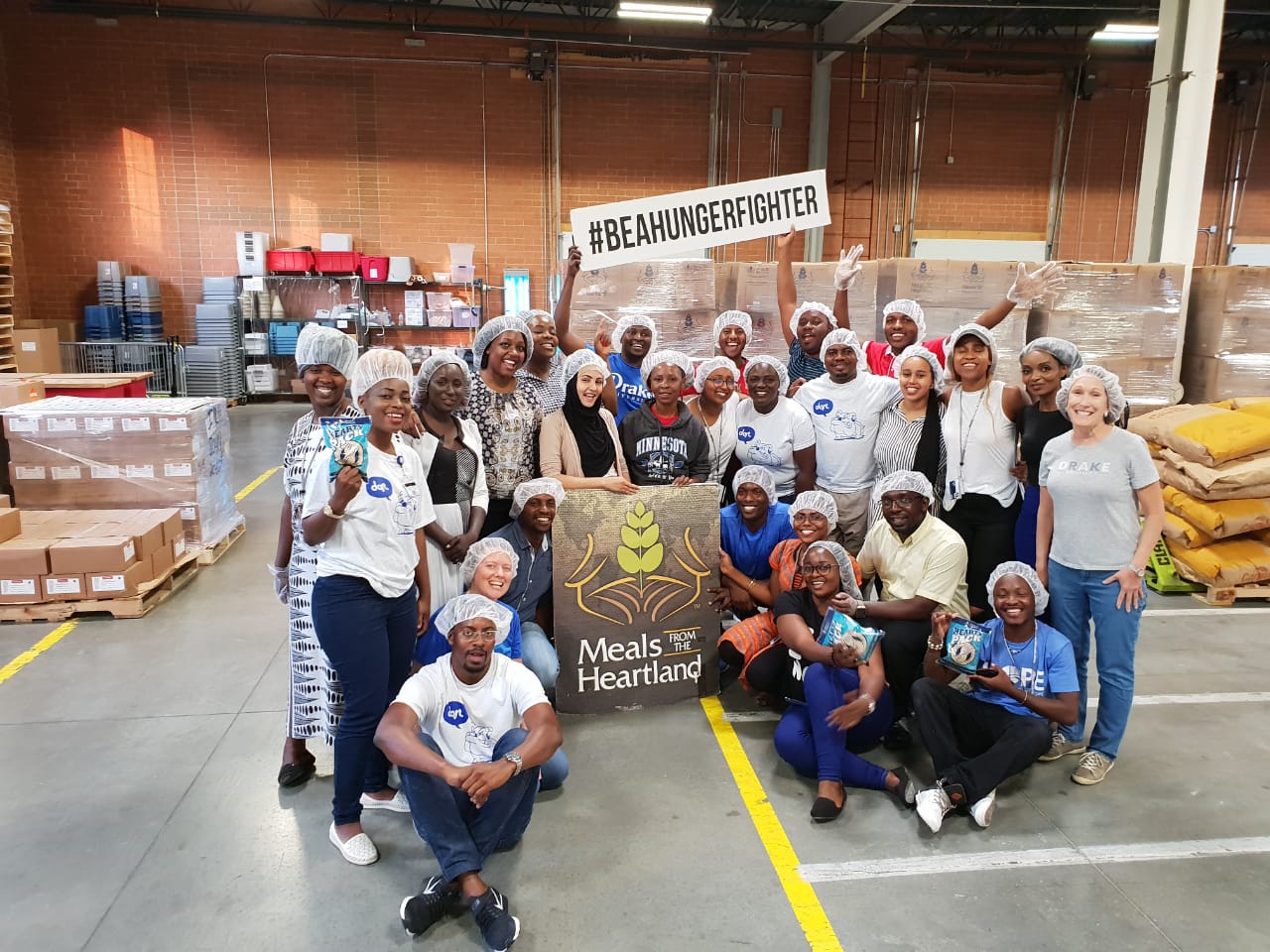 Performed 400 person-hours of community service
in the metro including service at Habitat for Humanity, Manning Iowa, LSI Global Greens, and Meals from the Heartland.
Share on Social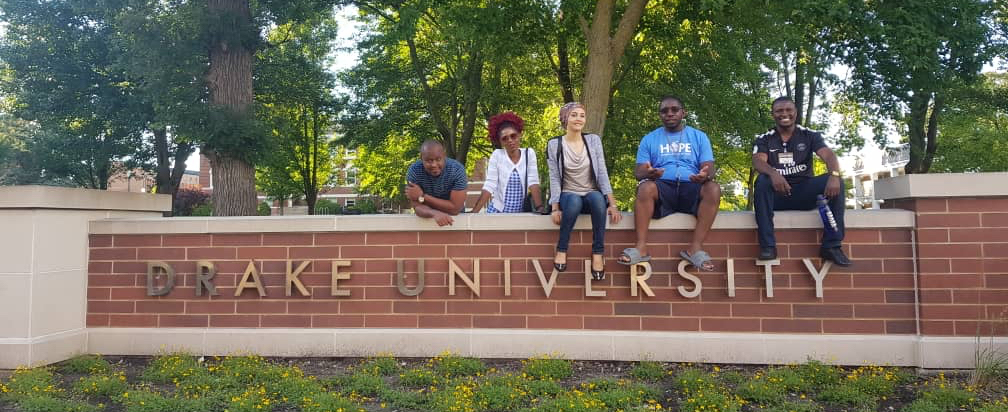 A packed six weeks, a lifetime of impact
Drake is one only 28 institutions in the United States selected to host a cohort of fellows. The process for participants is highly selective as well—some 37,000 applicants vie for 700 spots. They are young professionals, aged 25 to 35, many with master's degrees, and count CEOs, engineers, attorneys, surgeons, entrepreneurs, and founders of nonprofits among them.
The YALI fellows descend on Des Moines in June. All speak English well, but most speak three to five languages. They settle into Drake West Village, eat at home-hosted meals or Hubbell Dining (with a special menu to cater to international tastes and religious practices), and ride the DART bus. Part of getting acclimated involves taking part in a workshop on intercultural learning and development.
"They're from 18 countries, each of which has a multitude of cultures within them," says Kiel. "There's a history. So they're not only navigating being in the U.S. for the first time, but being part of a cohort of different cultures and countries, with different norms and values."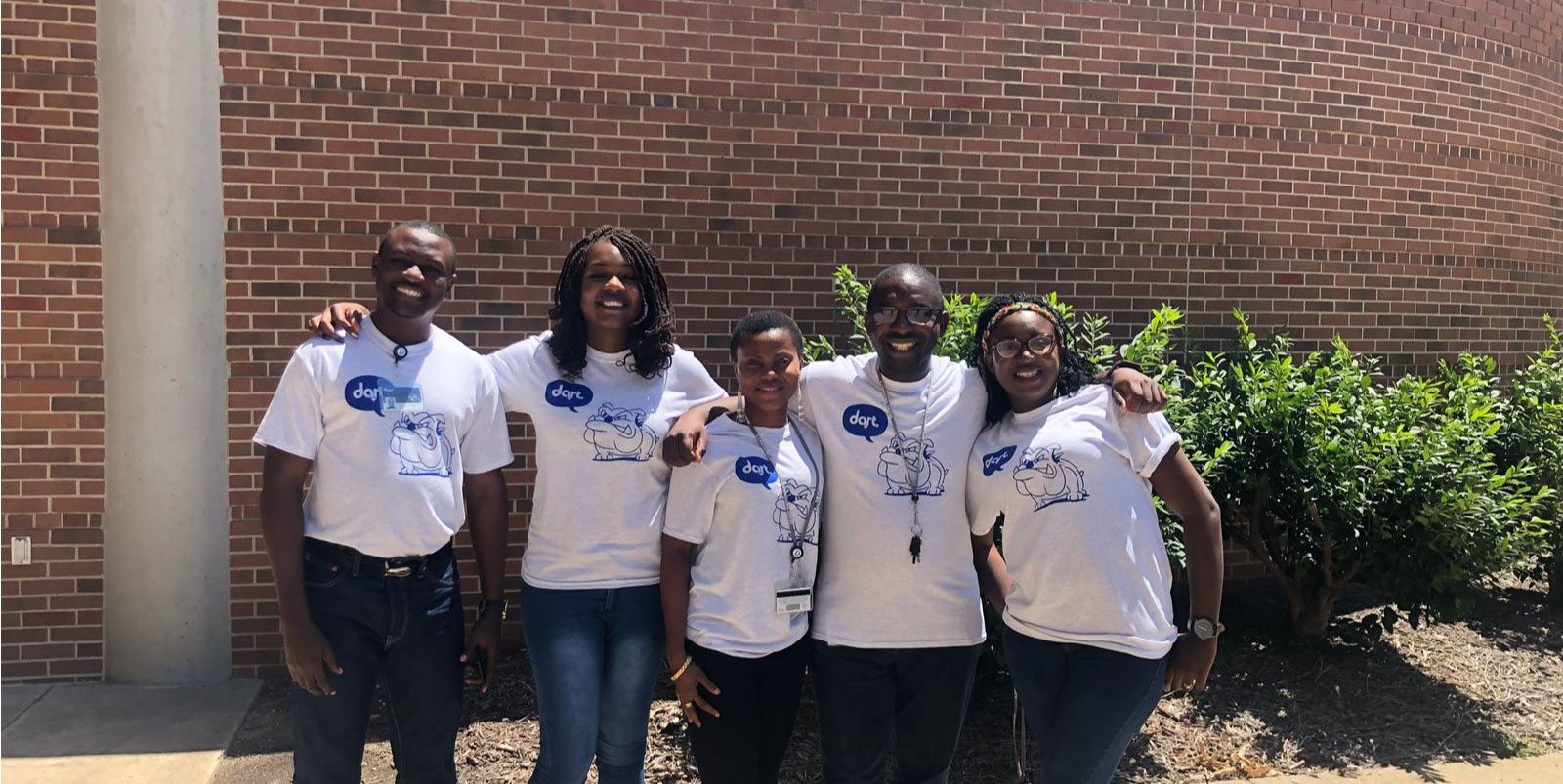 The fellows spend two hours a day in classrooms with expert faculty—including Drake College of Business and Public Administration faculty Lance Noe (program director), Debra Bishop, Jimmy Senteza, and Matthew Mitchell—focusing on topics of business and entrepreneurship. The rest of the time, they tour companies and nonprofits and take part in networking meetings, events, service experiences, and one-on-one meetings. They also experience the activities, foods, and festivals that characterize summer in Greater Des Moines, from Independence Day fireworks to funnel cakes at Adventureland.
"It's meant to be experiential at its core," says Kiel. "We're programming their days for six weeks, from the time they get up to the time they go to bed. It's a heavy lift for Drake, but one that we're so thrilled to be a part of." She adds that none of it would be possible without the support of many partners in Greater Des Moines.
Visited some 40 businesses and nonprofits
to meet with leaders and tour facilities.
Engaged in meaningful sit-down lectures/conversation with 100+
Drake and metro faculty and leaders representing business, nonprofit, government, religious, and community leadership.
Developed professional peer mentor relationships with 100+ community members
One of these companies is career guidance solutions provider Kuder, Inc., headquartered in Adel, Iowa. When Kuder hosted the YALI fellows at a picnic, the resulting sparks eclipsed the post-picnic firework show.
"Being exposed to a group of amazing individuals with such passion for their countries and those in their countries is both inspiring and somewhat convicting," says J. Clayton Kennedy, vice president of global client relations at Kuder. "The understanding available to all of us regarding the challenges we face and blessings we enjoy helps foster better relationships. It goes a long way towards dismantling mindsets we all may have about the other's country or point of view."
Kennedy also took from the experience a challenge to be as involved in his community as the fellows are in theirs. "It seemed each fellow not only had full-time employment, but also [were part of] some type of charity organization," he says. "Not once did any of the fellows mention what show they are binge watching on Netflix."
Dave Busiek, news director at KCCI TV, hosted the YALI group at the station for the second year, also spending a day with two fellows with an interest in news and media. The pair had dinner at his home as well.
"It's great to be able to interact with young Africans in this way," says Busiek. "I personally learn a lot about them, about their systems of government, about the challenges they face in their countries, and about issues like freedom of the press. I only wish I could have gotten to know more of the fellows better, like I did Doreen and Rolande. They are most impressive people."
Busiek also sees great benefit to hosting the YALI fellows. "There's a huge payoff for Des Moines in being able to make a favorable impression on such influential and impressive young citizens from another country," he says.
Kiel adds that the visit enabled some Greater Des Moines businesses to make contacts to grow their African networks. "It's been so impactful," she says.
Engaged in meaningful sit-down conversations with 500+ community members
with the goal of creating cultural exchanges such as home-hosted meals and other social settings.
Engaged with thousands in our community
in terms of conversations-meeting and talking with people about their experiences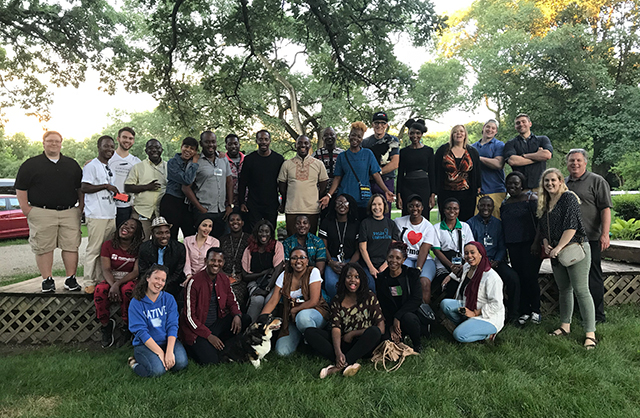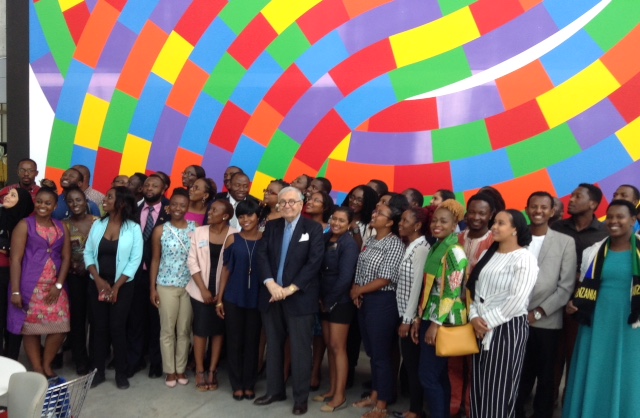 An international gig in Des Moines
Because the Mandela fellows visit over summer, the impact to Drake students is more indirect—through their professors, and additional opportunities that emerge through the collaboration. But Marina Boes, ED'18, was able to live the experience alongside the African visitors. As part-time coordinator of the program, Boes lived in Drake West Village with the fellows, helped them get settled, assisted with issues, and arranged programs and activities, from a Mandela Day dinner to trips to Snookies for ice cream.
"I was lucky enough to get to hang out with this group of amazing people pretty much every day for six weeks," says Boes. "We had different things to do every day, from site visits to Principal to going mini-golfing."
Boes, who is set to start her new role this fall as a high school French teacher in Bettendorf, enjoyed speaking French with some of the fellows. Even more so, she enjoyed hearing the fellows' passion as they talked about their home countries and compared similarities and differences with one another.
"Professionally and personally, I learned how to be open to viewpoints that are different from my own," says Boes. "This group of African leaders inspire me so much. They all have amazing stories. I will definitely keep in touch with all of them through Facebook and WhatsApp. I love hearing all of the amazing things they're doing."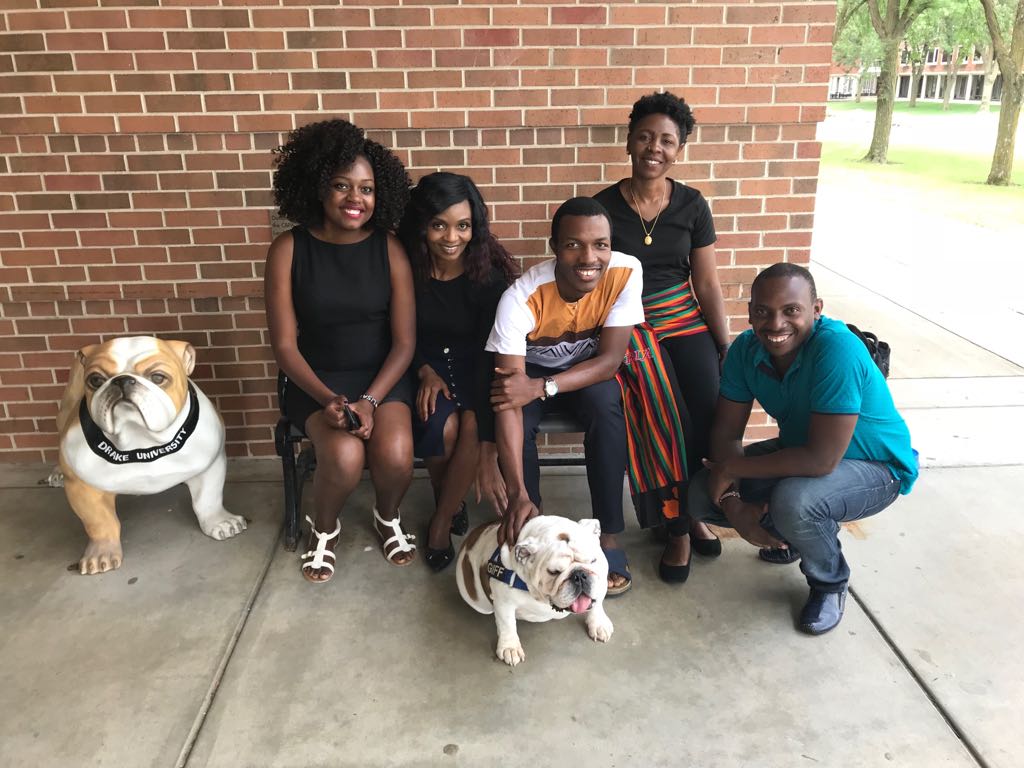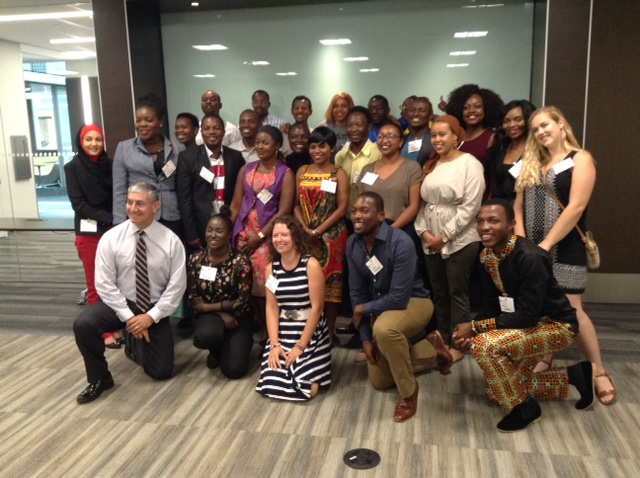 In their debriefs, the fellows talked of growth and transformation. "The Mandela Washington Fellowship has completely been a turning point in my life," wrote one. "I will use this experience as a tool to create positive change in my country and around Africa, setting up a pace for my generation and also empowering youth by teaching them to be better leaders."
"This experience is the best so far in my personal and business life. I have the knowledge needed to advance my business and I have good contacts. The future is bright. I am going back home fully equipped."
Kiel is seeing these transformative effects on a macro level, as well. When Drake was first selected in 2014, she found herself making cold calls to businesses and organizations asking them to participate. Now, most have continued with YALI for the last three years, and new partners are coming to her.
Just as important is the program's impact on Drake and—ultimately—its students. That sense of impact was felt poignantly at the fellows' farewell reception at Turner Jazz Center, where Drake faculty, staff, and community members honored the fellows for their work, and, in turn, were then treated to a group song and dance composed by Fellows Jack Chimbetete and Virtue Oboro. The crowd joined in—professors, powerful executives, and community leaders—twirling, dipping, and losing themselves in the beauty and unity of the moment.
"Being part of YALI has truly has changed Drake as an institution," says Kiel. "It changes the way we see  and engage with the world. It changes our self-perception, and it breaks stereotypes. It has been transformational."
Through programs like YALI, Drake brings the world to Des Moines, and Drake to the world. Learn more about how the varied and rich experiences and opportunities at Drake—on campus and around the globe—prepare students to be global citizens.