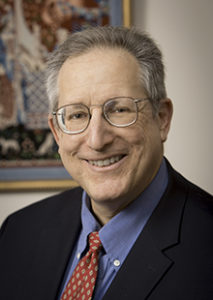 Jack Balkin, professor of law at Yale Law School, will serve as Drake University's 2018 Constitution Day Lecture speaker on Sept. 20, 3 p.m., in Cartwright Hall, Room 213. His speech is titled "Our Polarized Constitution: Judicial Review in the Cycles of Constitutional Time."
Sponsored by the Drake Constitutional Law Center, the Constitution Day Lecture is held each year to commemorate the signing of the U.S. Constitution on Sept. 17, 1787. The event is free and open to the public.
"The role of the judiciary during a period of sharp political disagreement is an enormously important and timely topic, which will be of interest to lawyers and citizens alike," said Miguel Schor, professor of law at Drake Law School and acting director of the Drake Constitutional Law Center.
Balkin is the Knight Professor of Constitutional Law and the First Amendment at Yale Law School. He is the founder and director of Yale's Information Society Project, an interdisciplinary center that studies law and new information technologies. He also directs the Abrams Institute for Freedom of Expression and the Knight Law and Media Program.
Balkin received his AB and JD from Harvard University and his PhD in philosophy from Cambridge University. Prior to entering academia, he served as a clerk for Judge Carolyn D. King of the U.S. Court of Appeals for the Fifth Circuit and practiced as an attorney at Cravath, Swaine, and Moore in New York City.
Balkin has been a faculty member at the University of Texas and the University of Missouri-Kansas City, as well as a visiting professor at Harvard University, New York University, Tel Aviv University, and the University of London.
He has authored over 100 articles in fields including constitutional theory, internet law, freedom of speech, reproductive rights, jurisprudence, and the theory of ideology.
In addition, Balkin founded and currently edits the group blog Balkinization. He has also written widely for publications such as the New York Times, New England Journal of Medicine, American Prospect, Atlantic Online, Washington Monthly, New Republic Online, and Slate.
Balkin has authored or co-authored books including Living Originalism; Constitutional Redemption: Political Faith in an Unjust World; The Constitution in 2020; Processes of Constitutional Decisionmaking; Cultural Software: A Theory of Ideology; What Brown v. Board of Education Should Have Said; and What Roe v. Wade Should Have Said.
The Drake Constitutional Law Center is one of only four constitutional law programs established by the U.S. Congress and funded by the federal government. The center's mission is to foster study of the U.S. Constitution and its roots, formation, principles, and development.
Learn more about the Drake Constitutional Law Center.