Building on her scholarship on artwork about the American Civil War, Maura Lyons, professor of art and design at Drake University, is spending her summer at the Indianapolis Museum of Art (IMA) at Newfields, researching a painting in the collection called Our Flag. Her plan is to combine an art historical analysis of the painting with a scientific analysis to be conducted by the conservation lab at the IMA.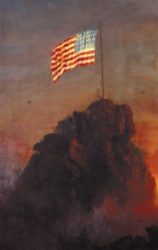 Lyons is at the museum—along with her husband, Windsor Professor of Chemistry Mark Vitha, who is working in the conservation lab on a number of projects—at the invitation of Greg Smith, the senior conservation scientist at the IMA.
"When the opportunity arose to conduct research this summer connected to the collections of the Indianapolis Museum of Art, I took a look at their holdings online," Lyons said. "I noticed that they owned a painting by Frederic Church that I was not aware of."
According to the IMA, Our Flag is a symbolic image of America during the Civil War. It was completed in 1864 and, according to Lyons' research, is not based on a single landscape. Rather, it seems to be a combination of features of several different landscapes, including the rocky coast of Maine and tropical landscapes in South America.
Lyons has published several articles about the role of landscape symbolism in artworks from the Civil War era, which have appeared in American Art, a journal of the Smithsonian Institution; Public Art Dialogue; Panorama: Journal of the Association of Historians of American Art; and most recently, Nineteenth-Century Art Worldwide.
"An analysis of Our Flag seemed a way to extend that research," she said. "I am intrigued by the way that this painting is one of the few explicit statements that Church made about the war in his art, and he did so by placing a flag flying from a flagpole at the top of a mountain."
Lyons said working with Smith will provide an opportunity to learn about the technical aspects of the painting, such as specific pigments used by the artist, changes in the paint layer, and detecting any underdrawings by the artist. Equally as important, it has allowed her to understand more about the actual painting materials through the in-house scientific lab.
The conservation lab at the IMA has allowed Lyons to interact with conservators and conservation scientists. She said these professionals have spent their careers dedicated to visual art, although they come from a different perspective compared to hers as an art historian.
"I find it exciting to be challenged to consider artworks in new ways," she said.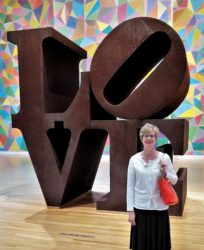 Lyons shared that one of the most interesting experiences so far this summer has been a discussion she had with Our Flag's conservator, David Miller, who restored the painting in the early 1990s. Their discussion included how the painting had a lot of damage, as well as some clumsy past restorations and she lauded how he helped return it to its former glory.
"I loved the chance to hear what that process was like, and what he saw in the painting. This has been a good reminder to me not to forget that artworks are material objects, composed of specific materials, with their own physical history," said Lyons. "It's always rewarding to see works of art in person rather than in reproduction."
Lyons also shared that working as a research scholar this summer has already provided many learning opportunities.
"We talk at Drake about fostering life-long learning, and I have seen the benefits this summer of stepping out of my comfort zone and learning from others' expertise," said Lyons.