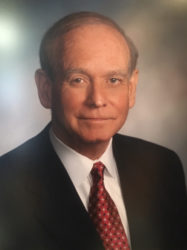 The following message was sent to campus by Drake University President Marty Martin on July 8, 2018:
With a heavy heart, I am writing to share that our cherished friend, distinguished alumnus, and former colleague, Robert D. Ray, died this morning. Governor Ray proudly served as Iowa's 38th governor and, later in his career, as the 11th president of Drake University, from April 1998 to May 1999. He received his B.A. in business from Drake in 1952, and his juris doctorate from Drake Law School in 1954.
Governor Ray is survived by his beloved wife, Billie, three daughters and eight grandchildren. Plans for celebrating his life are pending, and will be announced at a later time.
Governor Ray had a tremendous impact on Iowa, the United States and the world. In similar fashion, he served his beloved alma mater exceptionally well. His legacy will live on, of course, through the great work of The Robert D. and Billie Ray Center; the Robert D. Ray Collection of political and personal papers and memorabilia from Governor and Mrs. Ray, archived at Cowles Library; the RaySociety, Drake University's lifelong learning organization; and the Ray Promenade, a beautiful plaza to be dedicated on campus this fall.
For now, please join me in remembering Governor Ray, and in supporting his family at this difficult time. Thank you.
Marty Martin
President
Statement from the family of Governor Robert D. Ray
Biography of Governor Robert D. Ray