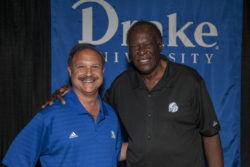 Drake University offers its condolences to the family of Larry Cotlar, who passed away overnight during flooding in Des Moines.
"Our hearts go out to Larry's family and friends, especially the thousands of Bulldog fans in Des Moines who have come to know Larry as the voice of their hometown team," said Marty Martin, president of Drake University. "Larry's enthusiasm and dedication brought so much joy to so many in our community and beyond. We are deeply grateful for his long, proud service."
"Larry was so committed to Drake Athletics," said Brian Hardin, athletics director for Drake University. "We all had the utmost respect—not just for Larry's talent, but for the kind of quality person and colleague he was. Larry was loyal, passionate and tireless. He touched the lives of so many, and leaves behind an incredible legacy here at Drake."
Cotlar, the 2007 Iowa Sportscaster of the Year, had served as play-by-play announcer for Drake University men's basketball since 2005–2006. He had also been a color analyst on radio for Drake football since 2013. He is survived by his wife, Deb Brewer-Cotlar, and two sons.