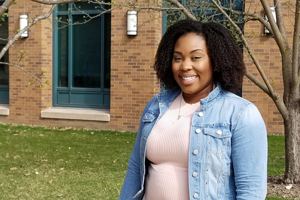 While pursuing a law degree at Drake University, New York-native Jasmine Meikle found her calling in civil and human rights.
Meikle first became interested in the law while watching "CSI" growing up. However, her career-defining moment came one day in a high school Advanced Placement Government class.
"We found out about the Michael Brown shooting," Meikle says. "I was sitting in class, hearing my classmates talk about it, and I was so frustrated."
The event sparked Meikle's passion to fight for justice and advocate for others. Her family encouraged her to consider law school. She attended State University of New York (SUNY) College at Cortland and fell in love with political science.
While looking at law schools, Meikle applied and was accepted in the Council on Legal Education Opportunity (CLEO). CLEO is committed to diversifying the legal profession by expanding law school opportunities to minority and disadvantaged groups. Meikle attended CLEO's Pre-Law Summer Institute hosted at Drake and learned more about the Des Moines community.
CLEO matched Meikle with several law schools, and Drake was at the top of her list.
"Would I love to stay in New York? Absolutely, my family is there," Meikle says. "But I wanted a different experience. The scholarship Drake offered was important, too."
While studying at Drake, Meikle interns at the Des Moines Civil and Human Rights Commission. The organization enforces civil rights codes and investigates whether a person was treated unfairly in violation of those codes.
"We get complaints from people in the community who feel they've been discriminated against based on their sexual orientation, race, religion, color, or creed," Meikle explains.
Within her position, Meikle spends much of her time conducting legal research and writing memos. She compiles supplemental material to aid the commission's investigators, and she also has a junior investigator role within the organization.
"Right now, I'm working on a housing discrimination case," Meikle says. "I talk to our client, file reports, and gather information. As time goes on, I might get to write a determination about my findings and whether I found evidence of discrimination."
The Civil and Human Rights Commission also works in community education and outreach, teaching local residents about their rights and how they can use the organization as a resource. Meikle explains that the organization recently hosted the Blueprint to Building Community symposium to help build community relationships with police officers, businesses, HR departments, higher education, and more.
Meikle also works toward diversity and inclusiveness at Drake Law School. She serves as diversity chair of the Student Bar Association and vice president of the Black Law Student Association. In recognition of her efforts, Meikle was awarded the Drake Law School Award for Equity and Inclusion.
Meikle says she is inspired by her parents, who immigrated to the United States from Trinidad and Jamaica in the 1970s.
"I'm very thankful for the fact that they came here and faced struggles in their lives so I could have opportunities," Meikle says. "Now I want to be there for others."