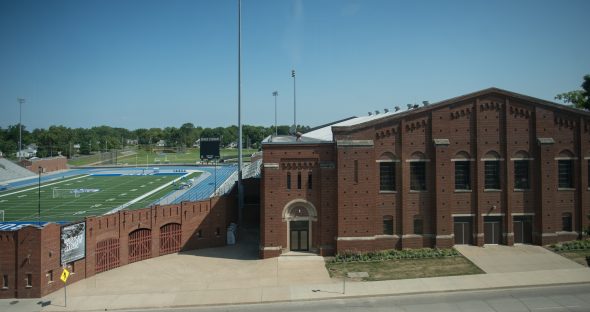 The Drake Relays presented by Hy-Vee has expanded its footprint this year with a community-friendly assortment of food vendors and attractions outside of Drake Stadium. 
Forest Avenue will be transformed into a pedestrian-only footpath in front of Drake Stadium starting 2 p.m. Thursday, April 26, through the duration of the Relays. Community members are invited to the "Fan Fest" to grab lunch from a food truck, peruse street-side vendors, network with Drake alumni and Relays athletes, and enjoy the Relays atmosphere, even if they don't hold a ticket for the world-class athletics events held on Drake's Blue Oval. The road will be closed to vehicle traffic between 27th Street and 29th Street through 5 p.m. Saturday, April 28.
 "The Drake Relays features thrilling competition by some of the most impressive high school, collegiate, and elite athletes in the state of Iowa, the nation, and the world—but it is also much more than a track and field meet," said Drake University President Marty Martin. "This year's decision to close Forest Avenue to vehicular traffic will enhance the Relays' community atmosphere, create a more seamless integration between Drake Stadium and Drake's campus, and increase public safety."
The Drake Student Activities Board, a student-run organization that plans social events and entertainment on Drake's campus, will host its annual Relays Concert on the street outside the Stadium. The outdoor venue allows an increased number of students to participate in the free concert—which this year features two bands—and provides a great way for students to engage with the Relays, said Student Activities Board President Anna Jensen.
"SAB has made a number of changes to the Relays Concert this year," Jensen said. "This one we are excited for, especially because this larger space is much more accommodating for both the bands performing and will be much more engaging for concert-goers with better acoustics and views. There are so many elements of the Relays experience that create lifelong memories for Drake students—from the Street Painting tradition, to the Beautiful Bulldog Contest, to the world-class athletic competition. The Relays Concert provides one more way for Drake students to enjoy being at the heart of all things Relays."
Traffic and parking information
Due to increased traffic during the Drake Relays, street parking along University Avenue will be prohibited between 25th Street and 31st Street from 2 p.m. Thursday, April 26 through 5 p.m. Saturday, April 28. A Drake Relays parking map is available online; University maps and driving directions are also available. Additional Drake Relays information and tickets can be found at drakerelays.org.