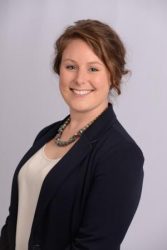 The American Pharmacists Association (APhA) Foundation recently awarded the Marvin and Joanell Dyrstad Scholarship to Annie Stella, a fourth-year pharmacy student at Drake. The national scholarship is awarded to an accomplished pharmacy student with a strong record of engagement with APhA.
Stella became involved with APhA-ASP (Academy of Student Pharmacists) during her first year at Drake, and has shown a passion for policy and advocacy work throughout her academic career. Serving as policy vice president for the Drake APhA-ASP chapter from 2015 to 2017, she then become a student representative on the APhA Policy Committee from 2017 to 2018.  Her national involvement also includes serving as a committee member for the ASP National Nominating Committee in 2017.
In addition to her work with APhA, she's been active with the Iowa Pharmacy Association (IPA). She has served in IPA's House of Delegates (the policy making body of the association), on various committees, and her name has been attached to several statewide legislative initiatives. Last year IPA named her a recipient of the 2017 Karbeling Leadership Award, which is given annually to one Drake pharmacy student and one University of Iowa pharmacy student who have shown themselves to be exemplary in terms of work and involvement in both professional organizations and in the political process.
Marvin and Joanell Dyrstad owned the Red Wing Corner Drug and Corner Medical Center Pharmacy in Minnesota, and are still both active in an extensive list of healthcare organizations. The couple decided to fund the Marvin and Joanell Dyrstad Scholarship because of their own firsthand knowledge of how important scholarships can be to students.
The APhA Student Scholarship Foundation recognizes blossoming student leaders for their work with their school's APhA-ASP chapter. The Foundation has awarded 10 different scholarships in 2018 to students from across the United States.
Stella plans to stay active with APhA after graduation. She will become involved in the APhA New Practitioner Network and will pursue a Pharmacy Practice Residency. After that, she plans to complete a Specialty Residency.