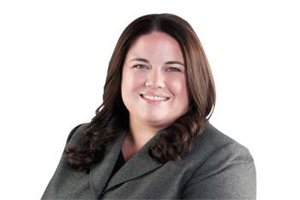 When Lori Bullock was a third-year Drake Law student, she presented oral arguments to the Iowa Supreme Court during the Law School's Supreme Court Competition.
Four years later, she returned to campus to argue before the Iowa Supreme Court as an attorney.
"I felt a lot more comfortable being in a courtroom as an attorney because of the experience I had at Drake Law School," Lori says.
Each year, Drake Law School hosts the Supreme Court Competition as part of the annual Supreme Court Celebration. During the preliminary rounds, students write a brief and present oral arguments. The finalists argue before the Iowa Supreme Court justices, who then select the winner.
Lori won the competition in 2014.
"It was nerve-wracking, but also a lot of fun," Lori says. "[The justices] were all very engaged in the argument, and they had really thoughtful questions. It was an amazing opportunity."
Lori's three years at Drake Law School had prepared her for the competition. As a first-year student, she competed in the Law School's C. Edwin Moore Competition. She joined the National Moot Court team and later served as captain. During her third year, she was president of the Moot Court Board.
In addition, Lori served on the Drake Law Review, worked as a student attorney in Drake's Juvenile Delinquency Clinic, and interned for The Hon. James Gritzner, U.S. District Judge for the Southern District of Iowa.
"I really loved doing moot court and appellate advocacy," Lori says. "That adrenaline rush you get from being in the spotlight—it was exhilarating."
In addition to Lori's list of involvements, she was also a nontraditional law student balancing family life. She and her husband, Tom, enrolled at Drake Law School together in 2011 after spending a few years in the workforce.
With two children—a one-year-old and a five-year-old—Lori and Tom treated law school "like a job." They stayed on campus each day from 8 a.m. to 5 p.m. to get work done while the kids were in daycare and school, and they read law textbooks after the kids went to bed.
"It worked really well for us," Lori explains. "We shared books, and I always had a built-in study partner."
After graduating, Lori clerked for Justice David Wiggins of the Iowa Supreme Court, while Tom clerked for the Fifth Judicial District of Iowa. Tom then joined Newkirk Zwagerman Law Firm, P.L.C., and less than a year later, Lori was offered a job at the same firm.
"We love working together," Lori says. "We're never on the same case together, but it's nice that we can watch each other's schedules and docket. That makes it easier to parent our kids."
A month ago, the firm received notice that its case Marlon Mormann v. Iowa Workforce Development was chosen to be part of the Iowa Supreme Court's live session in Drake's on-campus Neal and Bea Smith Law Center courtroom.
When Lori was asked to present the oral arguments on behalf of the appellant, she didn't hesitate.
"The Supreme Court Competition may not have been a real case, but I had done this before," Lori explains. "I knew I could do it. So I said, 'Absolutely.'"
On the first day of the Supreme Court Celebration in March, Lori returned to Drake to once again argue before the Iowa Supreme Court. The courtroom had a full audience, including the entire Drake Law first-year class.
"I got up there and got tunnel vision," Lori explains. "I was in my argument, paying attention to the justices, and answering their questions. Everything else fell away."
After hearing the arguments, Lori says one of the justices reminded the students in the courtroom that she was in their place not long ago. She says it provided good perspective that hard work in law school pays off in the real world.
Lori feels fortunate for her experiences as a Drake Law student.
"The nice thing about Drake is that you're right here in Des Moines, so you have opportunities," she says. "You get a practical experience that you really can't get anywhere else."