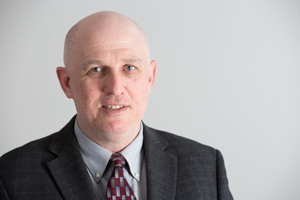 As a child, Miguel Schor immigrated with his parents to the United States from Argentina to escape the nation's political turmoil during the 1960s. He became a naturalized citizen when he turned 18.
"Part of the oath of citizenship I took was to support and defend the Constitution of the United States against all enemies, foreign and domestic," Schor says. "I never thought that one day I would be teaching and writing about the Constitution."
Today, Schor is a professor at Drake University Law School and an expert in constitutional law and comparative constitutionalism. He teaches Constitutional Law I and II, The First Amendment, and Advanced Constitutional Law courses.
Schor's path to constitutional law came from a unique source: Latin American studies.
Inspired by his past, Schor pursued his master's degree and did comparative work on Latin American constitutions. He explains that the region borrowed many ideas from the Constitution of the United States, but had very different political outcomes.
That research sparked his interest in constitutional law. After earning his law degree, Schor clerked for two years, spent a year as a Bigelow Fellow at the University of Chicago School of Law, and then practiced law in New Orleans. He was a professor at Suffolk University in Boston before joining the Drake Law faculty full-time in 2013.
Schor says he was drawn to Drake's Constitutional Law Center, which was created by Congress in 1987 to commemorate the bicentennial of the U.S. Constitution. It is one of only four such centers in the nation funded by the federal government.
"The Constitutional Law Center was a big strength, I wanted to be a part of that," Schor says. "Also, I liked the atmosphere here [at Drake]. I thought the students were great. As a teacher, that's the most important part of the job."
During his career, Schor has presented and published numerous articles on topics including the debate between originalism and the living constitution; constitutional dialogue and judicial supremacy; and comparative judicial review. His research focuses on problems of constitutional design.
He recently published Comparative Constitutional Theory (Elgar Publishing, 2018), which he co-edited with Gary Jacobsohn. The book includes essays written by experts around the world exploring the diversity of global constitutions in the post-1989 era marked by political transitions and revolutions.
Schor also authored one of the book's chapters, "Constitutional Dialogue and Judicial Supremacy." The essay examines the differences in judicial review between the United States and Canada.
"I think that if you really want to understand the United States, you should pay more attention to Canada," Schor explains. "They know a lot about us, but also have a desire to do things differently and better. Canada provides a really interesting mirror for thinking about the United States."
This upcoming academic year will be busy for Schor. While Professor Mark Kende is on sabbatical, Schor will be the acting director of the Drake Constitutional Law Center, which includes inviting experts to campus for events such as Constitution Day in the fall and the Constitutional Law Symposium in the spring.
In addition, Schor has already started to write another book on comparative constitutionalism.
"In many ways, [the Constitution] is our civic religion," Schor says. "It's one of the things that binds us together as a nation. At the same time, we have disagreed about what it means since the beginning. I find that fascinating."