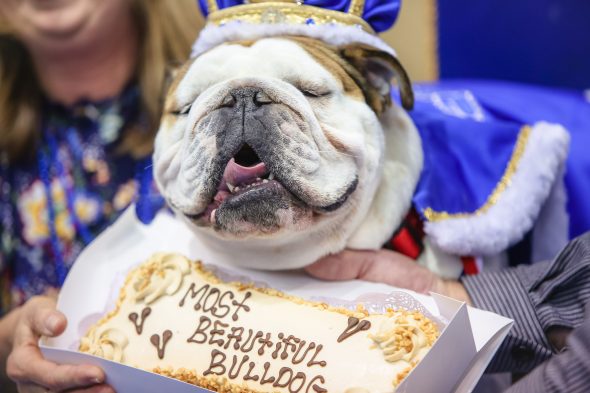 In a single year, a two-year-old English bulldog from Pella, Iowa, has gone from adoptable orphan to pageant royalty.
The canine queen in this Cinderella story is Bow-Z, who once was marked for death—and today was named the world's Most Beautiful Bulldog during the 39th annual Beautiful Bulldog Contest at Drake University.
Bow-Z watched last year's pageant from the track level above Drake's Knapp Center, where she was featured as an adoptable pup by Animal Lifeline of Iowa. This year she earned top marks as one of 40 contest competitors, wowing the judges in a traditional Dutch costume that represents the culture of her owners' hometown.
Owners Leanne and John Hill's attire proudly complemented Bow-Z's style; Leanne crossed the contest's blue "pup-walk" (rather than catwalk) in walnut-colored clogs, floral dress, and white lace apron representative of the Dutch province of Freisland. John wore brown clogs, a red bandana and a black hat.
The final touch of style—and the element that gave Bow-Z her name (which rhymes with "grows")—is the brown-and-white pattern in the shape of a bowtie on her forehead.
"Never once in my mind did I think she might win," John Hill said. "We thought maybe she'd win the Congeniality award, or Rescue Dog award—but it never crossed our mind she'd take first place."
"Now she has a crown to wear during Tulip Time," said Leanne Hill, referencing the town of Pella's colorful annual festival.
As a puppy, Bow-Z's original owner sought to have her euthanized due to various physical ailments, including being born without hip sockets. But a lab clinician at the veterinarian declined to follow through with the procedure and instead turned Bow-Z over to Animal Lifeline of Iowa, a no-kill, special needs animal shelter in Des Moines. The Hill family first spotted Bow-Z while she was undergoing chiropractic care at a local animal hospital in April 2017.
"John said to me, 'Look at this adorable dog,'" Leanne remembers. "But she was not ready to be adopted at that time. We thought maybe other families had joined the wait list to adopt her, but we were first on the list."
A few weeks later, Bow-Z was still not healthy enough for adoption when she made an appearance at the Beautiful Bulldog Contest's Rescue Dog Festival, which showcases the Midwest's many rescue organizations. Finally, in June, Bow-Z was released to the Hill family for adoption.
At this year's Beautiful Bulldog Contest, in front of a record-setting crowd of approximately 2,000 spectators—and another 2,000 watching live online—Bow-Z scored higher marks than an English Bulldog dressed as a Ghostbuster (complete with inflatable proton pack), another donning a sparkly pink tutu, and yet another who was dressed in blue boxing warm-up apparel.
Bentley, a four-year-old sidekick owned by Madison Ehret of Williamsburg, Iowa, won the Family Theme award. Bentley's 10-year-old human cousin, Larry Daniels, crossed the stage in a Batman costume while Bentley was dressed as Robin, his tongue flowing as freely as his flowing yellow cape.
Sweet Sassy Molassy, a perpetual crowd favorite, took home three awards, including Drake Spirit, Second Runner-Up, and Porterhouse People's Choice.
Other awards went to:
Congeniality: Rocky, owned by Sam Hambrecht of Adel, Iowa, He's the dog who was wearing blue boxer's warm-up attire.
Rescue Dog: Macki (aka Yeti), was found scavenging garbage in the streets of Chicago before being adopted by Matt and Caroline Butler of Ottawa, Illinois.
Best Dressed: Tucker, owned by Michael and Tracey Crumb of Cambridge, Iowa.
First Runner-Up: Beau, owned by TJ and Angela McKenzie of Urbandale, Iowa.
Drake's official live bulldog mascot, Griff, held a third-annual Griff Gives Back pet food drive in conjunction with the contest. The initiative raised more than 8,500 pounds of adult dog and cat food for Pet Project Midwest, a central Iowa nonprofit organization that helps keep pets out of shelters.