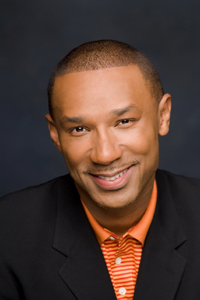 President Donald Trump announced the appointment of Johnny Taylor Jr., GR'91, LW'92, as chairman of the President's Board of Advisers on Historically Black Colleges and Universities (HBCUs). Trump made the announcement Feb. 27 in the Roosevelt Room of the White House.
Taylor is president and CEO of the Society for Human Resources Management (SHRM), the world's largest human resources professional society with 285,000 members worldwide.
He previously served for seven years as president and CEO of the Thurgood Marshall College Fund, an organization that supports and represents students in public HBCUs across the country.
"It has been my life's work to unleash talent in all of its forms, from wherever it originates," Taylor said. "Every year, over 300,000 students turn to these institutions—HBCUs—for their education and to prepare them for their careers. This president's advisory board can be a nexus between higher educational institutions and employers."
In his announcement, Trump called Taylor a "great guy" and said the appointment is "very important, and very important to me and the administration."
"I know he will advance the cause of HBCUs, a major priority of our administration," Trump said.
Trump signed an executive order in February 2017 announcing the President's Board of Advisors on HBCUs. The president has requested more than $500 billion in his budget for HBCU-focused programs.
Taylor will work closely with U.S. Secretary of Education Betsy DeVos and Johnathan Holifield, the executive director of the White House Initiative on HBCUs.
In a statement, the Thurgood Marshall College Fund applauded the appointment of Taylor as chairman.
"Johnny is the best choice for this position because he is a true HBCU advocate. He knows the entire Black College Community extremely well, and he has the passion, judgment, and expertise to be an effective leader on the President's Board of Advisors on HBCUs."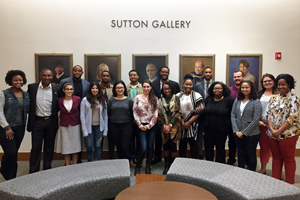 Prior to his work at SHRM and the Thurgood Marshall College Fund, Taylor worked at the media company IAC/InterActiveCorp—first as senior vice president of human resources, and then as president and CEO of one of IAC's operating subsidiaries.
He has also held various human resources and legal executive roles in the McGuireWoods law firm, Compass Group USA, Viacom's Paramount Pictures Live Entertainment Group, and Blockbuster Entertainment Group.
Taylor received his bachelor's degree in communication from the University of Miami before obtaining his master's degree and law degree from Drake. As a law student, he served on Drake's National Moot Court Team and was research editor of the Drake Law Review.
He recently supported the major renovation project to the Drake Law Review office space in Cartwright Hall on Drake's campus. The suite, which was named the Johnny C. Taylor, Jr. Law Review Suite in honor of his contributions, was dedicated in fall 2017.
Taylor has served on Drake's Board of Trustees and hosted Drake alumni events in the Washington, D.C. area. He received Drake University's Young Alumni Achievement Award and was named to the Law School's "150 in 150" list of outstanding alumni.
Watch Trump's announcement on C-Span online.