Aamir Walton, Advancement Officer liaison to the College of Pharmacy and Health Sciences and the School of Education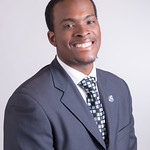 What is your role at Drake and what drew you here?
My responsibilities consist of connecting alumni, parents, and friends to Drake in ways most meaningful to them, securing resources, assisting in alumni events, and managing College volunteers.
Drake's unique higher education model, integrated liberal arts and sciences that allow for collaborative learning amongst faculty; staff; and students, coupled with the benefits of traditional larger institutions drew me to Drake University. The opportunity to work in philanthropy behind a fearless and bold President that seeks to change the institution and community is "the cherry on top"!
What excites you most about being here?
The Advancement Office, the Dean's focus and energy in connecting with alumni and donors, the Des Moines community, the next campaign, and D1 athletics!
What sticks out so far about your time here at Drake?
The joyful accountability amidst my colleagues and their patience and excitement about me being here.
Have you taken a picture with a Bulldog yet?
Of course!
Favorite spot on campus?
Haven't found it yet…
What tradition are you looking forward to experiencing?
Relays!