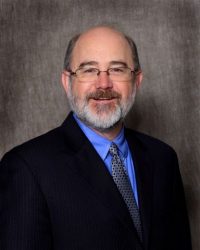 The Drake University College of Pharmacy and Health Sciences will award its highest honor, the 2018 Lawrence C. and Delores M. Weaver Medal of Honor, to Iowa pharmacist and entrepreneur Greg Johansen. The Weaver Medal of Honor is awarded annually to an individual who has advanced the college's education, research or outreach mission for the benefit of human health; has made a substantial impact on the profession of pharmacy; or has provided financial support that has led to strategic change and progress in the College.
Johansen is a 1976 graduate of Drake's College of Pharmacy and Health Sciences with a successful career in pharmacy operations and a long history of philanthropic support to his alma mater and to his profession. He will receive the Weaver Medal of Honor and deliver a free public lecture, titled "Opportunity and Risk," at 2 p.m. Wednesday, April 25, in Sheslow Auditorium.
"Greg Johansen has had a significant impact on Drake, our college, and the central Iowa community. He embodies the college's values of entrepreneurial leadership, innovation, and professionalism," said Renae Chesnut, dean of the College of Pharmacy and Health Sciences. "He has served as a leader, preceptor, and role model, in addition to establishing funds that further the College's mission."
Johansen landed his first pharmacy job at McLuen Drug in Indianola, while still a student at Drake. He currently is president of GRX Holdings LLC., which operates 20 Medicap Pharmacy locations in the state of Iowa, in addition to a long-term care pharmacy and a compounding pharmacy. Previously, Johansen was senior vice president of operations for Medicap Pharmacies and senior vice president of pharmacy solutions for Medicine Shoppe International.
Johansen has served on the Drake University Board of Trustees since 2015. He and his wife, Cecelia, have shaped pharmacy students' learning experience through numerous gifts to Drake, including a STEM@DRAKE gift that established the Johansen Research Lab in Drake's Science Connector Building. He made two leadership-level gifts to distinctlyDrake, the University's $216 million fundraising campaign completed in fall 2015. One gift funded the Johansen Skills Assessment Laboratory in the College of Pharmacy and Health Sciences in 2013; a second gift created an endowed fund that supports international study experiences for pharmacy students.
"It is very humbling to have been selected for this prestigious honor, as I am very aware of the stature of prior recipients of the Weaver Medal and am reluctant to believe myself to be included," Johansen said. "I hope to live up to the standards set by past honorees."
In addition to his service to Drake, Johansen has contributed to the betterment of his community as president of the Board of Directors of Prevent Blindness Iowa, the state's only health and safety organization dedicated to preserving sight and preventing blindness; and the Iowa International Center, a nonprofit organization that provides access to international resources to Iowans, new Iowans, and international visitors to Iowa. He supports his professional field as a member of the Central Iowa Pharmacy Association and Iowa Pharmacy Association, and is a fellow of the American College of Apothecaries.